Moving up – How I knew we were ready
Posted on: August 29, 2014 by Jennifer Bagley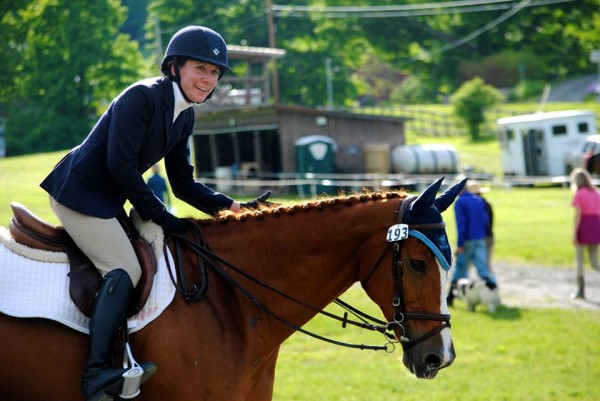 In every equestrian sport there are various levels of competition, and a goal for many riders is moving up to the next level. In Eventing, we have six levels – Beginner Novice, Novice, Training, Preliminary, Intermediate and Advanced. I went to my first recognized event twenty years ago before Beginner Novice was even a thing, and I've spent every summer since competing at… Novice. Which is fine – Novice is challenging! There are jumps to jump, fun gallops to be had and dressage rings to conquer. But I knew I could do more, could jump higher and gallop faster and ride more than twenty meter circles and transitions between the letters. So I tried to move up to Training Level a few times on my previous mare, Bella, but it wasn't meant to be. Two years ago I had to admit that my goals of progressing as a rider required a horse with a bit more scope and ability. So Bella found a terrific new home, and I found a talented project horse in my price range.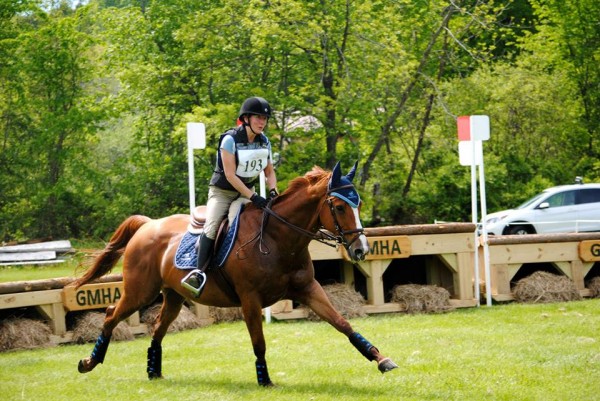 Tally took a bit of time to adjust to not hanging out in a field as she had done for most of her first eight years of life, but with (a lot of) patience she discovered that she could relax, go slow, take some helpful hints from her rider, and she realized how incredibly fun eventing is. The first year, we went to a few schooling shows, the second year we started at beginner novice and ended with several solid novice outings, and I started this spring with the plan to move her up to (drum roll please) Training Level – the ever elusive, for me, level that is just a smidge faster, bigger and more exciting than dear old Novice.
How did I know we were ready?
We were regularly jumping three to six inches above Novice height in our jump lessons with ease and huge smiles on our faces.
Our dressage test scores went from 30's to 20's and we regularly impressed our dressage trainer with smaller circles, lateral work, and lengthening.
Tally was finding the Novice cross-country jumps fairly unimpressive, mere speed bumps to our more solid, relaxed yet bigger (and slightly faster) gallop.
We finally got a blue ribbon!
As moving up at the first event of the season is generally frowned upon, we started out this competition year at Novice and had a delightful day, with a 27 in dressage, our first ever clean stadium round and a bold, super-fun and just under speed fault time cross-country. In the words of my trainer – 'Time for Training!'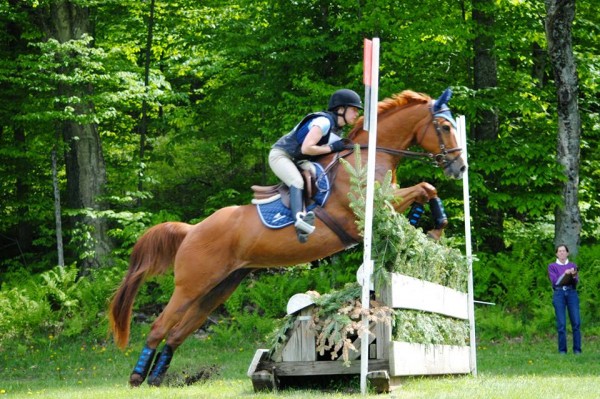 We spent our lessons prior to the next show, the MOVE UP event, preparing for questions we might see at Training – triple combinations, liverpools and triple bars in show jumping, and jumping into and out of water, bigger ditches and banks and tables, and the dreaded trakehner. With added fitness work, Tally was feeling quite ready for the 450 meters per minute gallop but luckily still responsive to my aids. She was jumping out of her skin and almost jumping me out of the tack!
Finally we were there – and all the hard work paid off and Tally was a rock star. Despite a little tension in the warm-up, Tally came through with a solid test, scoring a 31.4 which tied us for 5th place. She jumped around stadium despite her rider – my show nerves got the best of me at the beginning but we pulled it together to end strong, with 2 unfortunate rails down. And cross-country – WOW. I have myself a XC machine! She found the right gallop like she'd been doing it her whole life, and ate up the course, including the dreaded trakehner and everything else on course. She even saved my butt when I asked her to take the long one at a big (wide) stone wall – she (smartly) put in the extra step then tossed me back into the saddle when I ended up on her neck on the other side. Lots of carrots for that save… The course was amazing, and Tally seemed to have as much fun as I did. There were huge grins on both of our faces as we jumped the last jump and galloped over the finish line. We even got a pretty brown ribbon for 8th place. It felt like the Olympics for me, and I can't wait for the next one! My trainer keeps talking about the P level that I'm still a bit apprehensive to talk about, but we'll see – maybe next spring. In the meantime, there is uncharted territory to gallop, fun new jumps to jump and 15 meter circles to perfect.