SmartPak's Mother's Day Giveaway
Posted on: May 03, 2021 by SmartPak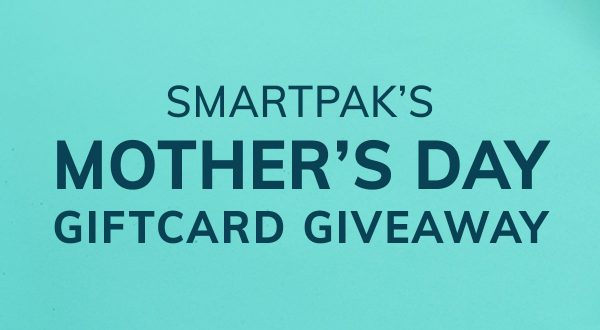 Mother's Day is Sunday, May 9th, and we're celebrating all of the moms out there who support the dreams of their horse-crazy kids! From driving to lessons and holding horses at shows, our moms really do it all – whether they started as a horse person themselves or not. At SmartPak, not only are we riders but many of us are also full-time moms, with children who have picked up on the horse obsession too.

Finding the ability to balance time between work, family, and the barn can be challenging – but moms make it happen because that is what they do best! We want to hear from you how your mom (or you as a mom) finds ways to balance everything you love. This Mother's Day weekend, May 8 – 9, share your story with us on social, in the comments, or use the form below to be entered for a chance to win a SmartPak Gift Card and a feature opportunity. If entering on social, make sure you use #SmartPak and that your account is set to public so we can see your entry!
Looking for more real and heartwarming stories about moms and by moms? Check out our blogs:
Fueling the Pony Passion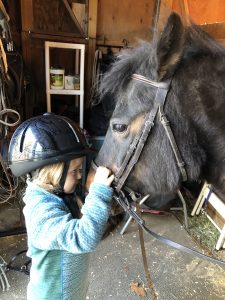 As a parent, I hope my daughter finds so many of the other things that I found at the barn. A place where she can learn the value of hard work and compassion. A place where she can set goals, overcome disappointments and be free to dream big.
Read how SmartPaker Lizzie introduced her daughter to ponies here: /blog/fueling-the-pony-passion/
---
Thanks, Mom! Love, SmartPak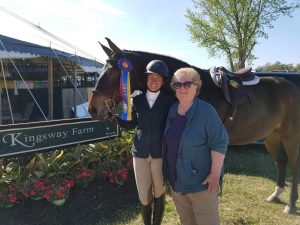 Mom has been our chauffeur, #1 cheerleader, groom, mentor, bank teller, and, most of all, our best friend. This Mother's Day we're thanking moms for giving us the greatest gift a bunch of horse-crazy kids could ask for—the chance to follow our dreams.
Read the full story here: /blog/thanks-mom/
---
Bye Bye, 'Mom' Bod!
Three years and 2 amazing sons later and with no future plans for any additional children, it's time to reclaim my body! This also means that it is time for my horse to get back into his former shape as well; sorry buddy, vacation is over!
Read Cora's blog here: /blog/bye-bye-mom-bod/
---
Saving Jaise
The relationship between horse and human is arguably one of the most unique, therapeutic, cathartic, and rewarding kinships that exist. I thought that perhaps introducing her to horseback riding would allow her to begin to heal.
Read Jaise's incredible story here: /blog/saving-jaise/
---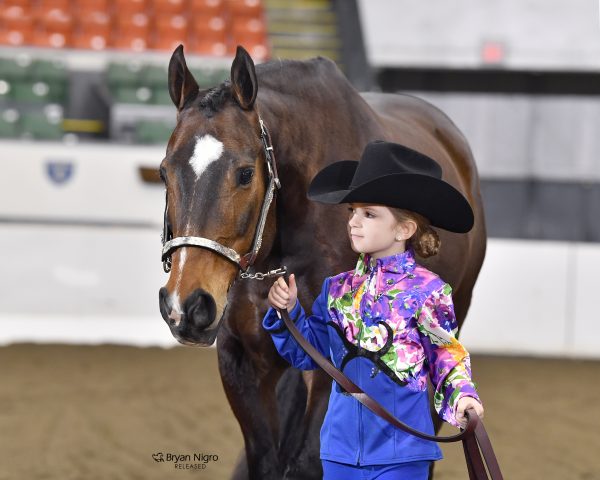 Fast forward ten years, my daughter was turning 3 and while she hadn't ridden much, she had been around horses often. A pony and a horse later, my daughter is now 7 years old and I have gone from being the fearless competitor to the horse show mom of a fearless competitor!
Read Katrina and her daughter's blog here: /blog/from-competitor-to-cheering-section/
Pouring From an Empty Cup
I've heard time and time again that taking precious moments for self-care is so important, but time for self-care is something we all want and none of us really have. Maybe it's an unpopular opinion, but for me, showers do not count as self-care– barn time does!
Read Keli's journey here: /blog/pouring-from-an-empty-cup/
---
Meet Michelle and Tia, our SmartPerks Hall of Fame Inductees
Like my mare Tia, I'm a mom, though I have rambunctious twin boys instead of one sweet girl. I'm also a breast cancer survivor, and Tia has been a great source of comfort through it all.
Read Michelle, Tia, and their offspring's story here: /blog/meet-michelle-and-tia-our-smartperks-hall-of-fame-inductees/
---
---
Mother's Day Story Contest Giveaway
OFFICIAL RULES
NO PURCHASE NECESSARY. Purchase will not increase your chances of winning
1. ELIGIBILITY: Only open to legal residents of the 50 United States and the District of Columbia, who are at least 18 years of age or the age of majority in their state of residence, whichever is greater at the time of entry. Void where prohibited by law. This promotion is governed by US law and is subject to all applicable federal, state and local laws and regulations. Employees of SmartPak Equine, LLC and its affiliates, subsidiaries, parents, advertising, promotion and fulfillment agencies and members of the immediate family or household of each, are not eligible to participate. Immediate family member is defined as a parent, sibling or any person residing in same household as employee.
2. CONDITIONS OF PARTICIPATION: Further required information may include, but is not limited to entrant's name, date of birth, phone number, mailing address, social security number. Failure to provide necessary and truthful information may result in disqualification of the entrant and forfeiture of any awarded prizes.
3. ENTRY: Sweepstakes begins on 05/08/2021 at 12:01 AM EST and ends on 05/09/2021 at 11:59 PM EST. To enter, fill out the entry form located at (/blog/mothers-day-blog-2021/). 1 winner will be chosen at the end of the contest. Submissions will be accepted beginning Saturday, May 8th, 2021 at 12:01 AM EST through Sunday, May 9th, 2021 at 11:59 PM EST. Alternate method of entry: mail a handwritten legible 3"x 5" post card with your full name, date of birth, address, phone number, and email address to SmartPak Equine, LLC, Give the Gift of Health with SmartPaks to 40 Grissom Road, Suite 500, Plymouth, MA 02360 postmarked prior to Monday May 10th, 2021. One entry per person will be accepted during the sweepstakes.
4. PRIZES/ODDS: 1 prizes will be awarded: $100 SmartPak Gift Card
The odds of winning depend on the number of eligible entries received. ALL EXPENSES, TAXES AND COSTS ASSOCIATED WITH ACCEPTANCE AND USE OF PRIZES NOT SET FORTH IN THESE RULES ARE THE OBLIGATION OF THE WINNERS. The prizes are non-transferable, and no substitution is permitted, except by Sponsor, who reserves the right, in its sole discretion, to substitute a prize of equal or greater value, if prize, or portion of prize, becomes unavailable.
5. WINNER SELECTION: The winners will be announced by 05/14/2021 at 12:00 PM EST by the Sponsor's Social Media judges based on one random drawing per prizes listed above. The potential winners will be notified by email within approximately 48 hours and the winners' names (first name, first initial of last name, city and state) will be announced on the Sponsor's Facebook Page Timeline. If Sponsor is unable to contact the potential winners after reasonable effort, or if the potential winners fail to respond within three days of first attempted notification, prize may be forfeited and awarded to an alternate winner.
6. GENERAL: The potential winners will be required to sign and return a Warranty of Eligibility and Liability Release and Publicity Release, prior to receiving their prize. In the event of noncompliance, the potential winner may be disqualified, and an alternate winner selected at Sponsor's sole discretion. By entering, participants (a) agree to be bound by the official rules and the decisions of the Sponsor
(including but not limited to eligibility determinations) which are final and legally binding in all respects; (b) agree to release Sponsor, and its employees and agents from any and all liability, loss, damage or injury resulting from participation in this Promotion or awarding, receipt, possession use and/or misuse of any prize awarded herein and acknowledge that Sponsor and its employees and agents have neither made nor are in any manner responsible or liable for any warranty, representation, or guarantee, express or implied, in fact or in law, relative to any prize including, but not limited to, its quality, mechanical condition or fitness for a particular purpose; (c) consent to use of his/her name, photograph, likeness and/or any other content or material contained in a participant's sweepstake entry for advertising and promotional purposes without additional compensation, unless prohibited by law; (d) to be contacted by Sponsor via e-mail, postal mail, and telephone; and (e) to become part of Sponsor's print and e-mail database. All entries are subject to Sponsor's privacy policy (located at https://www.smartpakequine.com /custcaresecurityprivacy.aspx).
7. INDEMNIFICATION: By participating in this Sweepstakes and/or by accepting any Sweepstakes prizes that you may be awarded, you agree that Sponsor and each of their respective parents, subsidiaries and affiliated companies, units and divisions; and their advertising and promotional agencies and prize suppliers; each of their respective officers, directors, agents, representatives and employees; and each of these company's and individual's respective successors, representatives and assigns (collectively, the "Indemnified Parties") shall not be liable for any and all actions, claims, including, but not limited to, any third party claims, injury, loss or damage arising in any manner, directly or indirectly, arising from or relating to this Sweepstakes, including entry and participation in this Sweepstakes, or the acceptance, possession, use or misuse of any prize. By participating in the Sweepstakes and/or accepting any prize that you may be awarded, you agree to fully indemnify each Indemnified Party from any and all such claims by third parties without limitation.
8. DISPUTES: Except where prohibited, each entrant agrees that (1) any and all disputes, claims, and causes of action arising out of or in connection with this Sweepstakes, or any prizes awarded, shall be resolved individually, without resort to any form of class action, and any judicial proceeding shall take place exclusively in a federal or state court located in Massachusetts; (2) any and all claims, judgments, and awards shall be limited to actual out-of-pocket costs incurred, including costs associated with entering this Sweepstakes, but in no event attorneys' fees; and (3) under no circumstances will entrant be permitted to obtain awards for, and entrant hereby waives all rights to claim punitive, incidental, special, and consequential damages, and any other damages, including actual out-of-pocket expenses, and any and all rights to have damages multiplied or otherwise increased. All issues and questions concerning the construction, validity, interpretation and enforceability of these Official Rules, or the rights and obligations of entrant and the Sponsor in connection with this Sweepstakes shall be governed by, and construed in accordance with the laws of the Commonwealth of Massachusetts, without giving effect to any choice of law or conflict of law rules or provisions (whether of the Commonwealth of Massachusetts or any other jurisdiction), that would cause the application of the laws of any jurisdiction other than those of the Commonwealth of Massachusetts.
9. INTERNET: If, for any reason, the Internet portion of this promotion is not capable of running as planned, whether due to infection by computer virus, bugs, tampering, unauthorized intervention, fraud, technical failures, or any other causes beyond the control of Sponsor which corrupts or affects the administration, security, fairness, integrity, or proper conduct of this Sweepstakes, Sponsor reserve the right at its sole discretion, to disqualify any individual who tampers with the entry process, and to cancel, terminate, modify or suspend the Sweepstakes. In the event of termination, random drawings to award the prize will be conducted from entries received up until the time of termination. Sponsor assume no responsibility for any error, omission, interruption, deletion, defect, delay in operation or transmission, communications line failure, theft or destruction or unauthorized access to, or alteration of, entries.
Sponsor is not responsible for any problems or technical malfunction of any telephone network or lines, computer on-line systems, servers, or providers, computer equipment, software, failure of any e-mail or entry to be received by Sponsor on account of technical problems, human error or traffic congestion on the Internet or at any web site, or any combination thereof, including any injury or damage to entrant's or any other person's computer related to or resulting from participation or downloading any materials in this Sweepstakes. CAUTION: ANY ATTEMPT BY A PERSON TO DELIBERATELY DAMAGE ANY WEB SITE OR UNDERMINE THE LEGITIMATE OPERATION OF THIS SWEEPSTAKES IS A VIOLATION OF CRIMINAL AND CIVIL LAWS AND SHOULD SUCH AN ATTEMPT BE MADE, SPONSOR RESERVES THE RIGHT TO SEEK DAMAGES FROM ANY SUCH PERSON TO THE FULLEST EXTENT PERMITTED BY LAW. In the event of a dispute, entries will be declared made by the authorized account holder of the e-mail address submitted at time of entry. "Authorized account holder" is defined as the natural person who is assigned to an e-mail address by an Internet access provider, on-line service provider or other organization (e.g., business, educational, institution, etc.) that is responsible for assigning e-mail addresses for the domain associated with the submitted e-mail address.
10. WINNERS LIST: For the name and state of residence of the winner, send a self-addressed stamped envelope by November 14th, 2021 to SmartPak Equine, Mother's Day Story Contest Giveaway, 40 Grissom Road, Suite 500, Plymouth, MA 02360.
11. SPONSOR: The Sponsor of this promotion is SmartPak Equine LLC, 40 Grissom Road, Suite 500, Plymouth, MA 02360.
12. FACEBOOK DISCLAIMER: This promotion is in no way sponsored, endorsed or administered by, or associated with, Facebook and that you hereby agree to release Facebook from any claims associated with this promotion. You understand that you are providing your information to SmartPak Equine, LLC and not to Facebook.
13. TWITTER DISCLAIMER: This promotion is in no way sponsored, endorsed or administered by, or associated with, Twitter and that you hereby agree to release Twitter from any claims associated with this promotion.
14. INSTAGRAM DISCLAIMER: This promotion is in no way sponsored, endorsed or administered by, or associated with, Instagram and that you hereby agree to release Instagram from any claims associated with this promotion.