Meet Stephanie and Tory, our SmartPerks Hall of Fame Inductees
Posted on: October 19, 2020 by SmartPak

At SmartPak, we're on a mission to make the world a better place by using our smarts to power healthy horses and happy riders. Out of the tens of thousands of riders and horse owners that we're proud to call SmartPerks members, our SmartPerks Hall of Fame Inductees have been supporting their horses for the longest amount of time. This honor celebrates their commitment to changing the world, four hooves at a time by taking great care of their horse. We're thrilled to introduce you to our recent inductees, Stephanie and Tory.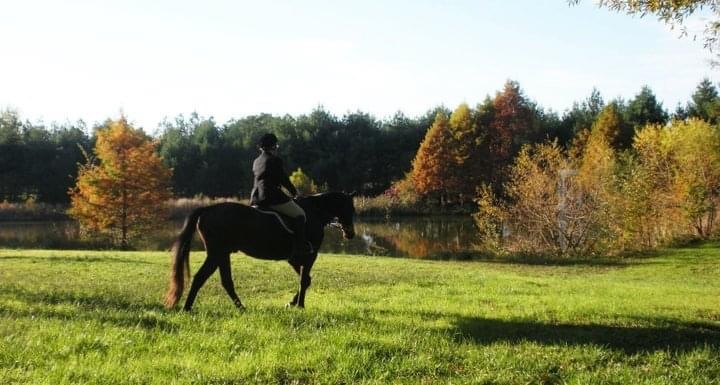 I found Tory in 1996 when he was a six-year-old OTTB and I was in my 20s, looking for my first horse as an adult. His jockey club name was "Tour de Maryland" and he had 11 starts with two wins, including a stakes race. I think I sat on him for five minutes before knowing he was "the one." When I lost him in August of 2020, I was in my 50s and he had been my friend through six jobs, three moves, and 24 years.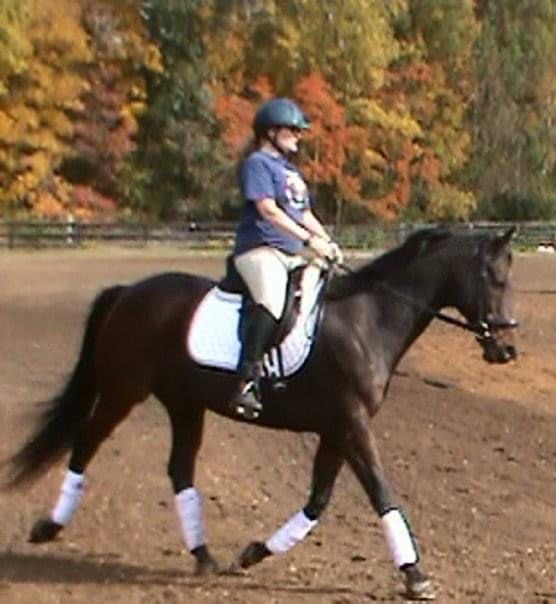 Our first boarding facility together had over 200 acres of trails and open fields to ride in plus an indoor arena and two outdoor arenas.  During the winter, I would school Tory in dressage indoors just about every night after work and when the days were longer and the weather was nice, we would go out on the trails.  After inadvertently throwing me off a few times in those first years, he became a solid partner.  Tory was happy on the trails alone or in a group.  He had to be in front, of course, and would sulk if he ended up in the back.  One of my favorite things to do with him when we were both young and fit was to power walk the trails by his side.  He would walk so fast that sometimes I had to jog to keep up with him.  We competed in local dressage shows from time to time at the lower levels. I had to develop a rapid salute for the judge because the Thoroughbred in Tory only wanted to go forward and he thought halting was for fools.
Even in his 20s when I decided to take him hill-topping with the local fox hunt club, he still hated halting and I had to excuse myself more than once from the field because he would not stand quietly at the checks.  I boarded him at two different facilities for 18 years before I finally bought a small farm and could bring him home when he was 24 years old.  His companions were my warmblood Apollo and Gretel, my pony-sized mule.  He was never locked in a stall again, although he had one available to get out of the elements or away from the flies.  I learned two new things about my longtime friend after we "moved in together."  The first was that he hated being out in the rain.  He would gallop back to the barn if it started to pour.  The other thing I learned was that he was a complete slob in his stall.  He would dribble his pelleted feed everywhere, churn his manure into his bedding and occasionally poop in his water bucket for fun.   Being able to have him in my backyard finally was worth all of the extra work.
The day I got the package with the SmartPerks Hall of Fame award for 19 years of using SmartPaks for Tory, we had just spent a tough morning with the vet removing an infected molar.  I was blown away by the gifts and moved to tears that SmartPak wanted to honor this horse that I loved so much.  I thought SmartPaks were brilliant when they came out and the customer service is outstanding.  At the end of his life, Tory's SmartPak included the SmartFlex Senior pellets and the SmartHoof Ultra pellets.  I also gave him the Smart & Simple Vitamin E pellets and SmartImmune pellets the last couple years of his life while he was struggling with EPM, a mass in his sinus, dental disease, and recurring hoof abscesses.  He still loved life though. He would trot around his paddock like a Grand Prix horse and flirt with Gretel even after he turned 30 in 2020.
Tory developed a serious hoof infection in July that we treated but it was not enough. Losing him left a big hole in my life and in my heart.  He was my horse of a lifetime and got me through good times and bad.  The last time I rode him was pure joy.  I hope we meet up again someday.
In Memory of Tour de Maryland, "Tory"
SmartPerks Hall of Fame Inductee 2020
1990 – 2020