Meet Trudi and Denver, our SmartPerks Hall of Fame Inductees
Posted on: January 21, 2019 by SmartPak

At SmartPak, we're on a mission to make the world a better place by using our smarts to power healthy horses and happy riders. Out of the tens of thousands of riders and horse owners that we're proud to call SmartPerks members, our SmartPerks Hall of Fame Inductees have been supporting one special horse for the longest amount of time. This honor celebrates their commitment to changing the world, four hooves at a time by taking great care of their horse. We're thrilled to introduce you to our inductees, Trudi and Denver.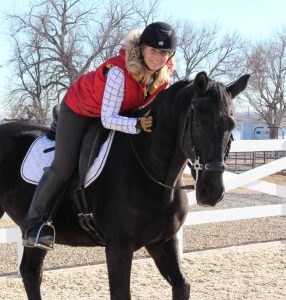 Being inducted into the SmartPerks Hall of Fame is a wonderful way to honor the long life that Denver has led and all of the things he's done throughout this career. When you think of the quintessential black stallion, Denver embodies all of those handsome qualities, minus two details. He stands 17hh tall and is a beautiful gelding, the grandson of the all-time famous dressage stallion Donnerhall. But most importantly, when you think of a horse that is good for the soul, you think of Denver.
I have had the privilege of owning him since he was four years old. He's now twenty-three years young and has touched so many lives. Denver has enjoyed a long career, firstly as a dressage competitor and then as a photographic muse for national equine publications and as a therapy horse. He won everything as a youngster, he participated in one of the very early Challenge of the Americas, and then took a hiatus from showing because of his other attributes. Although he was a very successful show horse, my favorite thing about him is his personality.
He is loving, kind, and sweet, and has had a wise old soul since I first met him. It's hard to find a horse as sweet and kind as he is!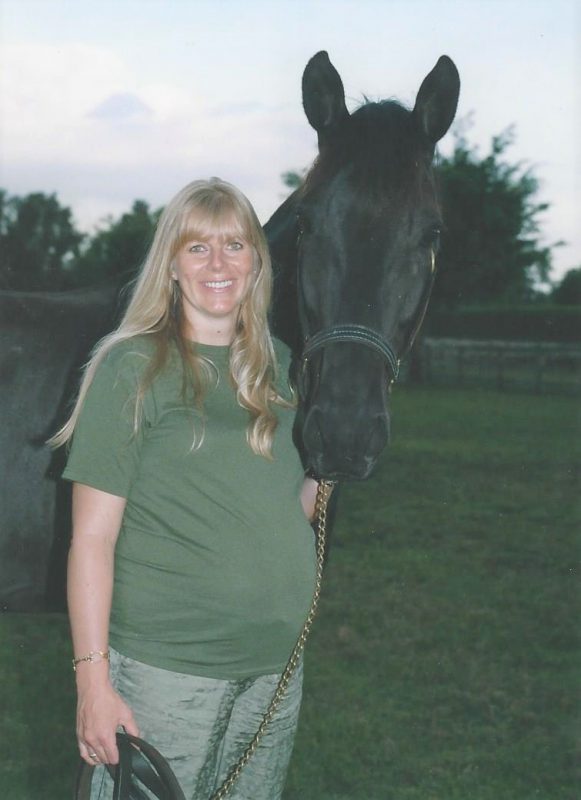 Over the many years that I've owned Denver, I've grown as a person with him. He's taught me more about kindness and compassion than any other person has. And he's touched so many different people besides me. I've worked with him as an equine therapy horse with many clients and I've taught many people to ride on him. He's been a babysitter to my high strung horses. Denver really taught me how connections between different species can be so incredibly rewarding and can translate into other people's lives as well. It's not just about me and him – it's the fact that he's been able to connect with so many other people, too.
That's why when I think of my favorite moments with him, I think of stories related to his personality and the connections he makes with others. One story in particular stands out to me, which occurred while we were trail riding in Wellington. We came across a rider who was having significant challenges with her own horse. I'd never met her before, but Denver and I were able to escort her safely home and I made a lifelong friend from that interaction.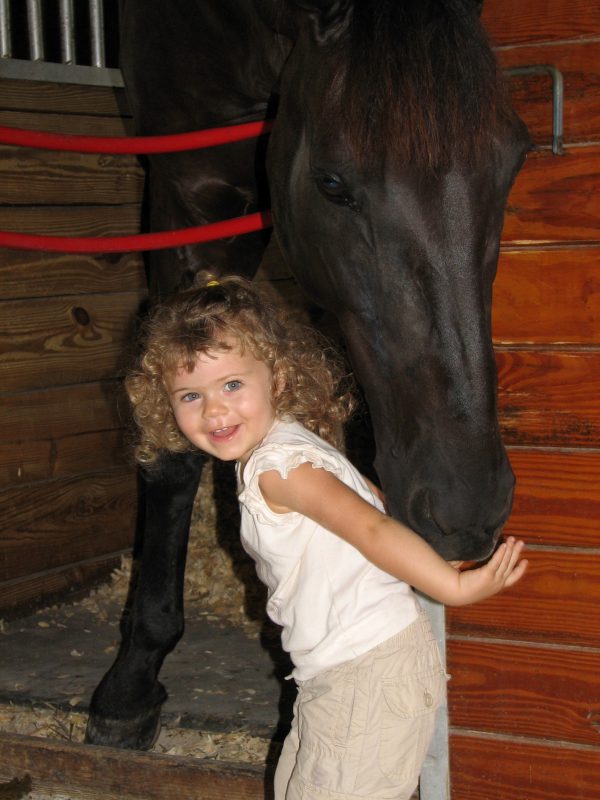 As Denver has grown older, every day with him has been a gift. He just enriches my life and makes me happy every time I see him! He now gets ridden out on the trails once in a while. He does work as an equine therapy horse still, so he does that occasionally. My fourteen-year-old kiddo has grown up with him and still rides him a little, too. He's a bit like a vintage Ferrari – he has low mileage, is still doted on, and is ridden from time to time!
I first started Denver on SmartPaks way back in 2001 when the product list was simply typed up in black- and-white on a sheet of paper. I was a fan of the start-up company that only sold supplements and I'm still a fan of the now much larger business. I have been consistently impressed by the high quality of the company's way of doing business, I've remained a loyal customer because of the initial and continued friendliness of the staff, as well as the vast range of products.
It was really wonderful to be recognized for that loyalty through the SmartPerks Hall of Fame. I loved all of the gifts that we got, including the cooler and the beautiful leather halter. I was super excited to get the gift certificate as well. Though I'd of course love to indulge myself with it, I think it's going to go towards getting gear and equipment for my horses. Thank you, SmartPak, for honoring us with these gifts and by inducting us into the SmartPerks Hall of Fame!