Meet Michelle and Tia, our SmartPerks Hall of Fame Inductees
Posted on: February 22, 2021 by SmartPak

At SmartPak, we're on a mission to make the world a better place by using our smarts to power healthy horses and happy riders. Out of the tens of thousands of riders and horse owners that we're proud to call SmartPerks members, our SmartPerks Hall of Fame Inductees have been supporting their horses for the longest amount of time. This honor celebrates their commitment to changing the world, four hooves at a time by taking great care of their horse. We're thrilled to introduce you to our recent inductees, Michelle and Tia.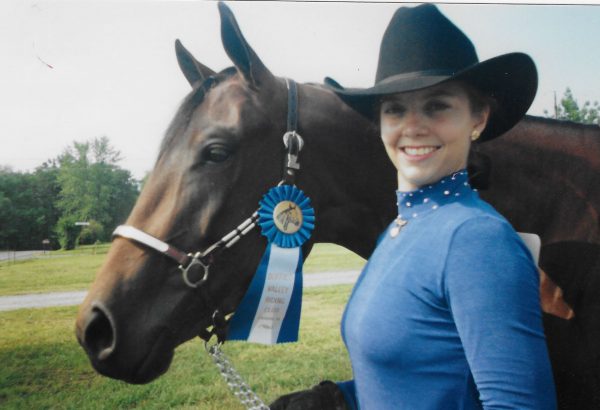 Tia has been in my life since she hit the ground. She was out of a mare that boarded at my mother's barn at the time, and that mare's owner named her "Tees Brazen Lady", calling her "Lady" as a barn name. I secretly renamed her "Tia" on my own. She had class, but she was too sassy to be called "Lady." When her owner decided to get out of horses, she asked me if I wanted to buy Lady. I responded with "You mean, Tia?" and at 26 years old, I paid $500 for her. After 24 years together, she's been with me through a lot and I can't imagine life without her. In fact, when I got married in 2004, I insisted that Tia and my beagle, Dixie, be a part of the wedding ceremony.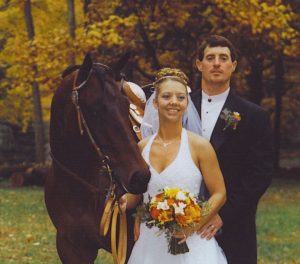 At 24, Tia is now a trusty trail mount, but before her well-deserved retirement, she was my partner in the show ring and an excellent mother to now 14-year-old Rio. I had no plans to show her when I first got her, but she turned out to be a show horse through and through. We showed in Halter, Showmanship, Western Pleasure, Western Horsemanship, and Trail classes. We showed for nearly two decades, sometimes up to 30 shows a year. In 2008 we won the AQHA Region 5 Novice Amateur Trail Championship. I'm proud to say I trained her myself for the most part, and she rarely lost a trail class! One time during a trail class at an American Quarter Horse show, the pattern had a combination bridge obstacle with multiple large railroad ties. We had to walk right through, and Tia spooked a bit (she had never seen this kind of obstacle before). She backed away several times, and at that point, we were disqualified. However, on the fourth attempt, she made it through and we finished the rest of the class beautifully. Even though we didn't even place in the class, I was so proud of her for overcoming her fear and trusting me. She finished that pattern as level-headed as ever.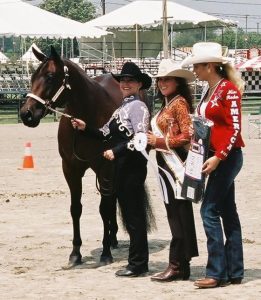 Like Tia, I'm a mom, though I have rambunctious twin boys instead of one sweet girl. I'm also a breast cancer survivor, and Tia has been a great source of comfort through it all. Our last few years have been spent mostly trail riding, and we even were able to bring both Tia and Rio home to our own property. Anyone who meets Tia is hard-pressed to believe she's 24! When I was diagnosed with breast cancer and going through treatment, Tia knew when I needed that extra affection. She can be a sassy mare, and sometimes standoffish; the opposite of Rio who just loves to be loved. But Tia would know the days I needed a hug and to just be close to her. She's taught me to work hard for what I want, she's kept me grounded and focused.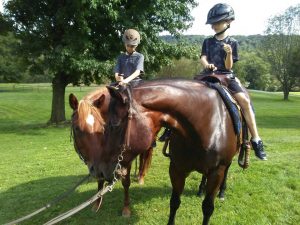 SmartPak has been a part of our lives for a long time, too. I started ordering in 2001 after I heard about the company through Horse and Rider magazine. Since then, Tia and I have been featured in a few SmartPak catalogs ourselves! Originally, I had Tia on individual supplements, and I was showing every weekend at that time and boarding her locally. I trusted the barn owner to feed her everything, but once we started SmartPaks it was awesome; I knew she'd get the right amount of her supplements every day. Before I converted to SmartPaks I did my homework. I compared the costs and concluded that it was absolutely worth it to have the peace of mind and security of knowing Tia was getting what she needed when she needed it. She's now on SmartCombo Senior Pellets and I love how easy SmartPaks make it to feed my girls since bringing them home.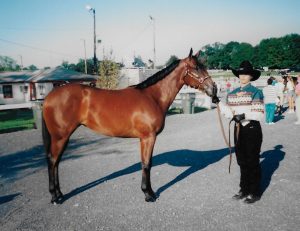 You know, it's funny. I know exactly when my SmartPaks come, so when I got a large package with the SmartPak logo on it I was confused. Opening it up was such a surprise, it was great to be recognized as a long-time customer. I'm still waiting on Tia's next bath before she wears the gorgeous new cooler, and the $500 SmartPak Gift Certificate is itching to be spent. It's so generous, and I'm really looking forward to looking at potential new saddles!
Over the years I have always had auto-ship packages arrive on time. I've never had an error with my supplements. The addition of all the products SmartPak carries and their SmartPerks have been awesome, too. We don't have a lot of tack shops in my area and I'm so busy it's so much easier to shop online knowing my order will arrive within a few days. Thank you, SmartPak!