Meet Alex and Coqui
Posted on: November 08, 2020 by SmartPak
Success Profile:
Daffy's Son Shine ("Coqui")
Breed:
Paint
Age:
20
Discipline:
Dressage
Owner:
Alex Belton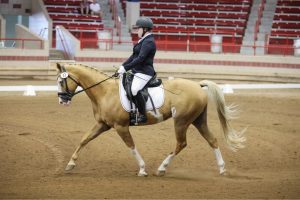 (above photo by Norfleet Marketing & Photography)
We decided to start feeding Coqui SmartFlex Ultra Pellets when I got him in 2010 since he was in an active work schedule and I wanted to minimize the risk of any joint issues in his future. When people ask me how old he is, they are always amazed when I say he is 20! He works four to five days per week, schooling Prix St. Georges movements, and he rarely comes out stiff. His confirmation is rather downhill, so there is some extra flexion required of his hind end joints to achieve collection. Adding SmartFlex Ultra to Coqui's supplements has helped to prolong his competition career and I don't have plans to retire him any time soon.
Photo by Lisa Michelle Dean Photography