Ask the Vet: Joint Supplements and the Benefits of MSM
Posted on: June 25, 2010 by Dr. Lydia Gray
I am so confused about joint supplements. I have a 3 yr old in training and I want to give him supplements for maintenance while he is being ridden every day. If he develops a problem, is the MSM going to help? Is it good for them to get MSM every day? He is currently receiving a product called Max Flex XR. Is there a joint supplement that you prefer or do any of these types of supplements provide enough to really get to the joint? I want to do everything I can to keep his legs lubricated and healthy while staying away from the supplements that have ingredients that mask pain or inflammation. I think the Max Flex XR only has 100 grams of MSM. I would appreciate your thoughts.

– Barbara
Dear Barbara,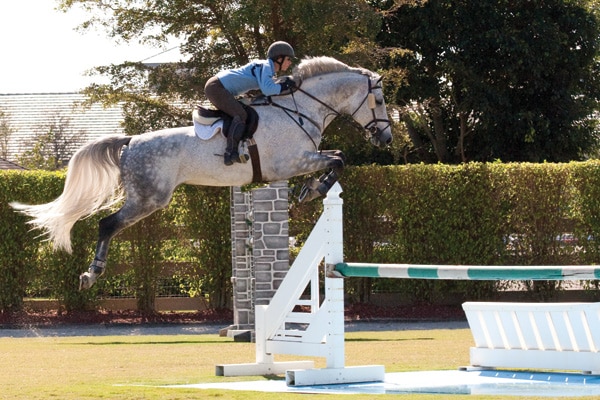 I personally think it's a good idea to start young horses in training on oral joint supplements. If all horses had to do was stand around and eat hay, their natural repair mechanisms could probably keep up with the daily damage. But when we add weight, turns, landings, collection, etc. as well as changing footing and hoof/shoe issues, we may be overwhelming the system.
Since you specifically asked about MSM, I'll share this article with you (actually it's just the abstract from Pubmed). I particularly like it because a) it was performed in horses b) they specifically looked at performance horses, and c) they only measured the effects of one ingredient. If you do the math, they saw effects giving about 4 grams (4,000 mg) of MSM to an 1100 pound horse.
Marañón G, Muñoz-Escassi B, Manley W, García C, Cayado P, de la Muela MS, Olábarri B, León R, Vara E. Acta Vet Scand. 2008 Nov 7;50:45.
The effect of methyl sulphonyl methane supplementation on biomarkers of oxidative stress in sport horses following jumping exercise.
Abstract
BACKGROUND: Exercise induces changes in several organs and tissues, and this process might be due to oxidative damage caused by free radicals and inflammatory mediators. Methyl Sulphonyl Methane, better known as MSM, is a naturally occurring sulphur compound with well-known antioxidant properties. On the other hand, Vitamin C is important in limiting free radical damage in the aqueous phase of the cell, and cellular vitamin C status may be linked to the mechanisms involved in quenching cellular reactive oxygen species. The aim of this study was to determine if supplementation with MSM and vitamin C could alleviate exercise-induced oxidative stress in horses undergoing jumping competition. METHODS: Twenty four jumping horses involved in competition were used. Horses were given the following three treatment diets: control (without supplementation), MSM 8 mg/kg, and combined supplements (MSM 8 mg/kg + Vit-C 5 mg/kg). EDTA blood samples were collected before exercise, upon arrived to the schooling area (control), and each week after last show. Nitric oxide, carbon monoxide, lipid hydroperoxides and the antioxidant enzymes, glutathione peroxidase, glutathione transferase and glutathione reductase, plasma levels were determined.
RESULTS: Competition induced a significant increase in lipid peroxidation, nitric oxide and carbon monoxide. By contrary, reduced glutathione as well as antioxidant enzyme activities, were decreased. MSM administration significantly ameliorated all these exercise-related changes, and this effect was potentiated by Vit C reaching values in some of the parameters similar to those found before competition.
CONCLUSION: These results suggest that jumping exercise could induce harmful effects on horses, probably due to an increase in oxidative damage and proinflammatory molecules. In addition, we have demonstrated that MSM could exert some protective effect on oxidative and inflammatory exercise-induced injury.
[Ed. note: To shop joint supplements by volume of MSM, visit our Joint Supplements Chart at http://www.smartpakequine.com/charts/JointCompare.html where you can sort by milligrams of MSM. From the AAEP Ask a Vet]