How to Choose the Right Farrier for Your Horse
Posted on: March 18, 2018 by Danvers Child CJF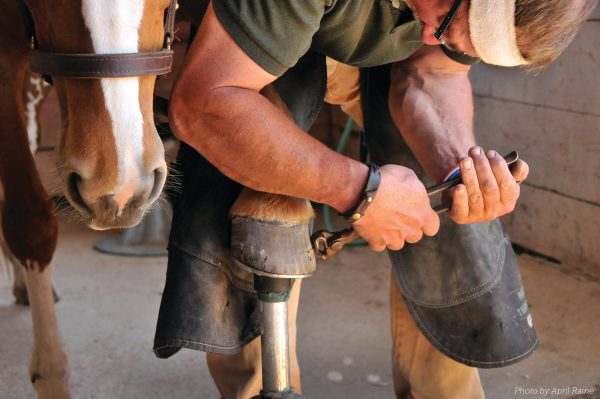 Although farriers advertise their services and clients occasionally respond to those advertisements, the vast majority of farriers establish their business through referrals. It's the way things work in the horse industry; another owner, a trainer, a veterinarian, or whoever passes along a recommendation, and you call the recommended farrier.
It's a hit and miss selection process. The person who makes the recommendation awards some value to the farrier, but…. "Is that value truly warranted?" and "Does it apply to your situation?" The fact is that most farriers get recommended due to things disconnected or minimally connected to their craft.
Rather than being selected for their ability, their skill set, or their knowledge base, they're more often chosen due to concerns related to being personable and friendly, being reasonably priced, being known for not losing shoes, or for showing up on time.
While these are all good and desirable traits, they're probably not the best selection criteria for the performance side of the job at hand. So people tend to add "experience" to the list. Unfortunately, however, experience sometimes doesn't match up to skill, knowledge, or talent. The fact is that 20 years of experience can sometimes mean one year's worth of experience repeated 20 times.
So, keep looking for the good traits, but don't automatically award credibility for them. And consider adding some other criteria to your selection process. Things you might look for would include:
1. Someone who pursues and/or attains certification.
While certification is not generally required in North America, many motivated farriers will have voluntarily submitted to testing through the American Farriers Association (AFA). Yes, there are many excellent farriers who have not chosen to certify; nevertheless, when "flying blind," it's a good idea to look for someone who has earned the AFA's CF (Certified Farrier) or CJF (Certified Journeyman Farrier) credential.
2. Someone who has invested the time and effort to understand your discipline.
While a farrier doesn't have to be a competitive rider in order to do good work, it's nice if s/he understands the demands of a particular discipline and the levels within that discipline. A really well fit work boot doesn't mean much if you're in a sprint race.
3. Someone who pursues and values continuing education.
The desire to get better every day is great. The drive to make that happen is even better. Good farriers work with other good farriers. They read, they study, they practice, they simply don't isolate themselves through complacency. In fact, good farriers in North America spend several thousand dollars each year to advance their knowledge and skill. If your farrier isn't on the road, attending clinics, conventions, and other events, you should wonder why. A friend once said that "the worst disease a farrier can suffer from is isolation."
4. Someone who understands options and helps you determine best choices.
"The" chosen way to accomplish something should always be a result of looking at "numerous" ways to do it. There are many, many different choices available when you're attempting to alter and optimize a trimming / shoeing. One may work better than others in a particular situation, but your farrier should have more than a "one trick" box.
5. Someone who is willing to refer and defer to others.
It's good to work with someone who is horse savvy, but it's good to be suspicious of those who know "all" and would think that farrier is another term for nutritionist, veterinarian, chiropractor, saddle fitter, etc. It really is good when someone is willing to say, "I don't know," and suggests that you consult with a specialist.
6. Someone who takes the time to do the job well.
While it's great to have someone who's efficient and gets things done, it's not so great to have your horse on a production line. And it's not so great to have someone working on that horse who never takes the time to look above the foot.
7. Someone who understands that farriery is a complex and difficult job.
At a very base level, one can think of farriery as being simple stuff, and many people, including some practitioners, view it that way, as simply "clipping toenails." I won't try to make a case for it being more difficult than "rocket science," but I think it's important to realize that it's a complex study in physics, and to do it well, one has to recognize the principles that apply: mass, velocity, compression, concussion, acceleration, deceleration, and so forth. And to compound the complexity, we can't isolate and control the variables…. Sometimes, we can't even identify the variables.
8. Someone who addresses the individual needs of your horse(s).
If you're in a barn and every single horse has wedge pads on, ask yourself if this should be considered normal. As an apprentice, my mentor once told me that if I saw two horses that were shod exactly the same, at least one of them was shod wrong.