Horsey Halloween Costumes
Posted on: October 29, 2013 by Sarah Paull
Halloween is fast approaching (seriously, where has the year gone?!) and I don't know about you, but I still don't have my costume figured out (if I go as a "cowgirl" one more time, my friends will disown me).
So I turn to you, friends of SmartPak – what sort of wicked fun are you cooking up this Halloween? Tell me in the comments or share your photos to our Facebook wall!
If you're worse off than me, and you're still looking for a costume for your horse and yourself, you can borrow some inspiration from this mix of SmartPaker's old costumes and fabulous finds from across the internet (for some of these, you're going to need a lot of free time between now and Thursday!):

Fisherman & Lobster – SmartPaker Sara and her gelding, Diem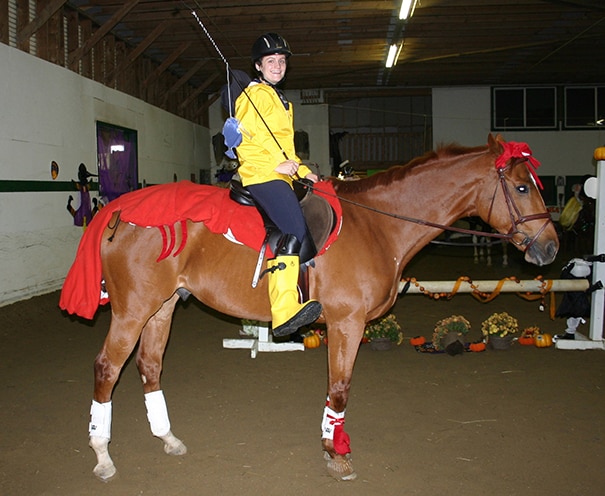 This costume is a real problem-solver – thanks to your fisherman's slicker, you don't have to worry about rain on Halloween, and the lobster tail is a smart way to keep a cold-backed horse happy through all the trick-or-treating fun!
Milkmaid & Cow – the craziest rider on earth and her unbelievably calm horse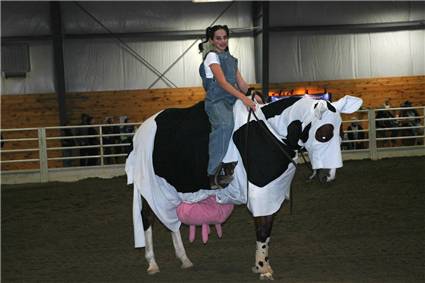 Source: besthalloweencostumeideasz.blogspot.com
My horse Cody would stand patiently, and quite bored, while I put this costume on. But the thought of what he'd do when he tried to take a step forward is more terrifying than all the Friday the 13th movies combined. The fact that this milkmaid is not even wearing a helmet has me convinced that she is, in fact, riding a horse statue.
Zorro & Tornado – SmartPaker Kristina and her mare, Cocoa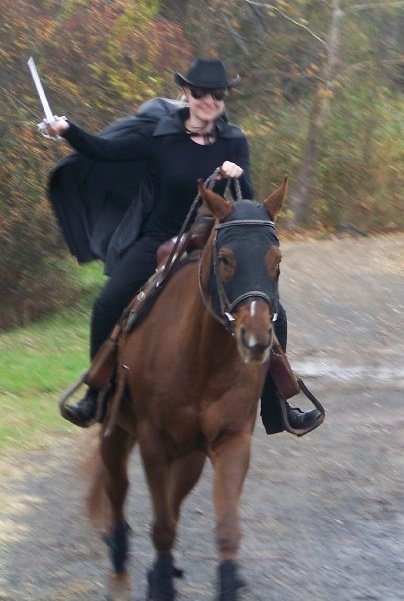 Got a horse that's not impressed by the idea of dressing up? No worries! This clever costume requires minimal participation from your equine partner, and if he or she starts rearing at the sight of the cape, you can claim it was careful stunt training, as seen on all the Zorro posters and books!
Hermione & Harry Potter – you, in your dreams, aboard your dream pony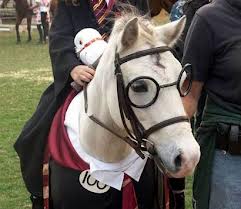 Source: Equestrette.com
There are two things I know:
Every girl who has ever read the Harry Potter books imagines herself as Hermione
Ponies look ridiculously cute in glasses (I only learned this upon finding this image)
Sock Hop Girl & Poodle – someone who loves the 50s and their very patient horse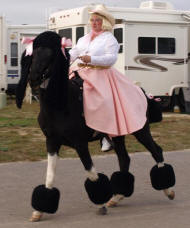 Source: sleezybarbhorsewear.com
While I think this would work better as an in-hand costume (seriously, who is out there riding their poodle?), a horse with floppy ears was too cute to ignore.
Caveman & Dinosaur – SmartPaker Brittany and her gelding, Nate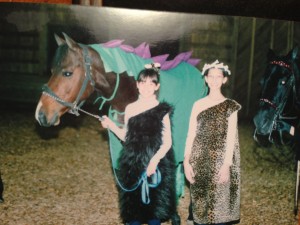 I like this costume because there are a lot of small things you can change to make it work for you:
To make it easier, you could just pin little scales on one of your horse's blankets or coolers
To add a little pop culture reference, you could carry around an application for Geico insurance for your dinosaur (he is your ride after all)
To really step up your game, you could make this crazy impressive dragon and knight costume, though I'm assuming you'd have to quit your day job to complete it:

Source: EquinesPassion.blogspot.com
I hope something in there was inspiring, helpful, or at least made you laugh. And keep in mind, if your horse has embarrassed you recently, perhaps by ditching you in a big mud puddle, Halloween is a perfect opportunity to return the favor.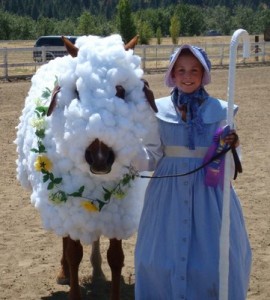 Source: HorseForum.com
Happy Halloween!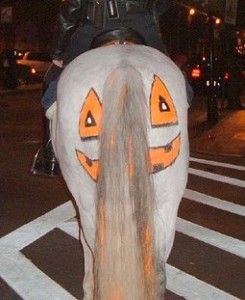 Source: onefunnyhorseeveryday.blogspot.com
Pumpkin seeds, anyone?