Horses Giving Hope
Posted on: October 16, 2020 by SmartPak

Every day, SmartPak is on a mission to support healthy horses and happy riders. As part of this, we get the opportunity to connect with thousands of equestrians who share their experiences and we are honored to share the incredible things horses do to inspire, heal, and motivate the people around them.  
Horses Giving Hope is the third story in the SmartPak video series, bringing you into the barns of unique horses – from therapy horses to the underdog turned Olympic hopeful – showing how they've made an impact on the lives of their riders, and why we at SmartPak continue supporting these horses and riders through their journey.  
Horses Giving Hope
The Horses That Inspire Us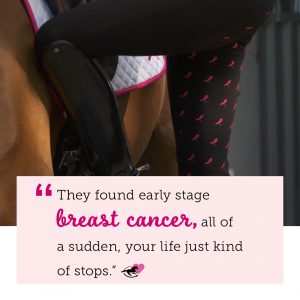 Pan-American Games Silver Medalist Shannon Dueck has been a member of Team SmartPak since 2003 and continues to be a valued ambassador to the brand. Shannon is an accomplished professional in the sport of Dressage, bringing numerous horses to the Grand Prix level. Her passion for horses extended beyond her riding, as she earned a bachelor's degree in animal science, and a master's degree in equine nutrition. To this day, she continues to train horses and coach riders, helping them achieve their goals in the ring.  
Up until 2009, life in and out of the barn was normal for Shannon. It was the beginning of that year that quickly changed everything. Early on in 2009, following the diagnosis of her mother and her aunt, Shannon herself was also diagnosed with breast cancer. With her family by her side, she took action to aggressively fight and treat this disease. Shannon underwent surgery and was determined to do what she needed to do in order to be healthy and back in the saddle as soon as possible.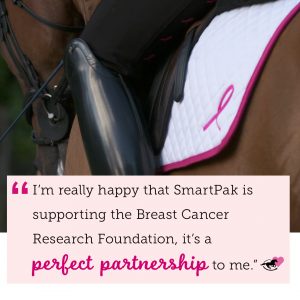 Shannon credits her drive to recover because of her horses. There was one horse in particular, Ayscha, who she relied on the most during her recovery. In "Horses Giving Hope", Shannon speaks to how special Ayscha really is, and the role that the mare played in the journey leading up to getting the pair back into competition.  
Fast forward over ten years later, and Shannon continues to be an advocate for riders and their health. Many of us know someone – either inside or outside of the horse industry – who has been impacted by breast cancer. Like Shannon, it's because of riders and women who share their story that SmartPak is proud to partner with the Breast Cancer Research Foundation (BCRF).  
Shannon's story is an inspiration to those who fight this disease or know someone who is fighting and gives hope for what the future can bring, thanks in part to the efforts of organizations like BCRF. Please enjoy this heartwarming video of Horses Giving Hope!  
Through the month of October, while supplies last, SmartPak is donating 30% of the purchase price of limited-edition Breast Cancer Awareness Piper Knit Breeches and Saddle Pads to BCRF.  The Breast Cancer Research Foundation's mission is to prevent and cure breast cancer by advancing the world's most promising research. For more information about BCRF, visit www.bcrf.org.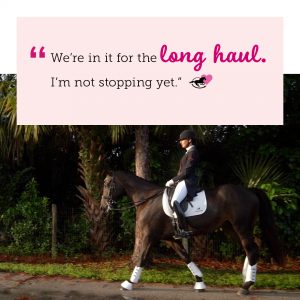 For more videos in this series check out:
---