Green ways to Reuse Your SmartPaks
Posted on: April 19, 2021 by SmartPak
by SmartPak Fan Kelly Alley
You probably already knew that SmartPak wells are already pretty eco-friendly – they're made from recycled plastics, like water bottles – but did you know there are also several ways to reuse them once the supplements are fed?
If you're anything like me, you probably have at least one sizeable stack of empty SmartPaks somewhere in your feed room, if not several, and as Spring and the seasonal cleaning that accompanies it arrives, you might be wondering what to do with those plastic wells. I know I'm always trying to brainstorm different ideas and ways to reuse at least some of them. After all, they're actually pretty useful!
One of the best uses I've found for reusing SmartPak wells is gardening. These perfect little pods make fantastic seed starters, especially for above-ground growing plants like tomatoes and cucumbers. (To be honest, it's one of the few ways I've actually been able to successfully start those finicky plants like lettuce, too.)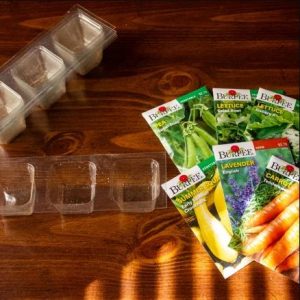 Not only that, but you can also make use of some of that manure pile and help give your little sproutlings a fertilizing boost! Pro tip: make sure it's old or mostly decomposed manure to give your seeds the best fertilizing nutrients.
Besides using them as seed starters, there's other fun and useful ways to recycle those empty SmartPaks.
With summer approaching, you can also use SmartPak wells to make "horsey ice pops." After all, who doesn't enjoy a cooling frozen treat on a hot summer day?
Just cut up or purée appropriate fruits and veggies – apples, carrots, watermelon (without seeds) are favorites around the barn – and place them in the wells. Then add water, unsweetened applesauce, or sports drink until the separate compartments are filled, and freeze it overnight! Just pop the frozen treats out of the wells to give your best equine buddy one when the summer heat sets in.
You can also make electrolyte ice cubes to encourage water drinking in the summer. Same concept as the "horsey ice pop," but this time only using a sports drink. Fill up the wells like you would an ice tray, freeze overnight, then pop out the cubes and put them in your horse's water bucket whenever you need to encourage them to drink. As a side note, these also make great post-show recovery treats in the summer too!
There are also some fantastic non-horsey ways to reuse you SmartPaks too! For artists, these wells make great paint mixing wells for paintings or art projects. As someone who occasionally paints, this recently discovered "hack" has been a game changer. I could never find good jars or containers to rinse my used brushes in after painting until I used one of the single well SmartPaks. They work perfect for holding water to clean your brushes between colors, and since they're clear you can see through them and check when the water needs to be changed.
Speaking of painting, the wells would also work great for holding and separating pony camp arts and crafts supplies like tempera paint and glitter.
They could be great as desk or drawer organizers around the home, office, or even the garage. They're perfect for keeping up with and organizing small things like paperclips, change, jewelry, and nuts and small bolts.
There are many other ways to reuse these handy little wells, including portioning out snacks for when you're at the barn (just make sure you wash them out first).
If you still have some left over, remember that your SmartPaks can be recycled again at most recycling centers too!