Getting a horse back in shape for spring
Posted on: May 01, 2014 by Jennifer Bagley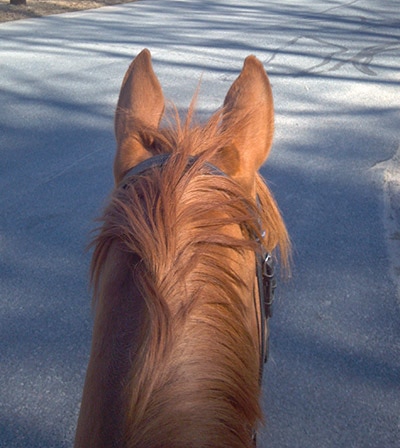 Now that the snow and ice have melted, it's time to think about getting the horses fit for the upcoming show season. Here in New England, we have a tough time maintaining our horses' fitness year round due to the frozen ground (and frozen precipitation!) in the winter. I tried to keep my TBX mare, Tally, from losing too much fitness over the winter, but going from 6 days of riding to 2–3 days a week means we lost some muscle and wind. Luckily, spring has sprung and it's the best time of year to head out on the trails, and warmer weather makes you want to get out and enjoy!
Before heading out for my first few fitness rides, I double check to make sure my horse and I are both outfitted appropriately. This is my pre-ride checklist:
All four shoes tight and secure? Do I have bell boots if needed?
Are my horse's protective boots in good shape—no frayed elastic or loose/missing straps?
Is my saddle in good shape and still fitting well? Saddle pads in place if needed?
Girth and Bridle, Martingale/Breastplate in good shape, no loose stitching? Is my bit strong enough for trot sets and possibly a canter in the field?
Neck strap in place? First trot sets of the season are sometimes exciting—always good to have a handle to hang on to if things get rowdy!
Am I wearing my protective vest and a well-fitting helmet? I usually get a new helmet every spring as mine feels loose after riding in with a skull cap under my helmet all winter (my ears get so cold!)
Comfortable gloves? It may still be chilly this time of year, so I keep my mid-weight winter gloves ready to go as well as my summer schooling gloves.
Do I have my cell phone in a holder or my pocket? It's important to stay safe out on the trail, especially if you go by yourself.
Identification on me and on my horse? Hopefully this will never be needed, but I did once discover a loose horse on the trail and was able to call his owner directly thanks to a brass tag on his saddle.
I usually leave my general plan for where I will riding and what time I'm heading out and should be back with someone at the barn, just in case my horse comes back without me or neither of us arrive back in a reasonable amount of time.
Every horse should have an individualized fitness plan, just like every rider—I always discuss mine with my trainer to make sure I'm on track. Since my horse has a base level of fitness, I usually start with two seven-minute trot sets, separated by a minute of walking. I'll increase both the number of trot sets and their duration throughout the season, and I will add in canter sets if needed to build wind as we progress in our training and get ready to move up a level. I always end with at least a 10-minute walk to stretch out the muscles and allow Tally a solid cool-down.
Back at the barn, I base my after-care routine on how much we did—usually a rubdown and liniment on her legs is sufficient, but if the ground is hard or I'm doing intense work I may ice her legs and wrap her afterward. I generally try to do a little stretching myself before and after to keep my legs from getting tight! Happy hacking—enjoy before the bugs and heat drive us back indoors!