Finding the perfect horseback riding vacation for you
Posted on: March 26, 2013 by Darley Newman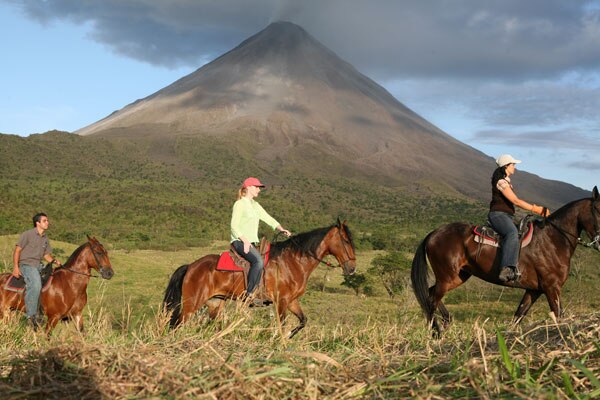 Interview of Darley Newman by Lindsay Brown
Photography by Chip Ward
For most people when they think of summer, they think of vacation. However, for most of us riders (at least if you're anything like me), the thing we love most about summer is riding! Whether we're looking forward to hitting the shows or hitting the trails, there's nowhere else we'd rather be than snug in the saddle on a beautiful, sunny day. Unless, of course, we could be in a saddle ON VACATION.
Darley Newman knows horseback riding vacations better than anyone—after all, it's her job. As a lifelong rider and host of the Emmy award-winning travel show Equitrekking, Darley gets to explore diverse locations all over the globe from the back of a horse. Pretty cool job, right?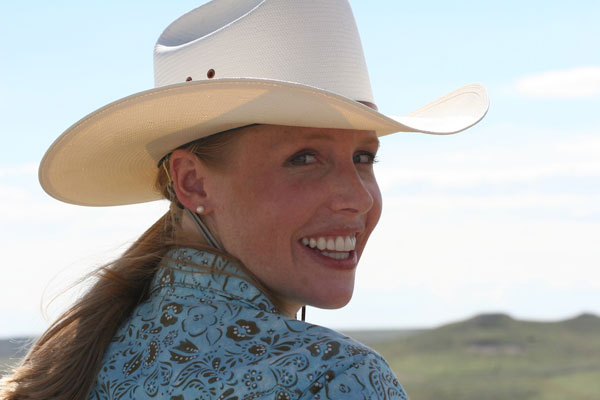 Equitrekking creator and host, Darley Newman
Not only does Darley have (in my opinion) the world's coolest job, but she's also one of the friendliest people I've met, and when you talk to her you can sense the real passion she has for what she does. So when I asked if she'd be willing to share some of her tips about equestrian vacations, she was more than happy to take a break from her busy globe-trotting (pun intended) schedule to answer a few questions. While we can't all have a job this amazing, you can still see the world from the saddle for yourself! Check out Darley's expert advice so you can find the ride of a lifetime that's perfect for you, your interests, and your riding ability.
In your opinion, when is the best time to go on a riding vacation?
Spring and fall are generally great times to travel to most destinations, but it depends on where you're headed. There are riding vacations literally all over the world. If you're interested in Iceland, July and August are peak season with the best weather and almost 24 hours of sunlight, so there's lots of daylight for riding.
If you're headed to the American West or the Canadian Rockies, summer is a fun time to enjoy beautiful weather and longer riding days. Some ranches have year-round riding both outdoors and in heated arenas for those who want to enjoy riding in the snow.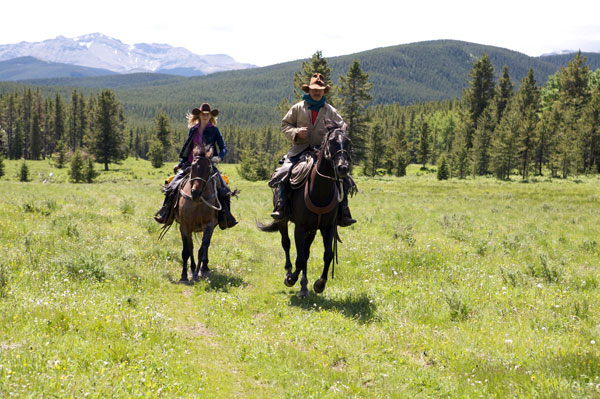 Darley and outfitter Dewy Matthews in the Canadian Rockies.
If a horse safari Africa is on your mind, you might want to aim to travel surrounding animal migration periods. I was able to gallop with zebra and wildebeest on my August trip to Botswana's Makgadikadi Pans, but I lucked out. Normal migration periods are November to April in the Pans.
How far in advance should you book your trip?
As far in advance as possible is always a good idea for booking a riding vacation, as many places that offer horse riding tours cater to small groups and book up quickly. I advise riders to get travel insurance when you book your trip. That's in case you have to cancel your trip for reasons like a riding injury, which does happen to us riders.
If you're looking for a relaxing riding vacation, where would you recommend?
If you are looking for a more relaxed riding vacation, you might want to pick a stationary riding vacation, as opposed to a progressive vacation. Progressive vacations include inn-to-inn rides and adventures where you may stay in a different lodging or even campsite each night. On a stationary adventure, you unpack once and may stay at a dude ranch, guest ranch, castle or manor house and ride out each day or take lessons to brush up on certain riding skills. On these types of riding vacations, you'll want to choose the number of hours you want to ride up front or even while you're there. You may want a leisurely trail ride one morning and then opt to read a book in a flower filled-meadow or visit a village pub in the afternoon.
Are there some locations/trips that are better for more novice riders or mixed experience levels?
There are a lot of ranch vacations that cater to beginners or groups of riders with varying abilities. There are also riding vacation destinations where you can take riding lessons or take a short riding vacation, which can be good for folks not used to being in the saddle. For instance, Castle Leslie in Ireland has a learn-to-ride vacation; the Mountain Top Inn in Vermont has an adult horsemanship camp and lessons; and Marriott Ranch in Virginia offers two- and three-day riding vacations for people who want to try Western riding and cattle drives in the East Coast. There are many more!
What about locations that you'd recommend for more advanced riders?
If galloping from island to island in the largest inland delta in the world to see wildlife sounds like a dream trip, head to Botswana's Okavango Delta. I did some of the most challenging riding ever in this location and saw amazing wildlife. You won't be able to enjoy a zoo after this experience of seeing animals in the wild.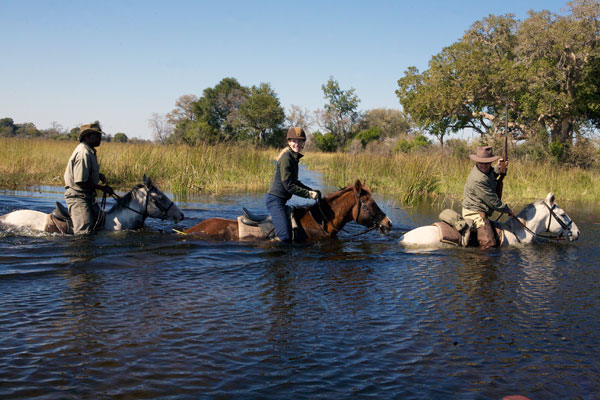 Darley takes a "swim" in the Okavango Delta in Botswana, Africa.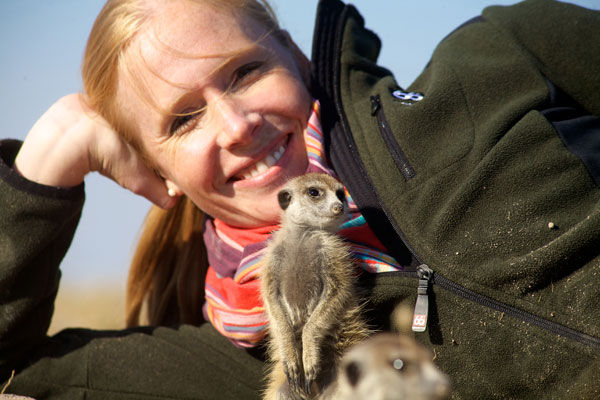 Another great pick for more advanced riders is Jordan. I trekked through the Wadi Rum Desert with the Bedouin, riding spirited Arabian horses and camping under the stars. I had an amazing riding and cultural experience.
Certain Icelandic riding vacations are best for more fit, experienced riders as well because of their pace and the amount time in the saddle each day.
If you're into dressage and are looking for a training vacation, Epona in Seville, Spain, offers a classical dressage and high school training vacation for more experienced dressage enthusiasts.
For Western riders, the Double E Ranch, a working ranch in New Mexico offers cattle drives and clinics for more advanced riders. The Hideout Ranch and Blue Sky Sage Horseback Adventures in Wyoming also have various vacations for more advanced riders.
What were some of the best trips you went on in terms of sight seeing (in and/or out of the saddle)?
Cappadocia, Turkey, is a great trip for combining sightseeing with horse riding adventures. You trek from village to village on horseback through bizarre and captivating fairy chimneys—rock formations that are similar to hoodoos in the American West. In the villages, you can interact with local people and explore underground cities, historic monasteries, and colorful marketplaces. It's an authentic cultural experience and amazing sightseeing during the riding days.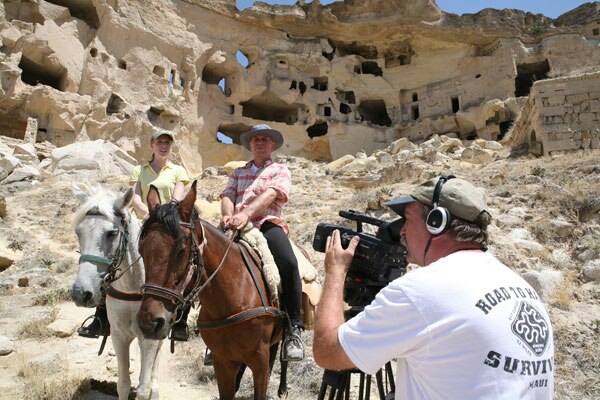 Darley filming by the fairy chimneys in Cappadocia, Turkey.
Jordan was another great trip for sightseeing. We rode through the Wadi Rum Desert, visited Petra, and also floated in the Dead Sea and snorkeled in Aqaba. It was a great combination of riding, history, culture, and adventure.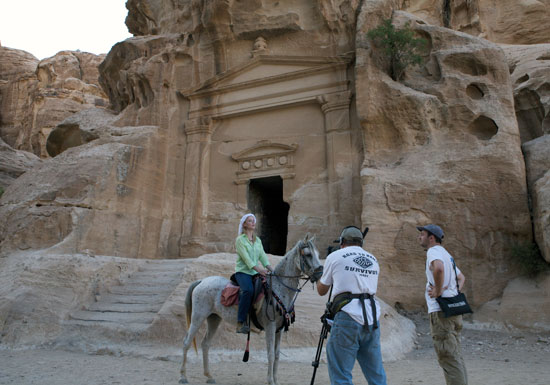 Darley filming at Little Petra in Jordan.
Were there any locations that really forced you to get out of your comfort zone?
I'm out of my comfort zone quite often on my travels and riding adventures, as I'm constantly challenged with new horses, different tack, and different riding styles in totally new and sometimes extreme environments. In Botswana, I was charged by an elephant while I was horse riding, which was really out of my comfort zone. My guide laughed after and said, "You mean you've never been charged by an elephant before?!?!?" I, of course, said no. I was also able to gallop with zebra and wildebeest, which, while really fun, was also really, really fast—much faster than I'm used to going at home.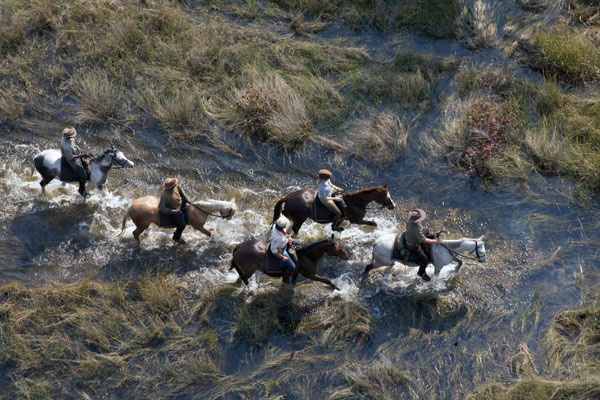 Does this look like an adventure you're ready for? The film crew gets a great aerial shot of Darley in the Okavango Delta in Botswana, Africa.
In Uruguay, I rode in round stirrups on a very wide sheepskin saddle, which took some getting used to. Many times the local food is really good, but once in a while it's something a little too exotic and can be a challenge, but that's all part of the adventure of travel.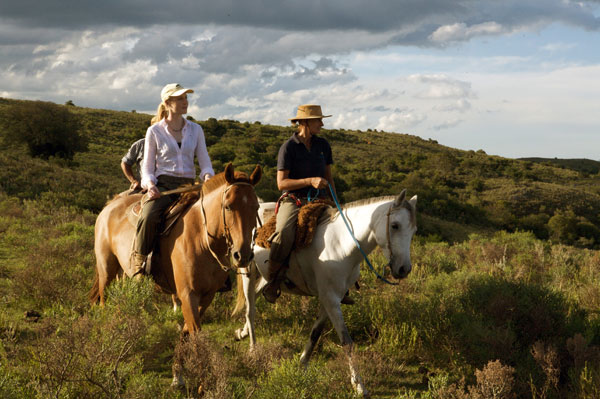 Experiencing new horses, new tack, and new riding styles is all part of the Equitrekking experience. Here you can see the sheepskin saddles used in Uruguay.
I know it's impossible to pick favorites because you've ridden in so many amazing places, but what five locations that really stand out in your mind?
1. Ireland – There are so many great places to ride in Ireland. I've been a few times and on one trip drove from Dublin in a circular route taking me to the lesser-visited Cooley Peninsula, Donegal, Connemara, Ring of Kerry, and beyond to ride beaches, mountains, castles, countryside, and more—all with welcoming local people.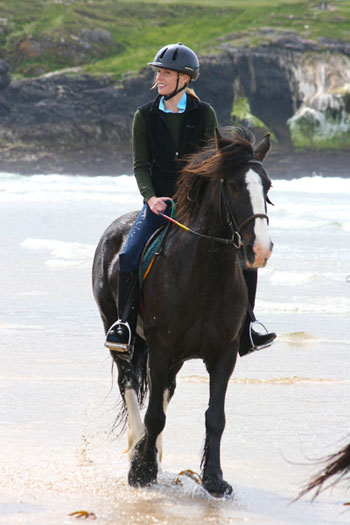 Darley takes a ride on the beach in Donegal, Ireland.
2. Costa Rica – The wildlife and nature make this a very cool place to ride. Picture riding through the rainforest to see howler monkeys and colorful birds and frogs and then soaking in secluded hot springs.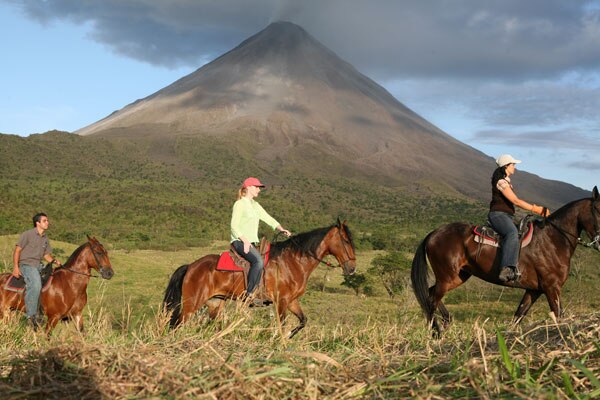 Darley rides along the base of Arenal Volcano in Costa Rica.
3. Iceland – I love the Icelandic horses. I think they are super fun to ride with their unique gaits. Iceland is otherworldly, as you can trek through lava fields to geysers and waterfalls and then soak in a hot pot on an Icelandic farm at night.
4. Hawaii – The Big Island and Maui offer a lot of diversity. You can ride into the crater of a volcano or into the lush rainforest on Maui in a National Park or saddle up on a working ranch overlooking the Pacific Ocean in Makawao. With its own distinct cowboy culture, the Hawaiian Islands have a lot of horsey culture.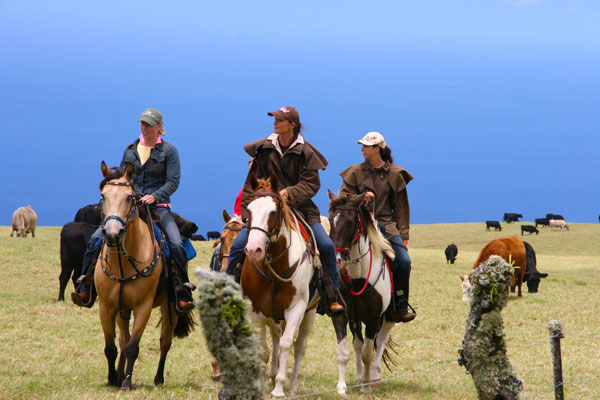 5. Utah – This is a beautiful state with lots of horse riding opportunities in state and national parks. For our Equitrekking Utah episode, we filmed and rode in Bryce Canyon National Park, with bison on Antelope Island State Park outside of Salt Lake City, through Snow Canyon State Park and stunning Capitol Reef National Park, AND there were so many other great places to horse ride and enjoy the great outdoors.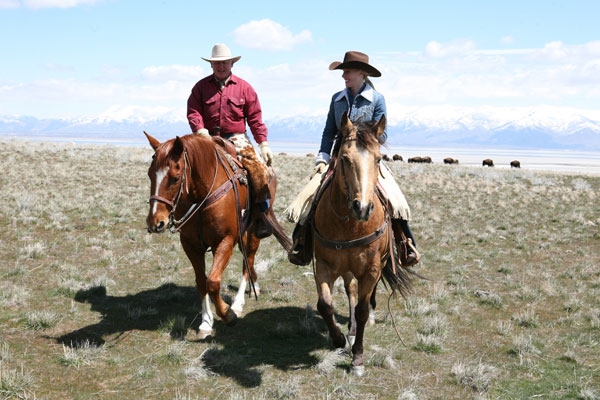 You can catch a glimpse of the bison in the background as Darley talks with outfitter Rob Brown while filming on Antelope Island in Utah.
Are there any great places you've ridden that also have lots for non-riders to do (just in case you've got a non-riding counterpart with you)?
There are a lot of great places where you can please your entire riding group, even a mixed group of riders and non-riders. In Ireland, Mount Juliet and Castle Leslie are good picks, as in addition to riding there is golf, fishing, the spa, and other activities. Plus the accommodations are neat, as you are staying in a historic manor house and castle. At a lot of ranches, especially ranch resorts like Tanque Verde Ranch in Arizona or Alisal Guest Ranch in California, offer horse riding in addition to a spa, golf, tennis, and area attractions in Tucson or Santa Barbara Wine Country.
What would you recommend for riders who are looking for a really great fast-paced riding adventure?
A horse drive in Iceland can be a fun, fast adventure, as can riding in Africa in general, as you may have to gallop away from dangerous prey or along with a herd of wild animals. Galloping on the beach in Ireland is a fun, fast riding escape, which you can find down in the Ring of Kerry.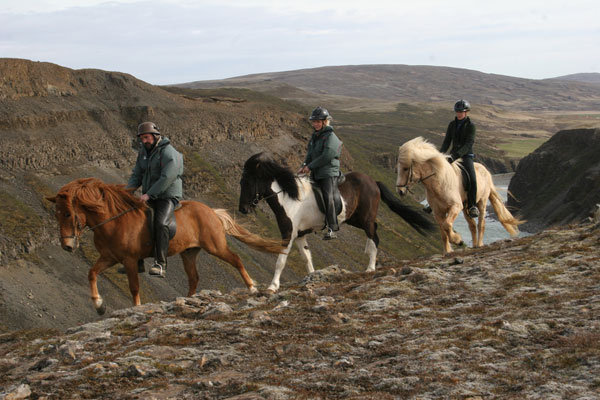 Darley experiences the unique Icelandic horses while riding alongside a cliff in Iceland.
What packing advice would you offer first-timers?
For anywhere you go, pack layers, including sweaters or jackets that zip or button up the front, so it's easy to take things on and off during your riding days. Try to wear fabrics that aren't so noisy, as they may annoy or scare your horse. I like to travel with well-worn paddock boots or all-terrain riding boots and half chaps as opposed to tall boots. These are easier to pack and you can hike in them or wear them at night if you desire. You can always ask the destination that you are visiting if they have chaps or rain gear you can rent or borrow. Many places do, and that saves space in your luggage. I always bring riding gloves, sunscreen, chapstick, and my own helmet. Pack lightly and practically, and whatever you bring, make sure that it's not something you have to "break in" on your trip.
What is your favorite thing about riding horses all over the world?
I love the adventure of it all and the wonderful people and horses that I've met along my travels. In riding horses with locals, your travel adventure is so much more personal and authentic, as they are showing you their favorite places to travel and ride. I love to horse ride to beautiful, natural places that many people won't experience, as these places are hard to reach!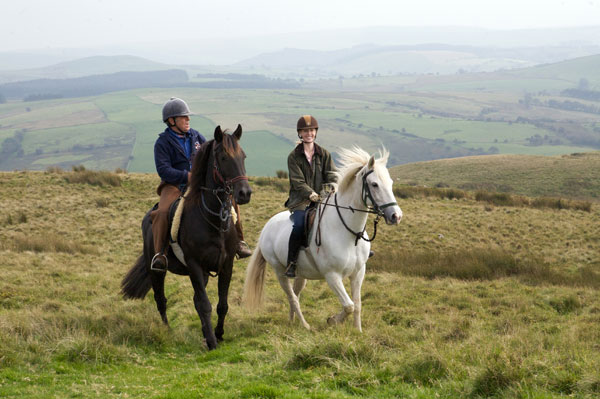 Charlie Pollak and Darley in the Cambrian Mountains in West Wales.
Start planning your own adventure!
We've created a variety of online guides and resources to dream, plan, and learn about ranch and riding vacations. On Equitrekking.com, the companion website to our Emmy-winning PBS and globally broadcast equestrian travel TV show, you can search for dude ranches, guest ranches, cattle drives, and global horseback riding vacations in the Equitrekking Vacation Guide and find exclusive deals on Equitrekking.com Travel Deals.
Top20Ranches.com is devoted to some of our favorite dude ranches throughout the USA, Canada, and Mexico. EquitrekkingTravel.com features select riding vacations and a team of travel agents who have taken all of these trips and can help match with you with a vacation to fit you and your group.
Thirsty for more adventure? Check out these other fun videos!
Bloopers: http://youtu.be/jHCExu1MOHw
How we film Equitrekking: http://youtu.be/nsNBGx-mwC4
Quebec Behind the Scenes: http://www.youtube.com/watch?v=n8y3L5qksUo&feature=share&list=PL7066594C1BEC952F