Finding Her Oasis: One rider's journey from short stirrup kid to A-circuit trainer
Posted on: July 20, 2013 by Susan Tuller
As a hunter/jumper rider, SmartPaker Susan has admired Kristy (McCormack) Herrera's approach to training horses and their riders. As Director of SmartPak's Barn Programs, Susan has enjoyed making sure we're doing everything we can to make life easier for barn professionals like Kristy. Recently, Susan had a chance to chat with Kristy and learn more about where she came from, how she got where she is now, and where she's going next.
---
Kristy Herrera's story is one that many young riders dream of. She grew up in Jamestown, NY on Wrenwood Farm with a mother who loved horses and taught her how to ride at the age of five. They started a small lesson program with two ponies, eventually building a 10-stall barn and indoor ring. It was a family affair, with Kristy's mom Alison as the trainer, her two sisters and brother riding daily, and as the oldest, Kristy blazing the trail.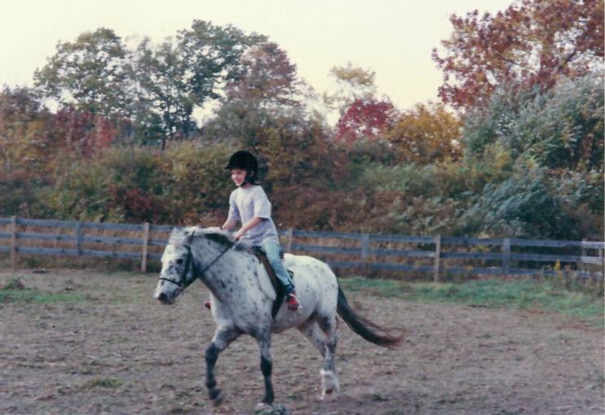 By the time Kristy turned 10, the lesson business had grown to include local one-day horses shows including the Chagrin Valley Hunt Club, which hosted a winter circuit. Though Kristy would tell you today she doesn't like going to one-days, she admits they offered the best memories. The horse show moms packed all their kids in cars, hauling their two-horse trailers filled with ponies, tack and lots of food. It was a similar chaotic, but memorable, scene at home. The farm had a huge swimming pool so while one daughter was riding the siblings would play in the pool. Kristy laughs when she says, "my poor mother must have been so stressed but I remember having so much fun!"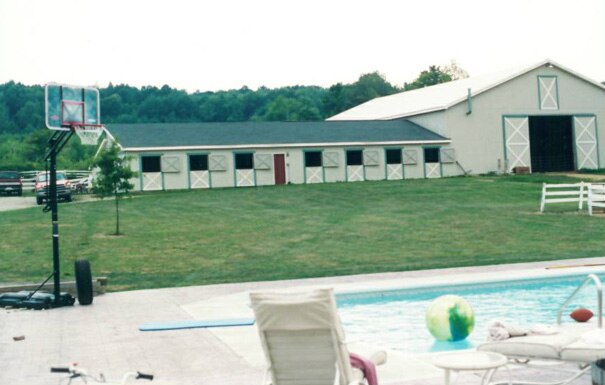 Kristy's debut in the show ring was with a medium blue roan pony named Pippy Longstocking. Kristy would either win the short stirrup division with Pippy, or the pony would drag her to the middle of the ring and stop. Pippy didn't care for flat classes. In one of her father's videos you can see Kristy and Pippy cantering around the corner of the indoor ring passing the entrance, then you see nothing for a few seconds, then there goes Pippy jumping the outside three-stride….riderless! Naughty Pippy!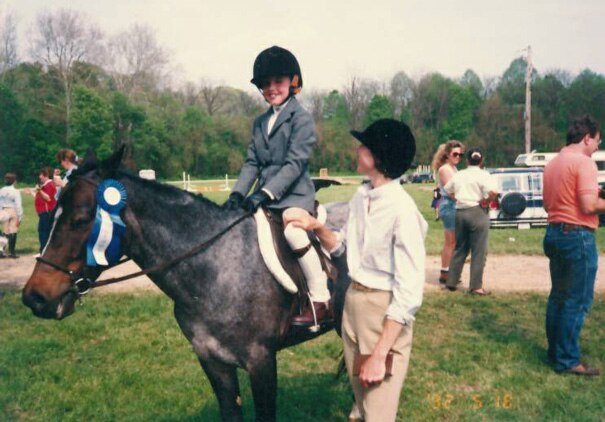 It wasn't long before Alison and Kristy were driving two hours north to Buffalo to train with Jen Alfano at SBS Farms (some of you may know her, she's kinda talented too). Ironically, Alison grew up showing against Susie Schoelkoff, Director of SBS Farms, and Missy Clark of North Run Farm, both having played a significant role in Kristy's riding success. Read on!
With Kristy becoming more serious about riding, she spent weekends at SBS Farms riding anything Susie and Jen put her on. As long as she got straight A's in school, her parents would allow her to spend as much time riding as she could. Kristy's first fancy pony was not expensive, but Misty Harbor was talented.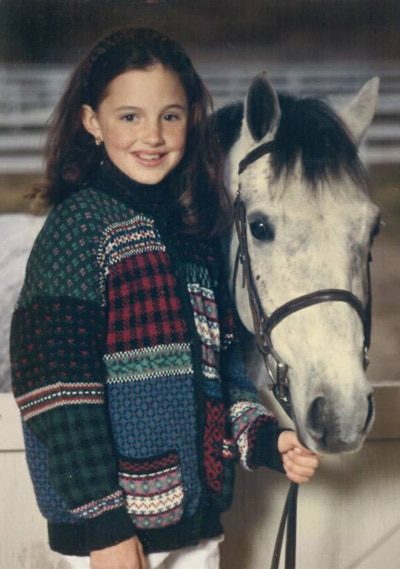 She took Kristy to the USEF Pony Medal Finals when Kristy was 11 where she finished 3rd with Susie and Jen. She traveled to the HITS Ocala winter circuit with SBS Farms for the first time when she was 11.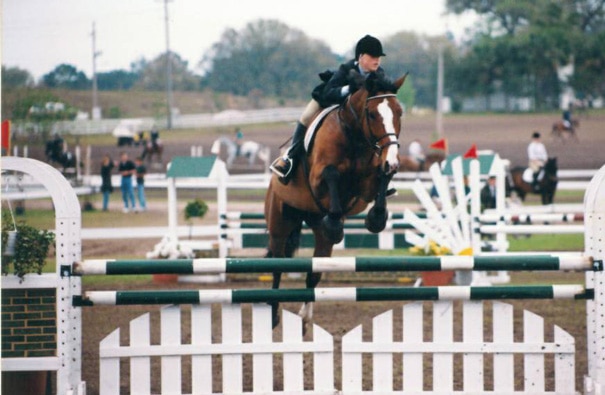 Kristy took care of her own horse and did as much barn work as she could when she wasn't riding. She was hungry to learn about horse care as well. She remembers the Blue Seal grain bags and salt blocks in every stall. It was that work ethic engrained in her head at a young age that has stayed with Kristy in her adult riding career.
I haven't met a professional rider who doesn't have a special spot in their heart for one horse. For Kristy, her name was Sprout. Jen Alfano found Sprout, Kristy's first horse, aka Riverdance. Where do horse names come from? Sprout was from Brussels and with the loudest 4-beat canter, why not name her after an Irish step dance! Sprout was a 17-hand Belgian warmblood , chestnut mare who would prove to be a very special horse. Sprout took Kristy from the 12-14 Childrens Equitation Division up through the 3'6" Equitation Division with some Children's Jumper classes mixed in. Jen Alfano did an amazing job with Sprout, and it was this team that catapulted Kristy into her Junior career.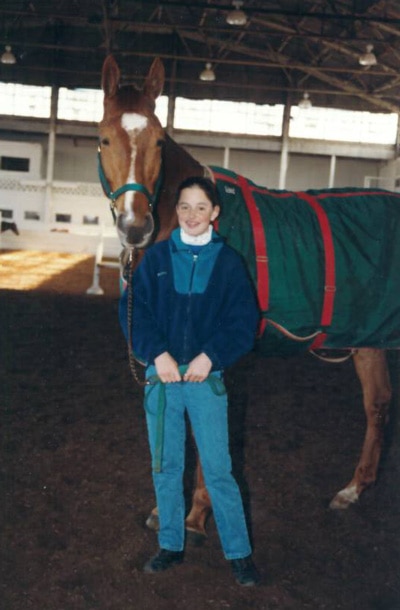 Kristy was next invited to Wellington, Florida for one week to work with John and Beezie Madden. It was there she met Frank Madden who took Kristy under his wing. Kristy's mother then turned the truck and trailer towards New Jersey for the 8-hour ride each weekend with Kristy and Sprout to train with Frank. When Kristy was 14, she rode Sprout at USET Finals and placed 7th. When it was time for Kristy to move on, Sprout was leased to a client of her mom's. Kristy found herself fortunate enough to place 3rd in the USEF Medal Finals out of 300+ competitors at age 15 on the talented gelding named Editorial. (Kristy still remembers every jump on that course today!)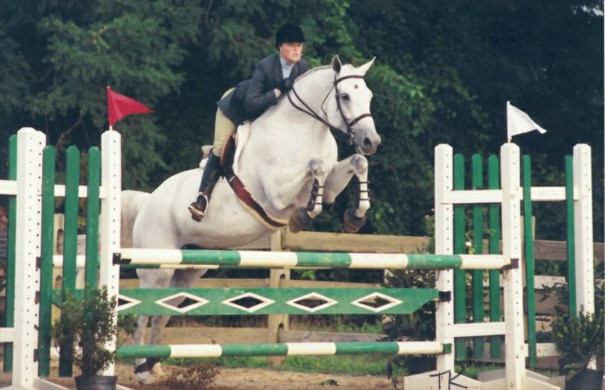 From there they went to the Junior Jumpers with one of Frank's horses, Marga, where she was a member of the Young Riders Team that won the Gold Medal.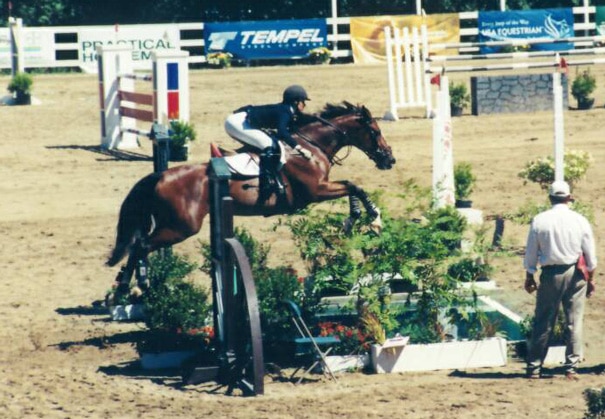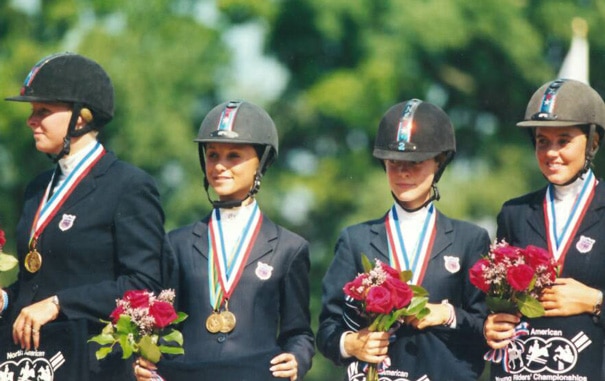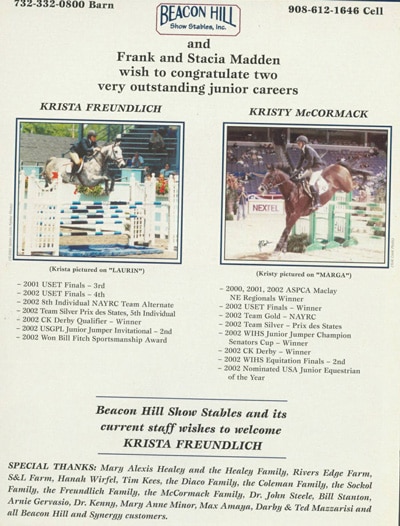 In her last Junior year, she decided that the USET Finals were the only Finals where she would take Sprout. And they won!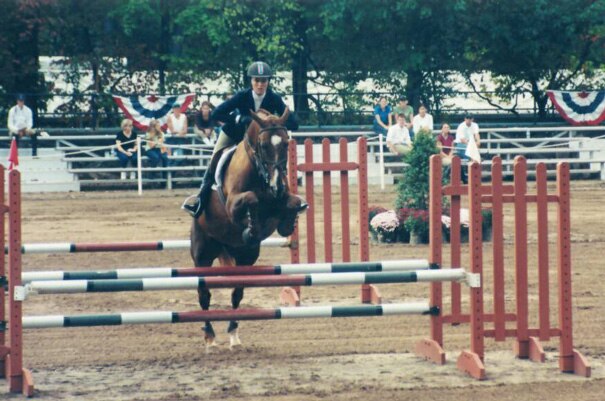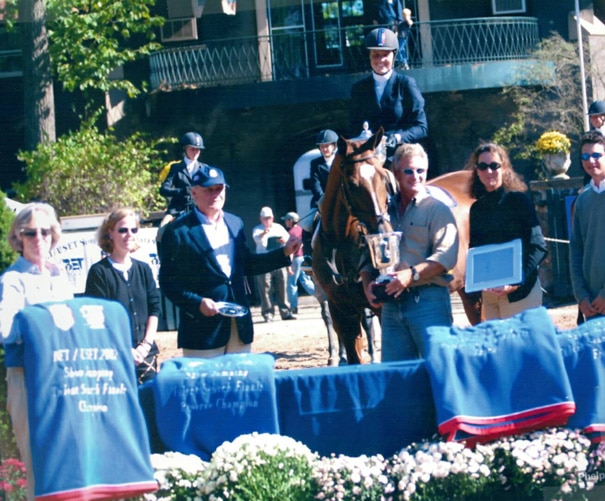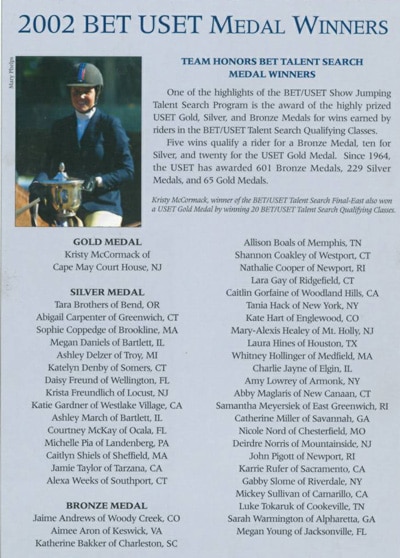 Upon graduation, Kristy re-connected with Susie and Jen when she was offered a job as a second pro rider. She hails this as one of the best jobs of her professional career. She was able to be closer to home where she could watch her younger sister, Kimmy, learn how to ride …wait for it… on cute Sprout! It was then that Kristy started teaching regularly and realized how much she loved it. She took Kimmy and Sprout to shows as their trainer and realized that was what she was meant to do. This eventually led to an assistant trainer position at North Run Farm with Missy Clark and John Brennan. She showed a lot of horses for Missy but taught even more. This solidified her passion for teaching. Kristy remembers, "it was really special to be a part of such a high caliber business. The best of the best were there. It was really exciting."
Through Missy Clark, Kristy found an opportunity to work in Brussels, Belgium with Stephex Stables, in the same town where Sprout came from! What was supposed to be for a summer turned out to be almost a year. Kristy rode no fewer than 10 horses every day. Showing at national European horse shows was an everyday thing. That is the European version of a one-day. There is no stabling. She would load all eight horses of her horses in training in a trailer, and started the younger ones at the 1.10 meter classes and moved up to1.40-1.45 meters by the end of the day. Eventually she was showing grand prix horses at FEI-like horse shows. Kristy won her first Grand Prix on a horse name Sadin, then won six more Grand Prix classes with different horses that year before she realized she truly missed teaching and home.
Kristy decided to choose the path that she loves and created Oasis Show Stables, an "A" Circuit hunter/jumper show barn. To get started, Kristy found a home in Wellington, FL where she rode for other trainers on a freelance basis. She knew Wellington would be her winter location, and eventually chose a barn near Boston, MA for her summer location. She started with two horses and her first client, Meredith Lipke, who is still with her today. Kristy did all the work herself in the beginning – riding, training, grooming, mucking, etc. She found a second client, was able to hire a groom, added another client, and ended her first year with seven horses. Oasis Inc. was in business!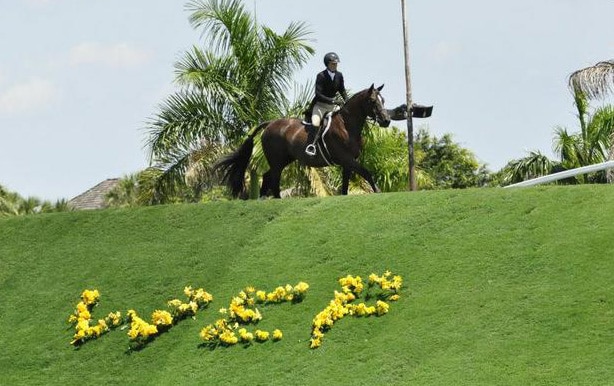 Kristy knew that while horse showing was a big part of her goals, she was committed to teaching what she learned about horsemanship growing up on her farm and in her early years of riding. She introduced "Horsemanship Tuesdays" in Wellington so that her full-care clients would learn the basics that could be missed when in a full-care barn. It is a voluntary event each week where Kristy instructs her riders on important aspects of tack, riding techniques and horse health care, to name a few. They are well-attended by all!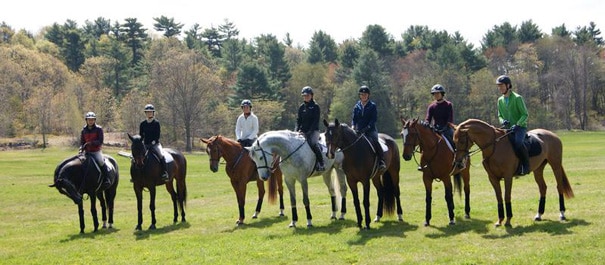 When asked what the best part of her job is now, Kristy didn't hesitate. Rider accomplishments. She smiled when she said it is so satisfying to watch one of her riders have an accomplishment in the ring like a successful lead change or nailing a bending line. It shows a sense of their growth, but also Kristy's.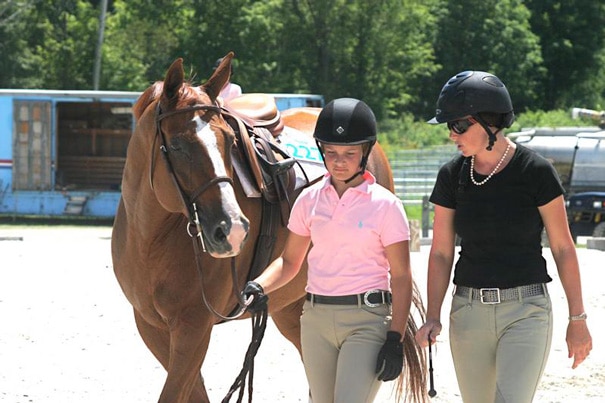 She also LOVES training young horses and participating in their progress. Kristy went on to say "Riders are learning. Horses are learning. I can see things taking shape." She envisions Meredith's horse in two years. She can see Autie's 17th year happening (one of her Juniors). All that she has seen in her more mature horses gives her the confidence that she is doing a lot right, though she is consistently re-evaluating their training program, feed and supplement programs. "It's one thing to get on a horse and do same thing everyday, but I prefer to think about what I'm doing every day."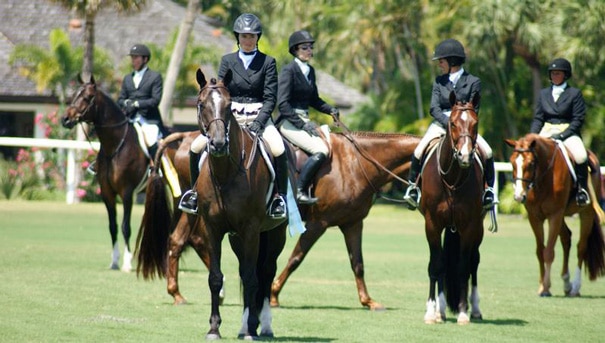 In her 3rd year as a business owner, Kristy certainly understands the challenges of growing and running a show barn. There are logistical challenges running a barn in 2 locations. She has to take this into account when accepting clients and choosing staff. She needs to balance having the correct number of staff members, and choosing those that are trained at giving the highest quality of care possible. At times it can be a balancing act – managing the clients, the staff, training, buying, selling, showing the horses, watching over the financials of the business then performing her best when running the barn day-to-day. She learned she's not always the best at asking for help. She credits her husband, Rich Herrera, as not only being a very knowledgeable horseman, but a great business partner. "Rich is fantastic at picking horses and is very good at selling too." Finding the right mount for her clients is of utmost importance to Kristy, which she is continuously learning about. "Our business is not formally regulated, so I work very hard to be as straightforward with clients and the other professionals I work with."

Question: Name 3 adjectives to describe herself at the Owner/Trainer of Oasis Inc.
Answer: ambitious, with the utmost integrity, disciplined, and there's a 4th – detail-oriented. She finds this skill to be the MOST important one in running a successful show barn.
Question: Where do you see yourself in 10 years?
Answer: Good question. "It's easier to say what I'm NOT going to be. I will not be a barn that has grown past the point of my ability to recognize each horse – their face, legs, and every aspect of the care and training." She is considering adding a sales part of her business. Pulling from her international experience, she'd like to import young horses from Europe to bring them along.
Question: How have SmartPaks played a part in Oasis Show Stables?
Answer: "When a client joined us with her horse's SmartPaks two years ago, I was amazed I hadn't incorporated them sooner. They are easy to feed and to store, easy to travel with, and easy to customize. I prefer to be a full-service barn, where I take care of purchasing all supplies including supplements, tack and equipment for my clients. When I realized that SmartPak can help me design an Oasis Basic Pak, to include all the supplements I want every horse in the barn to get, add anything additional to customize to each horse's needs including pharmaceuticals, and charge each client individually, I was thrilled. Not having the carrying costs of purchasing supplements then billing the clients has been a big help cash flow-wise."
"I learned I could purchase tack on behalf of my clients and have those charged directly to the clients, have them shipped to whatever location I'm going including horse shows with one phone call and always free shipping. In the past, I was at the mercy of whatever tack shop is at the show. #1 –they're usually overpriced, #2 they don't always have what you need and #3 it's not always the same tack shop at each show so the stock is inconsistent. The second we need something my staff knows to call SmartPak – it's convenient, accessible, they have the best prices or comparable. The customer service is unmatched. When not in Wellington, we travel two weeks out of each month and can easily move SmartPaks and supply orders to wherever we are. When there is an error, though infrequent, it's immediately fixed and communicated whether it's for me or my clients and they make returns and exchanges effortless."
"I keep a list of barn supplies I need and email them each Monday and they show up within one to two days when I'm in MA and three days when I'm in FL. I have a few things on AutoShip that I use up quickly so I don't have to worry about running out. My Account Manager at SmartPak knows my preferences, my clients and our horses. With a phone call, email or text, SmartPak comes with me wherever I go. I love that traveling does not interfere with my orders or the quality of horse care that I will not compromise. I realized early on that SmartPak was going to be a significant partner to Oasis, Inc."
Final Question: Who do you credit, besides your own talent and work ethic, with your success?
Final Answer: "Clients first. I've been so lucky to have the clients that have found me. All our riders are horsewomen. They love their horses first and horse showing second.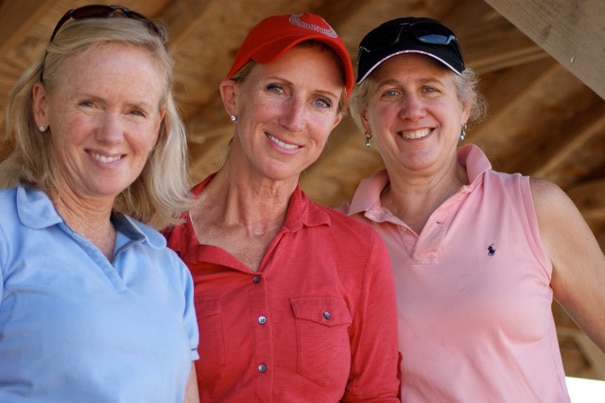 I'm grateful for notable professionals I've been fortunate to ride with including Jen Alfano, Frank and Stacia Madden, Missy Clark, John Brennan, John Madden, Nona Garson and Aaron Vale to name a few." She credits her success with choosing great partners like her vet, blacksmith, and chiropractor. "In addition, I appreciate the personal relationship I have with SmartPak. I don't feel like another client. I call other equine companies and they don't know who I am. They don't know the name of my business. They don't give me the feeling of 'we understand your barn's needs' like SmartPak does. SmartPak is who I trust and is always my first call for supplements, tack, equipment and apparel."
Finally, Kristy credits her husband Rich. "He is a super-important part of the business who is not always visible. I enjoy being able to go home every day and talk about the business. He thinks of great ideas that I never would have thought of. He has been the only consistent part of our success since day one and I nor Oasis Inc. would be where we are today without him."