Do Good Together
Posted on: April 22, 2021 by SmartPak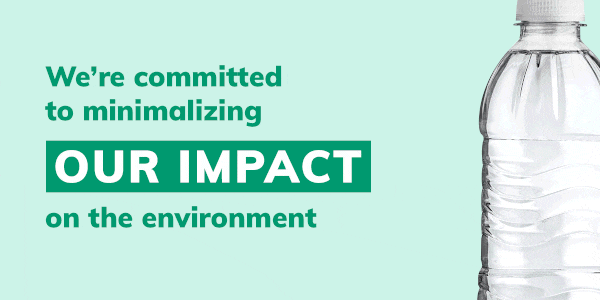 Thanks to SmartPaks users we were able to keep 37,380,317 water bottles out of the environment in the past year! SmartPak is committed to protecting the environment and providing sustainable options for horse owners. This starts right in the barn with the SmartPak supplement feeding system that's designed to help reduce, reuse, and recycle.
"We are committed to reducing our impact on the environment, starting with what goes into our packaging materials for our core products, all the way through the shipping process to get the items to your door and beyond."

– Carma Caughlan, vice president of consumer marketing at SmartPak
---
Reduce
When it comes to supporting your horse with supplements, SmartPaks are a greener choice. With packaging made from #1 RPET plastic, consisting of recycled plastics, they use less virgin plastic than buckets. By choosing SmartPaks, you're helping to keep over 680,000 pounds of plastic out of the environment each year.

Using SmartPaks has also kept 8 million buckets and 3.2 million pounds of new plastic out of production! This equates to over 37 million water bottles worth of plastic kept out of the environment.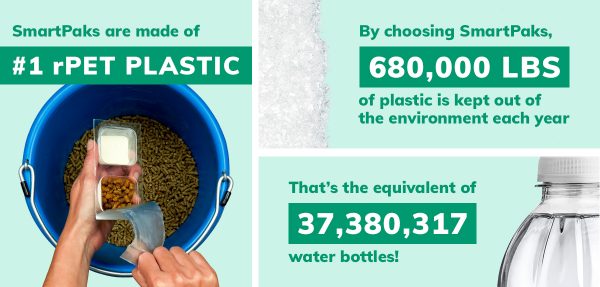 ---
Reuse
SmartPaks have been reused in many clever ways over the years. From seedling starters to elementary school paint cups, the reusable plastic of the SmartPak wells can be rinsed out after feeding, left to dry, and then repurposed in any clever way a rider can think of!
For more ideas on how to reuse SmartPaks, check out our recent blog Green Ways to Reuse Your SmartPaks from SmartPak Fan Kelly.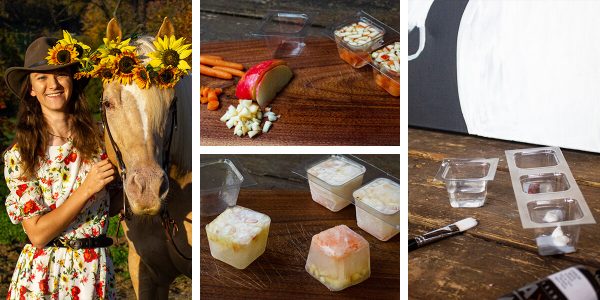 ---
Recycle
The recyclability of SmartPaks has always been one of Team SmartPak Rider Shannon Dueck's favorite things about the autoship system! The convenient wells are designed to stack so they save space in your recycling bin. Plus, they're already made from 80% recycled materials, so by the time your SmartPaks see pick-up day at your barn, they're on their way to their third life.
"I've lived at locations that didn't have curbside pickup [for recycling]. We would have to bring our trash to the transfer station once a week, and there was a recycling area there for us to sort it. Being a horse person I love wildlife and I treasure our local ecosystems, so knowing that I can put out more recyclable material than trash it feels like positive reinforcement. Plus, being able to stack the SmartPaks makes it so easy to recycle them and they don't take up too much space in my feed room."

-Team SmartPak Rider Shannon Dueck

---
SmartPakers Making a Difference
Here at SmartPak, it's not just our awesome autoship SmartPaks that are helping make the world a greener place– SmartPakers themselves get out to help make our local environments cleaner, too!
From picking up trash on local hiking trails to organizing beach cleanups, our teams are dedicated to treading lightly on the earth, both on the job and in their daily lives.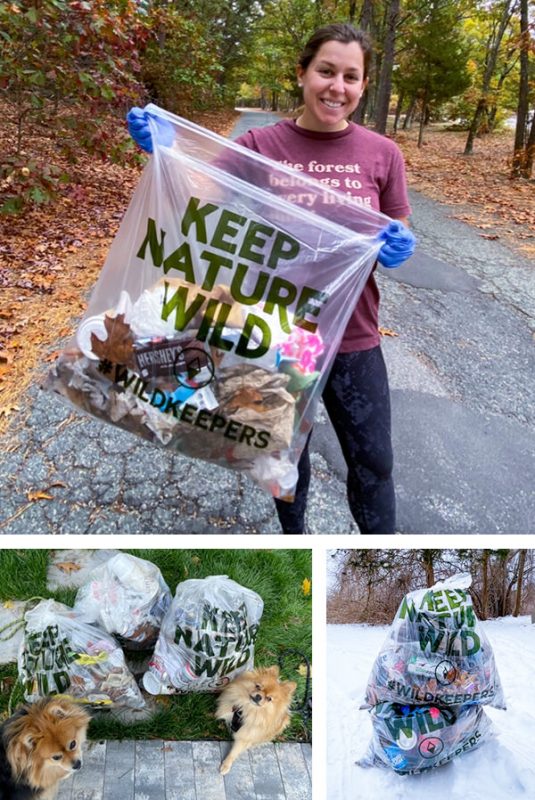 SmartPaker Meredith (Creative)
I became a Wild Keeper Ambassador in October 2020. Since then I've picked up about 150 pounds of trash from places all around my community. Places like where I walk my dogs, local parks/trails & even just the main road I live on! One of my favorite mottos of encouragement is "always leave it better". I've learned that even getting out for just 10-15 minutes can make a huge difference .
The Wild Keeper community is a group of doers who love nature and just want to keep it clean. Each Impact Day (once a month!) we all record how much trash we've collected leading up to the day and use our social media platforms to post and to raise awareness. Last Impact Day (March 2021) the entire Wild Keeper community picked up over 17,225 POUNDS OF TRASH! It feels great to see the difference that all Wild Keepers are making across the country.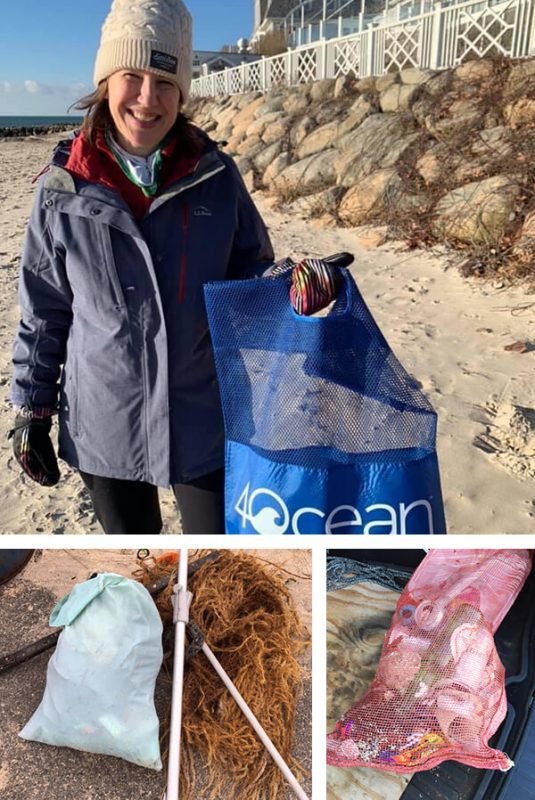 SmartPaker Dina (UX Research)
Ever since we met last September and began enjoying walks together on Cape Cod's beautiful beaches and neighborhoods, my partner Jeff and I have collecting trash as often as we can – usually several times a month.
At first, we'd bring along a trash bag or two, but sometimes we'd find 'extra' collection tools (in the form of mesh shellfish bags, a pillow case washed up on the beach, and a discarded bucket). We've since ordered 4-Ocean bags and gloves which makes cleanup much easier while supporting a worthy cause.
The most common trash we've found is, deflated helium balloons, plastic and glass "nips", beer cans, and bottles. The balloons can be devastating to sea life, especially sea turtles because they mistake them for jellyfish, try to eat them, and then die.
SmartPaker Volunteer Day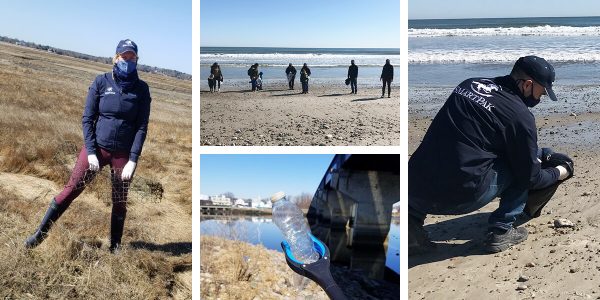 SmartPakers Viviane and Dan (Marketing) organized a beach clean up day for coworkers to participate in. They went to Duxbury Beach Reservation in Duxbury, Massachusetts on March 20th. A group of ten SmartPakers across different departments from Marketing to Engineering (along with their families) gathered to fill trash bags with plastic water bottles, abandoned shopping bags and more.
---
To learn more about SmartPak's efforts to sustaining the environment, visit SmartPak.com/OurPathForward. For a complete look at the collection of sustainable products, visit www.SmartPak.com.