Did You Choose Your Horse or Did Your Horse Choose You?
Posted on: September 24, 2019 by Riley O'Neal
I've had quite a few horses in my life and I believe that most of them chose me. My first pony Dolly was meant for my cousin, but he wasn't interested in horses and Dolly didn't seem to care much for him. I loved Dolly though and she always knickered when she saw me and would paw at her stall door. My aunt and uncle gifted her to me, if I took care of her whenever I visited, which was every chance I got to be honest. I spent all my time at my uncle's house with my dad learning to groom her, ride her, lunge her. She was my heart. I was little so my dad helped me clean her stall and groom her where I couldn't reach, but she was all mine. I loved trying to hug her when she was in the cross ties and giving her carrots after a ride. Dolly was a typical stubborn but intelligent pony and she made me so mad on some days, but my love for her never changed. I remember on days it was too hot to ride in the summer, I would bring my Barbie and her horse out to the barn and play with them outside of Dolly's stall.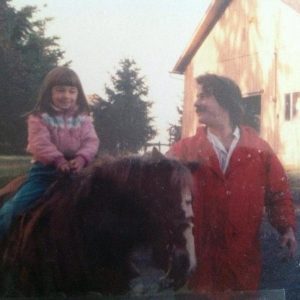 My dad always said that Dolly picked me to be her person and that made me feel extra special. Dolly picked ME! I couldn't ask for more from her. She taught me patience, persistence and consistency. She made me realize there was more to the world than myself. My parents were divorced so my uncle's farm was the place I got to see my dad and having him teach me how to love and care for Dolly kept our relationship strong too. I loved the days spent on the farm with him and Dolly. He would tell me stories about horses he grew up with and other childhood memories while walking next to me and Dolly. Eventually I grew out of Dolly and into horses, but I loved her until the day we put her to sleep. I never stopped taking care of her and spending time with her. She was my heart horse.
I never was one that wanted the expensive, perfectly trained horse with the great bloodlines. I always went to auctions and waited for them to choose me. I would look into their eyes and see if I felt a connection or saw a sign from the horse. Maybe a nicker or a soft eye would tell me that they wanted to come home with me. Sometimes I did, sometimes I didn't. I've rescued some challenging horses in my time, and I loved each of them deeply.
One of my rescues that stands out (though all were special) with me is Shania; who had trust and abandonment and food issues, but when I looked into her eyes, I knew she was meant to be with me. We discovered she couldn't be on alfalfa as it made her hot and agitated. She had to be on special grain and worked harder than my other horses, but she was a doll when things were balanced out. Each time I was able to overcome a roadblock with my horses I would remember my dad's words; that they chose me to be their person. I took the fact that they chose me very seriously. I promised each one of them that they would be safe as long as they lived as they were with me now.
After taking a 15-year break from horses, I decided that it was time to return to my love of riding and horses. I decided to start looking for a horse. Having more money and being an adult, I wasn't sure if I wanted a trained horse or a project horse or something in between. I scoured Facebook ads and Dream horse ads and this little 16-year-old chestnut mare; Mariah stood out. Her family was moving out of state shortly and had lowered her price. I contacted them and made an appointment to meet Mariah. Mariah's trainer was also there, and I was honestly given the impression that she didn't bond with humans and was just an old mare that did her job when she had to and lived to eat. Yet something in Mariah's eyes told me she was a good horse.
Before I officially made her mine, I spent a week visiting her every day. Working her, cleaning her stall, just hanging out with her. By the end of the week I'd get a whinny when I'd walk to her stall and head rubs and knickers and she had to get her scritches in before I could even get her halter on. It wasn't a perfect bond and we had a long way to go, BUT it was a start. I decided to adopt her. She trusts me more than anyone else. She really did choose me and I am honored by that.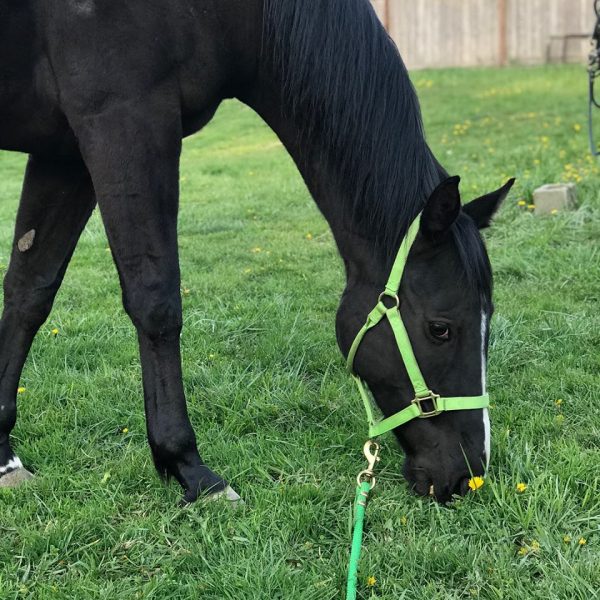 Shortly after adopting Mariah, I met Haven who was for sale by a client of my trainer. I can say that I chose Haven. She is a 16.3 dark bay thoroughbred who was retired from racing. She wanted to please anyone she was working with and make them happy. She LIVED to work and was easy to work. She was gorgeous. I HAD to have her and adopted her almost immediately. I honestly don't know if she would have chosen me, I didn't wait to find out. I met her and decided she was mine. I wasn't looking for a second horse at the time, but she was there and I fell in love with her. No trust issues, some lack of training and joint issues (more health problems would be discovered AFTER she was adopted) but overall a good horse. I honestly chose her. My first time picking out a horse and saying, "this is who I want to adopt" instead of "this is who needs me to adopt them". Does that make Haven better than any of my others because I chose her? Nope! It just means I took a different route to adopt her than with the others. She's not loved any more or any less than any other horse (or Pony) that's been in my life.
Everyone has a different method of how they come to adopt the horses they have/had. Some know the color/breed/size/age/training/gender that they want and some just want to save one from a feed lot. It doesn't matter how you choose your horse or if your horse chooses you. It doesn't matter if they have all the best training or none at all. What does matter is that you love your horse and that you do your best to take care of them physically and emotionally. That you do your best to keep them safe, healthy and happy. Don't let anyone tell you what is right or wrong for what your heart wants in a horse. Listen to your heart and follow it and you will find the horse that is meant to be with you. Have a great ride!