Bye-Bye "Mom" Bod
Posted on: February 25, 2021 by Cora Shillinglaw
Three years and 2 amazing sons later and with no future plans for any additional children, it's time to reclaim my body!  This also means that it is time for my horse to get back into his former shape as well; sorry buddy, vacation is over!  However, juggling two little kids while working from home and squeezing in some barn time does not leave much wiggle room for workouts.  I have been able to do my best to at least move my body once a day.  Sure, most days it's at 9:30 at night and I manage to push through about 20 minutes of low-impact weight training with a sprinkle of cardio.  Ideal?  I would say not but as my mother always says, "It is what it is!"  While it may not be the intense workout that I desire, it is the best I can do given my current situation and that will have to do.  Here are my top 5 favorite activities in and out of the saddle that has been keeping me moving towards my goal
Before having kids, I used to love going to the gym. I would get in a workout during my lunch break and then head to the barn to ride after work. Man, those were the days! Now that we're living in a pandemic one must get creative with their workouts. Luckily, I do have a few sets of free weights at home, but I have also found some tricks for a more diverse workout. I will use a towel wrapped around a doorknob to do some weight resistance standing push-ups. Those are great for your biceps! I have a square ottoman that I use as a step; depending on the type of impact I can either step up and step down off the ottoman or for a real killer I can jump up on top and then jump down. A few sets of those and your heart will really be pumping. To get some ab work in I use a towel on the wood floor, get in a plank position with my feet on the towel, and then use my abs to pull my feet up to my chest. You can do the same thing with paper plates under your feet on a carpeted area.
No Stirrup November…and December and January. You get the drift.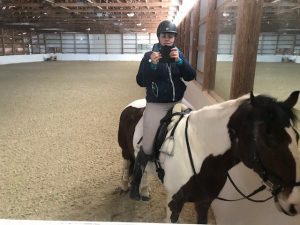 No stirrup work pains me in more ways than one, but it has been essential to re-establishing my center of balance, engaging my core, and getting my leg back. Since I don't have the luxury of getting to the barn every day, I try to get in at least one no stirrup day a week. I focus on a lot of transition work during these rides. Using my seat, my breath, and biomechanics such as pulling my shoulders back to really help me communicate with my horse and re-establish our symbiotic relationship. I try to keep these rides short, after about 30 minutes of me flopping around up there my horse is ready for me to be done.
When all the stars align and I find that I have a few peaceful moments to myself in the morning, I take advantage of the opportunity and go to my mat. It is usually about 10-15 minutes, but every little bit helps! I love the Sun Salutations Flow and as I work through the poses, I envision my day ahead as I breath in and out. The mornings that I am lucky enough start my day on my mat I find that I am a better mom, employee, and wife. Although this is a low impact flow, it has a high impact on my mental health which is just as important, if not more, than my physical health.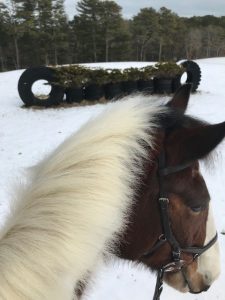 While this workout is most beneficial for my horse, I have found that taking a day to walk around the fields and riding outdoors has been amazing for my mental health! Since it is winter in New England having some snow on the ground really forces my horse to work a little harder. I have found that a slow and low walk up the hills really helps my horse engage his hind end and gives his butt a real good work out. Once Spring time rolls around I will start in on some trot sets into our hill work. This is a great cardio exercise for both of us plus I incorporate leg work in by staying up out of the saddle in my half seat for the duration of each set.
I recently found some great Barre exercise videos that are no longer than 20 minutes which fits in great with my crazy busy life. I love how the movements incorporate some ballet; I mean who wouldn't love to have the legs of a dancer! Speaking of leg, since starting this new routine I have felt a huge difference in my lower leg. When riding down the long side I no longer see it swinging in the breeze. I feel stronger and more able to really isolate squeezing my horse with just the lower leg to get him to move off the aids.
I am and probably always will be a work in progress. Some days all I want to do is put my feet up and binge my favorite TV show after the kids are in bed. But when I push myself to get up and move for at least 15 minutes I really feel those endorphins kicking in. It gives me a sense of pride, like I can do anything. And as I teach my children that they too can do anything, I must be a good example not only in words but in actions.
-Happy Riding!
SmartPaker Cora