Buying The Dream: Q&A with Team SmartPak Rider Allison Springer
Posted on: April 13, 2021 by SmartPak
Q&A with Team SmartPak Rider Allison Springer
Allison Springer is a prominent name in the sport of eventing. Her list of accomplishments spans across numerous championships, including multiple wins at CCI4*, CCI3*, and CCI2* events, including the USEF CCI2* Eventing National Championships. When not in the competition ring, she is actively training horses and riders from across the country.
Allison's business was officially incorporated in 2005 and in 2011 she joined Team SmartPak. After many years of hard work and success (while operating out of rented facilities), she took a big step! Allison Springer INC purchased a property for Allison to ride and train out of in Virginia. We recently spoke with Allison about her journey to get here, and the process she and her boyfriend Dave have gone through to make this new barn their own.
Q: What made you decide to purchase a property?
A: My business had always operated out of a rental facility up until now. I was lucky to find a situation with Darren and Bill at Beverley Equestrian for a long-term rental, and for the last 10 years they've been wonderful to work beside.
The idea of purchasing my own property came about when my accountant and I discussed the amount of money I was spending on rent in all of the places I was riding – Wellington, Aiken, and of course my home base of Virgina year-round. We had talked for years about the amount of money I was spending on those rent expenses and if that money shouldn't go towards my own place. While I knew I could afford the mortgage, the general maintenance of the type of equestrian facility I would need for my business was something I didn't think I could ever do on my own.
Fortunately, a few years ago I was introduced to my amazing unicorn boyfriend who pretty much knows everything about the concerns I had in owning a farm — he can fix anything and seems to know all the right people for the other projects! Between running the business, riding horses, and maintaining all that goes into a farm, there is quite a bit that needs to be balanced and done so efficiently. I never thought I'd be able to do it on my own, but with Dave we were able to make it happen together.
Q: What was on your list of must haves when you were looking for properties?
A: Dave and I had been casually looking at properties together for a couple of years with our future in mind. Together we were actually not looking for a property that would suit the immediate needs of my business, we were more looking for a future forever-type home for us with enough acreage and the bones to develop for my business in the future.
That type of property never really found us and then the opportunity to buy Deerfield came up. Deerfield really suited the immediate needs of my business with more than 20 stalls, great rings- including an indoor, fantastic turnout, rideouts, and cross country field. Although this property wasn't what Dave and I together were looking for, the more we looked at Deerfield and we knew how much we loved the Upperville area, it became obvious that this was the right move for my business to do. Then we would have time to figure out that forever home in the future – whether it be at Deerfield or close by.
Q: You managed to find a property that you can now call your own! What can you tell us about it?
A: The farm was part of a bigger estate that was for sale. The sellers realized the "types of buyers" that would potentially like to purchase the main estate (the main estate is still for sale) were most likely not interested in owning a commercial equestrian facility, so they decided they would be willing to sell off that 40-acre spread of land separately.
The barn itself is a great working facility already, though as in most cases, you want to make it your own and there were things I wanted to fix. I'm lucky to have connections through Dave to equipment and teams that were helpful to have with fixing things like the roof and pipes. We also knew there were some updates to footing and parking that we needed to make, which required excavation equipment.
The perfect property that ticked off all of our boxes was proving really challenging to find — and WAY too expensive to build or complete construction on properties that came close. Then the Deerfield opportunity presented itself. Although Deerfield Stables didn't tick off the forever home box, it was beyond perfect for my business and we love the area so much that it was the right decision for my business to purchase the farm now and then in the future Dave and I will be able to take the time to figure out the forever home situation together! In the end, this scenario ticked off all the boxes in a better way for us!
Q: How long did this process take?
A: The entire process took some time. I couldn't come up with the 20-25% down that traditional loans require for a commercial property of this size and acreage. Also, due to the acreage and type of property it wouldn't qualify for a first time home buyer's loan, so I decided to have my business (Allison Springer INC) apply for an SBA guaranteed loan which would only require 10% down. The SBA guaranteed loans are a veerrrrryyyyyyyy involved process, as the banks needed to learn more about my business, like if COVID-19 had a big impact, what my competition in the area looked like, and what the future of the business looks like. Looking at my financials, including what I pay myself and all the rental fees for stalls, facilities, housing, and more, it became more of a lateral move which made it doable!
Putting in my first offer, I found out it was too low. With such a large down payment needed, we were cutting it close. By the time I put in my final offer, another local buyer had caught wind and put in an identical one! When the seller asked for a final and best offer, we pulled out all the stops. What sealed the deal was the letter that one of my syndicate partners helped me write – it was amazing.
Q: What was it like managing your business while operating from two locations?
A: We closed on the property in December, and I knew we had paid our rent for Beverly through the end of the year, so I made the decision to keep my horses there until it was time to make the trip down to Aiken. The girls who work for me went down with the horses in January, while I stayed back to start working on the farm. Going to Aiken helped keep the natural flow of our routine while we worked on projects moving in.
I was especially lucky because Martin Douzant has rented Deerfield from the previous owner in the wintertime for many years and I was able to continue this arrangement with him this winter (and hopefully for many winters into the future while I still need to travel South!). He had been coming to this place for many years and was familiar with the property, so it was helpful to have him on-site to help us. Plus, it would have been a lot for me to try and manage moving and going south at the same time.
Q: As you began to move, what was the most random or unique thing you found while packing?
A: It's always cool to bring back up the old coolers from Rolex (now Land Rover 3-Day Event) and trophies won from past events with some great memories. I'd have to say that as we began to move into place, the most interesting thing I found was the room attached to the indoor. The previous owner was involved with animal rescues and used this room as a cat colony! It was originally intended to be a viewing room, but instead housed quite a few cats along with cat towers. Once cleared out, it really was an awesome space, and with some great online marketplace finds, I was able to turn it into a beautiful space which I use as my office.
Q: What's the #1 thing you knew you needed to have for day one?
A: The most important thing to me when moving in were the items that I needed to be functional. This included everything to make sure the horses are fed – a load of hay, storage, shavings and more. We receive grain deliveries by the pallet, so I had to make sure the feed room was set up and organized. The SmartPak drawers made packing from one barn to the next easy and everything stores away nicely.
I also needed assurance that once the horses moved back from Aiken that I could continue their training with minimal interruption. Footing was very important to have ready to go, and that was one of our biggest investments. With that, in order to train, we also needed to purchase items like jumps and cavalettis.
Q: What was the biggest splurge?
A: We spent the most money redoing two areas of the farm – the arena footing and the driveway. We invested in good footing, which I had seen at some other farms and was really impressed with. The arena is a mixture of concrete sand/stone dust and trutex fiber. It was equally important to have the right arena groomer in order to maintain the longevity of the footing. (And in true small-horse-world fashion, it turned out that I had previously taught the wife of the awesome guy that did our footing!)
Because I host clinics and lessons throughout the year, I knew having an easily accessible parking lot for trailers was important to my business. We spent time widening the driveway, expanding the parking, and designing it to be easier for maneuvering trailer. Most of the expense with this came from materials and the heavy machinery needed to make it happen.
Q: Which horse do you think will have the hardest time acclimating when you come back north from Aiken?
A: My horses always do well adapting to new environments, especially where we travel frequently for shows. I do think Ben ("Business Ben") will have the most difficult time, though. When we go places, he likes to be able to see other horses. He also is one we have to keep an eye on – he's a super cool horse with high energy but can have a mischievous side and sometimes wants to break out of his stall to find his friends. Once everyone has a chance to settle in, I think the horses will be happy to be back turned out on the good Virginia grass and have a chance to relax.
Q: What was the conversation with clients like before moving in?
A: I'm very lucky to have a good group of people in my program. We always work together and find ways to figure things out. Because the horses are under my training program, it all comes down to my timing and what I'm giving each horse, so the owners trust me to make the best decisions regardless of where I am and when. If we had a different structure, then that might not be the case. I also want people – whether they ride or work for me – to walk through the doors into a relaxed atmosphere. I'm demanding of that because the attitude we bring to the barn can impact the horses, and I want the horses to be as relaxed and chilled out as possible.
Q: What is the benefit of leasing or owning for people looking to get into the biz?
A: There are pros and cons of both renting and owning. I was fortunate to have great facilities and great relationships with the people I rented from. With a rental, there's usually an agreement which covers items like fence repairs and other maintenance around the farm. The tricky thing can be scheduling ring time and lessons if there isn't enough space or rings available. Regardless, with a renting situation you can learn what you like and what you don't like, and it is a more flexible option to figure out where you want to be and what amenities you like.
When it comes to owning the farm, I'm now the one responsible for all fence repairs and maintenance – it's my own time and money to fix anything that breaks. However, the good outweighs the bad with that because the farm is mine to make any improvements and I am the final decision maker. I'm especially thankful to have support and help from Dave. He's worked hard since the beginning on the property in helping all of my aspirations come to life. Owning my own farm has also been one of the smartest life decisions I've made so far for my retirement.
Q: What do you wish you had known before moving in?
A: I learned so much through the process. The best thing I did was to have a good accountant and a history of accurate records, which made things a lot easier and ensured I had fewer issues. A few other eventers have reached out and ask how I managed to do this, too, and I told them working with an accountant who not only helped me but helped promote the business was important – as well as doing taxes and bookkeeping right helps set up for better results. Same with insurance, things needed to be done quickly, and I had everything set up right from the beginning.
It's also important to understand the loans available to you based on your business, as well as zoning regulations for the property.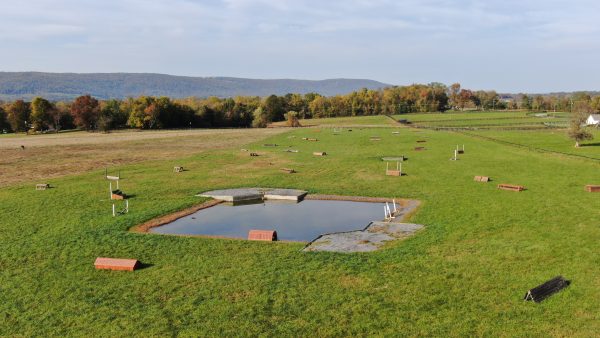 Q: Any other thoughts or pieces of advice?
A: Even as a 5* eventer I think I'm brave, but not reckless. I want to be safe doing things that made sense for myself and my horses. There was a lot of decision making to make the move safe for everyone involved. I don't think many young professionals can just go out and buy a property – it takes year of having an established business. I think I was always used to being broke for a long time. You do what you can to make money and then you begin to watch your business develop. When I started, I was galloping horses in the morning, training my own horses in the afternoons, and waitressing at night until my business grew. The way we train up our horses for safety and success, that's how we prep and get ready for a big move like this.
You never know how badly you want something until it's almost taken away from you – so don't be afraid of commitment but be smart about it. There was a period where I was fearful that my offer wasn't going to be accepted, and I was worried if I lost it, it would be due to not having the guts to make the big move right away. I was not used to making such big decisions like this. It was terrifying and exciting, but the moment we started living at the farm I loved it, and everything began to fall into place. It's been a dream of mine to have my own property and I'm so excited to get my horses in.
To learn more about Allison's upcoming clinics and events make sure to follow her on Instagram (@AllisonSpringerEventing– click here) and Facebook (@AllisonSpringerEventing click here!).