Becoming an Equine Sports Massage Therapist
Posted on: August 08, 2013 by Nazera Carlson
As I entered my senior year at Cazenovia College, I was presented with many opportunities to research and discover my true passion – alternative therapies for horses. I started researching many different types of alternatives therapies that humans use in practical medicine today. Through my research I found and learned about ways in which veterinarians, chiropractors, acupuncturists, herbalists, etc. apply these therapies to equine medicine. I became fascinated with how easily certain therapies can be applied to horses. Throughout this research I discovered one true passion, one therapy that stood out above all the rest for me, Equine Sports Massage Therapy.
Here I was, now two years out of college determined to find my "true calling." I did some research online and found the program of my dreams! Equissage is a program based out of Virginia where they offer a certification in Equine Sports Massage Therapy. I was thrilled, but had no idea how I could make this work. Luckily, Equissage has a corresponding program based out of Sterling, CT called Equissage-NE-NY. The program instructors and owners, Ron and Doris Bouchard, were trained under the leadership of Mary Schreiber, the founder of Equissage.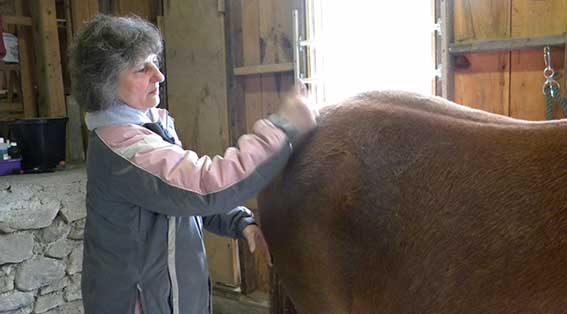 Doris was my main instructor and boy, let me tell you, she was great! I was the only student for my weekender session and was so happy to have a one-on-one learning session with such a kind and passionate horsewoman. She taught me how to connect with my patient like I never thought I could. She taught with precision, compassion, and openness. I not only was able to have in-classroom instruction, but also experienced a lot of hands-on therapy. I learned different massage techniques, how to evaluate a horse, the massage sequence, the anatomy and physiology of the horse's musculoskeletal system, and the benefits of massage. It was everything I had hoped for and more!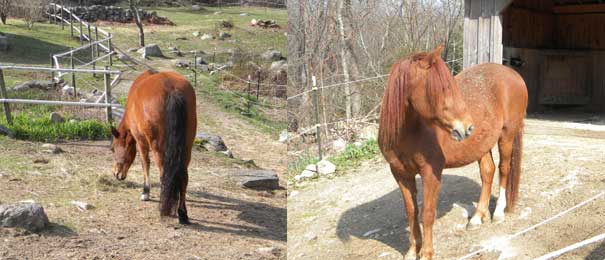 A met a few friends along the way and really enjoyed having them by my side as I studied and practiced on the horses in the barn. Doris and Ron have two horses named Indiana and Encanto, a dog named Ziggy, and a cat named Maxwell. They have a great little family!

Learning under the instruction of Doris and Ron was such a blessing. I was lucky to have found a program like Equissage. Now that I have graduated and am a Certified Equine Sports Massage Therapist I hope to continue to work on many horses and help owners and trainers discover the advantages that come out of massage. I am local, living in Kingston, MA so feel free to reach out to me if you're interested in massage for your horse! And you should definitely check out Equissage-NE-NY if you are interested in becoming an Equine Sports Massage Therapist in the Northeast.