Announcing NEW SmartStride Ultra Pellets: A revolution in joint care
Posted on: December 19, 2017 by Jessica Normand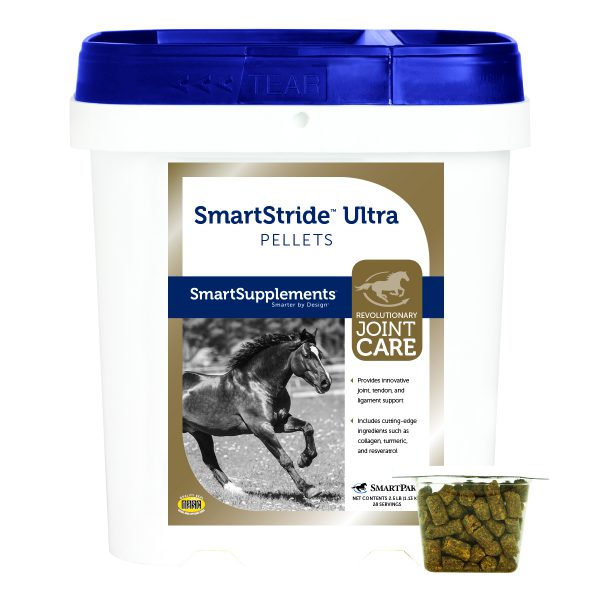 Equine health knowledge and research is constantly expanding, and we're committed to delivering cutting edge support for your horses by staying abreast of the latest information. In that spirit, I'm thrilled to announce SmartStride Ultra Pellets, the first supplement in SmartPak's new line of next-generation joint support!
SmartStride Ultra was inspired by learnings from nutrition conventions, veterinary conferences, functional medicine symposiums, and additional input from industry experts. This revolutionary formula provides a high level of hydrolyzed collagen, which we've used in our joint, tendon and ligament formulas for years. There's a growing body of evidence supporting the benefits of collagen for joint health. This ingredient is also valued for its role in bone, tendon, and ligament health, and for aiding in normal recovery.
The other cornerstone ingredients of SmartStride Ultra are turmeric, boron, and resveratrol. Turmeric is plant in the ginger family whose root has been prized for its health benefits for thousands of years. It is particularly valued for its antioxidant properties and ability to combat discomfort, making it an excellent choice for horses dealing with stiffness. As an added bonus, horses LOVE the taste of turmeric! (I can personally attest to this: I nearly got mobbed by our herd when I brought palatability samples into the paddock!) Resveratrol is the potent antioxidant found in the skin of red grapes. This ingredient continues to grow in popularity for its benefits to equine joint health, and is supported by research in horses. Boron is a trace mineral and necessary plant nutrient that supports healthy cell walls. There is evidence supporting boron's role in bone health, joint health, a normal inflammatory response, and more.
What type of horses is SmartStride Ultra for?
• Hard working horses in need of joint, tendon and ligament support
• Horses experiencing stiffness and discomfort
• Horses that have not responded to other joint supplements
• Picky eaters who won't eat other joint health formulas
• Any horse whose owner wants to provide the most cutting-edge oral joint support
My own horse is 9 years old in moderate work, with a bit of conformation-related challenges in one front foot. Previously I was feeding SmartFlex Ultra Pellets together with Turmeric Pellets by SmartPak (both excellent supplements in their own right) for his joint support, but I swapped both of those out for SmartStride Ultra as soon as it became available! I'm excited to be able to provide him with resveratrol, more collagen, plus turmeric, all in one!
If you have questions about finding the optimal joint supplement for your horse, contact our fabulous Customer Care team or visit our online Supplement Wizard!