SmartPak Dog Blog: A Deep Dive into Canine Supplements
Posted on: June 24, 2020 by Kristina Simmons
The love of my life was a chestnut Quarter Horse mare named Cocoa, (yes, my husband was aware of this) (yes I promise this is a blog about dogs) and for 12 wonderful years I had the pleasure of calling this amazing girl mine. Anything Cocoa needed (or didn't need) Cocoa got, and supplements were a huge part of her program. As the manager of Equine Health Education at SmartPak I knew just enough to make myself worry about every little thing, which is how my retired, un-rideable senior ended up with a supplement program that could rival that of a Land Rover Three-Day Event horse. From joint supplements to digestion and everything in-between, most horse owners will agree that these products play a huge role is the success of their top performance horses all the way to keeping their retired seniors comfortable. I most certainly had great success with Cocoa's program and loved supporting her as best as I could.
After Cocoa passed away in 2017, I found myself going down a slightly different path that led me into the world of dog sports. After spending 12 years exclusively in the horse world, I found it fascinating to observe how similar canine performance events were in terms of competitiveness, community and passion for your animals' health and wellbeing. One thing that both worlds shared was, to my delight, supplements! Just like their equine counterparts, dogs (whether they are performing or just accompanying you to the barn) also benefit from daily supplements to support optimal health and well-being.
You might be wondering about my dogs and what exactly they do, so let me introduce my girls! I have two Labrador Retrievers: Allie, a 3-year-old lab who came to me two months after Cocoa passed and is named after her (Cocoa's original barn name was Allie) and Stella, my 1-year-old lab puppy. Our main sport is dock diving. Dock diving, for those unfamiliar, is exactly what it sounds like. You have a dock and a pool, and the goal is for the dog to run down the dock and jump as far as possible into the pool. I stumbled upon dock diving by chance. Early on when training Allie the basics like 'sit' and 'stay', my friend SmartPaker Carolyn mentioned that a local dog facility offered swimming lessons, and I decided to give it a try. Allie — or the "Alliegator" as my husband and I started calling her when she was a mouthy puppy — immediately took to the pool. Once she got over her initial apprehension with the dock, she started flying into the water with a reckless abandon we'd never seen from her before. Normally quiet, reserved and content to sleep all day, Allie would come to life around the dock, joyfully barking and pulling whenever it was almost her turn.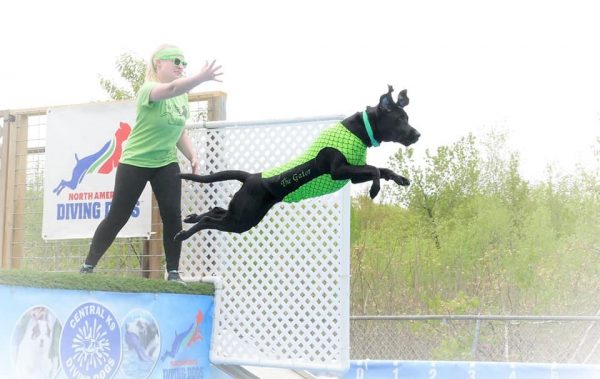 We started taking her to competitions and making friends with the other regulars. A lot of them had their own team names, so I made us T-shirts and we became "The Allie Gators." Over the past two summers we've gone to dozens of competitions, and slowly but surely Allie's jumps improved to a point where she became one of the top jumping Labrador Retrievers in New England! Last summer we were even invited to a televised competition on ESPN's campus in Connecticut, and around that same time Allie officially qualified for the AKC National Dock Diving Championships in Orlando, Florida. Stella joined the team,now called "The Labraduo", in April 2019 and has just recently joined her big sister in competition and won her own division in our season opener this past month!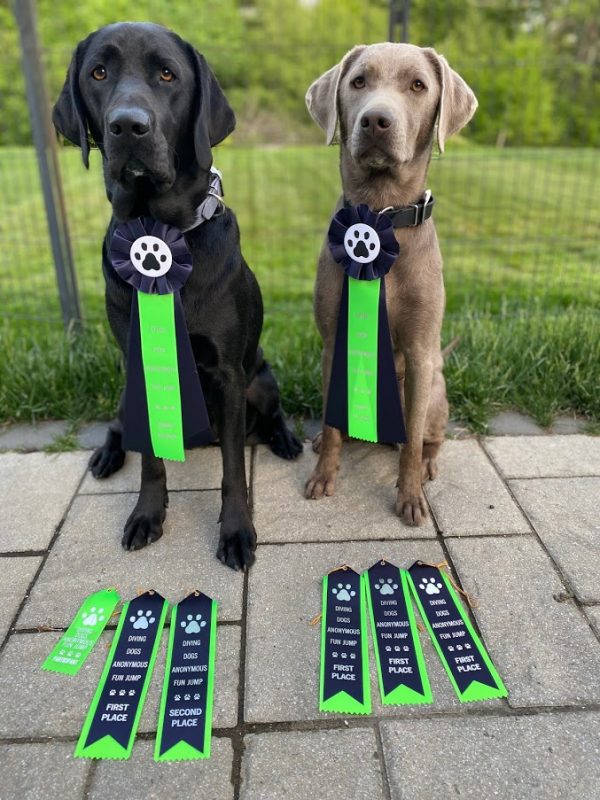 For Both Dogs:
Like other athletes (equine, canine or human), supplements play a big role in my girls' success. While they are still young and don't have any issues *knock on wood*, proactive support is the name of the game. The first thing on my list is to address joint health and I trust SmartCanine Joint Ultra Soft Chews to do that. A big bonus is that these tasty chews also provide collagen which addresses tendon and ligament health making them perfect for active dogs, like Allie and Stella. The girls actually think they are treats and are so excited to get them every morning!

SmartCanine Allergy Soft Chews
are next on my list. While the girls don't suffer from specific 'allergies' per-se , since we are doing a lot of travelling and interacting with other dogs who have also been traveling, I want to make sure that their immune systems are supported. Not to mention, competition environments are busy and can be stressful. Having antioxidants, adaptogenic herbs and digestion support from Diamond V yeast on board equals a winning combination for me!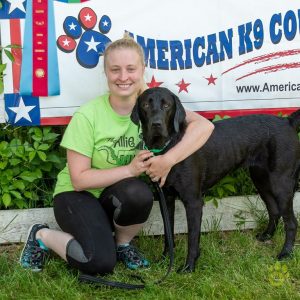 For Allie:
Speaking of traveling and busy environments, Allie also gets SmartCanine Calming Soft Chews since she can sometimes be a bit of a worrier. This formula helps take some of the edge off but does not impact her performance, which I love. She is calm and focused and ready to do her job.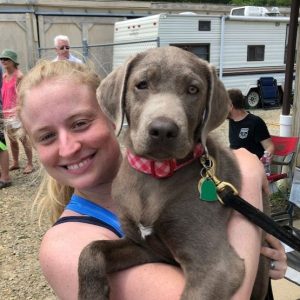 For Stella:
Lastly, I use SmartCanine Skin & Coat Soft Chews for little Miss Stella. Since she has a thinner coat than the typical Lab and also has dry skin, this formula supplies a hearty helping of omega 3 fatty acids from flaxseed as well as fish oil in addition to biotin to support normal skin health and coat development.

Allie and Stella are proud to be powered by SmartCanine, but the good news is that they aren't just for performance dogs – any dog can benefit from our tasty soft chews! To talk with our Supplement Experts about how to best support your best friend you can call us anytime at 1-800-461-8898 or go to SmartPak.com and use our LiveChat feature. Want more ways to speak to the SmartPak Team? Check out our Contact Us page for all the options!