A Day in the Life of a Dressage Show Scribe
Posted on: February 15, 2016 by Dr. Lydia Gray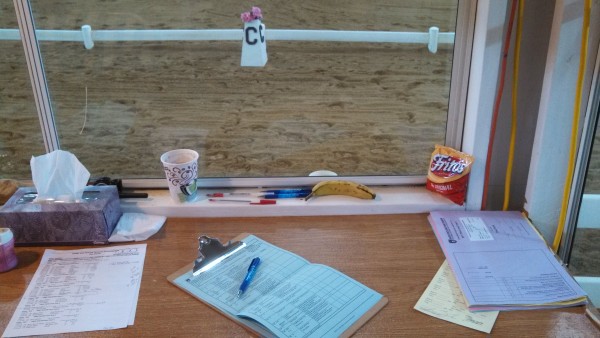 "Needs steadier connection" = 6.5
"Straight on center line, square and secure halt" = 8.0
"Could have better bend and balance" = 7.0
With exciting and interesting language like that awaiting my penmanship, I could hardly wait for the alarm to go off a few weeks ago:
6:00am Wake up and get ready—dress professionally yet comfortably
6:30am Leave for showgrounds—need to be on site 30 minutes prior to first ride time
8:00am Arrive on showgrounds, collect scribe "box," and set up in booth
Set-up involves making sure there are at least two black or blue pens that flow nicely, at least two red pens, a clock set to official show time, a bell or whistle, day sheets for me and the judge, all the morning tests (in order) along with a clean copy for the judge in case she didn't bring her own materials, Kleenexes, snacks and drinks. At this show we're in a heated indoor arena and also have a space heater in the judge's stand, but at other times I bring a visor, sunglasses, sunscreen, bug spray, a jacket/gloves/hat, and raingear. Also a cushion to sit on is nice.
8:30am First ride of the day! (FEI Grand Prix)
8:39am FEI Intermediate I
8:57am FEI Prix St. George
9:24am FHANA Z1, Test 24 (the Friesian Horse Association of North America has their own
tests)
9:32am USEF Training Level, Test 3
10:28am BREAK!
In addition to making sure the number of the rider matches the number on the scoresheet, another one of the scribe's jobs is to help the judge stay on time. The judge I worked with at this particular show was extremely efficient and was able to handwrite kind and constructive comments at the end of each test yet still gain a minute or so on each so that we had a few extra minutes to stretch our legs mid-morning.
10:40am USEF Training Level, Test 3, continued
The reason there are so many rides in this class is that the highest test of any level is what qualifies you for Regional Championships. Each level has different percentage that makes you eligible. For a professional riding Training Level, the minimum required is 68%. For an amateur at the same level it's 63%.
11:04am USEF First Level, Test 3
11:52am LUNCH!
This showgrounds invites a marvelous caterer who prepares hot food on demand. Her Lemon Chicken soup is to die for! Of course, it's even better with some Fritos and a Mountain Dew.
1:15pm USEF Second Level, Test 3
1:39pm USEF Third Level, Test 3
1:47pm FHANA Z1, Test 26
1:55pm USEF Fourth Level, Test 3
2:03pm USDF Introductory, Test B
You might think that a basic walk-trot test like this, with just 9 movements, would be "blown off" by judges capable of evaluating the upper level, rapid-fire FEI tests that feature passage and piaffe, one-tempi flying lead changes, and other exciting stuff. But most of the judges I've scribed for have paid equal attention to green horses and riders just embarking on their dressage journey.
2:09pm USEF Fourth Level, Test 1
2:17pm: USEF Training Level, Test 1
2:24pm USEF First Level, Test 2
2:52pm BREAK!
3:02pm USEF Training Level, Test 2
Our last ride of the day–scheduled for 3:34pm–was a scratch, so we were able to wrap things up a bit early, with me driving home and the judge heading to the airport. Scribing is an incredible amount of work—requiring great focus for an extended period of time—yet it's good practice for me as I prepare to enter the USEF "r" judge training program and an excellent opportunity to spend quality time with some interesting and well-connected people within the dressage community. If you've never scribed before but want to, check out the "USDF Guide for Scribes" on their website and attend a session for scribes because even scribing at a schooling dressage show can be intimidating for first-timers.