5 Things Under $25 Friesian Owners Can't Live Without
Posted on: September 04, 2019 by Pam Groom
Do you remember the first time you saw a Friesian? It was love at first sight. So many movies and tv shows have romanticized the Friesian horse – Lady Hawke, Zorro, and more recently Game of Thrones. Rightfully so, the placid and willing temperament, the majestic and flashy movement, and the hair that fairy tales are made of — OH THE HAIR!
Speaking of the hair, a fair amount of maintenance comes with those magnificent ebony locks.
So when I was tasked with narrowing down my grooming tote to 5 products that I can't live without, it was a tough decision. I have a number of favorite products however my Friesian mare, Mia, and I can NOT live without these products. As a bonus they are also budget friendly with each being under $25.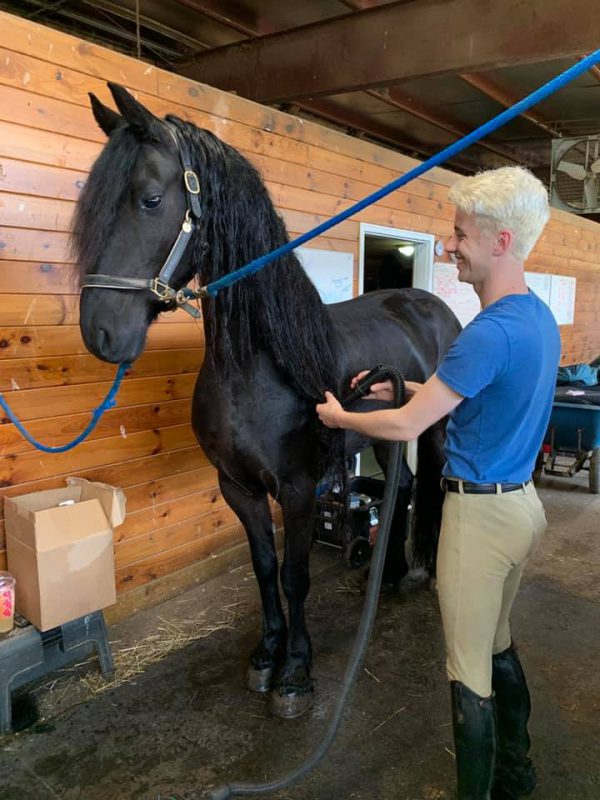 A thick, black, luxurious mane and tail are one the Friesian trademarks. Now that it is your job to care for all of that, it seems a little overwhelming – where do you start, there is SO much hair? Well, same as any horse with a GOOD BATH! Here are a few reasons why Equiderma Neem Shampoo Item is #1 on my list!
• It's soap free, making rinsing my black beauty easy
• It works to inhibit fungal and bacterial growth on the coat, mane, and tail with regular use
• It doesn't strip the skin of natural oils which could dry the coat, mane, and tail
I try to leave the shampoo on as long as possible so that it can do its magic. It is made with ingredients I can pronounce like chamomile and cherry bark which is nourishing for the skin.
Friesians have feathers on their lower legs. To keep them looking neat and show off their legs, clip the hair behind the knee on the front of the cannon bone. You want to keep the hair around the fetlock and below, but trim feathers that drag on the ground too much. With all that extra hair on their lower legs and standing in mud or wet grass, bacteria and fungus can become a problem for the Friesian in terms of scratches (also called pastern dermatitis or greasy heel). Scratches can be quite painful if left untreated. We have used a good shampoo like Equiderma Neem Shampoo, massaged into the feathers, and thoroughly rinsed. I do prefer to blow dry my horse's feathers – on low – so that there is no dampness on the skin or in the hair where bacteria can grow.
Equiderma Skin Lotion applied directly on the scratches scabs will bring quick relief to itchy and painful skin. If I could have ONLY one product this would be it! If my mare is rubbing her mane or tail, I will also use it to soothe the area, as well as any blanket rubs. It doesn't sting or burn and has a soothing lavender aroma.
One of the best things you can do for your horse's skin and coat is get a good stiff bristle brush and elbow grease to bring up the natural oils for shiny coat. Let any mud or dirt dry before brushing off. There are many choices on the market for brushes – large, small, natural bristles, synthetic bristles, grooming gloves. My preference is wood handle natural bristle brush, like the SmartPak Natural Bristle Stiff Brush. Brushing your horse also gives you the opportunity to inspect for any bumps, cuts, or scrapes and is also wonderful bonding time for the both of you!
You have washed it, you have brushed it, now what? Leave it alone! It is tempting to comb or brush your horse's mane or tail regularly however, each time you do that you will lose 100's of hair strands. I will braid my horses tail and use a Sleazy Sleepwear Tie Tail Bag. Not only does it keep my horses tail clean but it is also breathable. Braiding is a preference and a risk that many Friesian owners won't take if their horses rubs often or very small braids are used. Whether you decide to braid or not, if you encounter any snarls or snags try to pick them out with your fingers.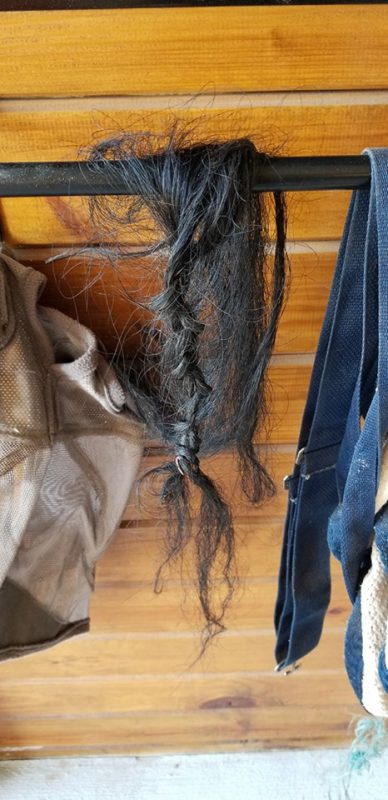 Maybe she is born with it, maybe it is SmartMane and Tail Item! Not only has Mia rubbed out a chunk of her main in her stall but she is what I would describe as "folically challenged". As far as Friesians go, she is light in the extravagant hair department. Every day in Mia's SmartPak, SmartMane and Tail provides her with support for strong and healthy mane and tail growth with biotin, collagen, and essential amino acids!
Mia and I hope that you enjoy these products as much as we do! Happy Hair Care!