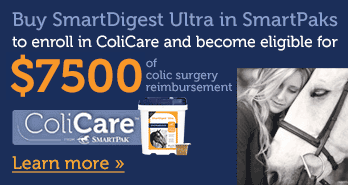 SmartDigest Ultra is specially designed to help your horse manage digestive stress caused by hay fluctuations, training, travel and more. This innovative formula provides high levels of specialized ingredients to help keep your horse's digestive tract healthy and balanced. The clinically studied ingredients in SmartDigest Ultra include: prebiotics proven to reduce disruption in the cecum and colon and inhibit the absorption of harmful bacteria in the hindgut; yeast shown to improve fiber digestion and assist the beneficial bacteria of the cecum in adjusting to feed changes; enzymes demonstrated to increase the proper digestion of starch in the foregut. SmartDigest Ultra provides unparalleled GI protection for every horse, from the high level performance horse to the retiree and everything in between.
Best of all, horses fed SmartDigest Ultra in SmartPaks may be eligible for up to $7,500 of colic surgery reimbursement through our
ColiCare program
!
Order SmartDigest Ultra in SmartPaks today, then be sure to submit your horse's ColiCare application!
View Product Label
View our Digestion Supplement Comparison Chart