We are riders. We are SmartPak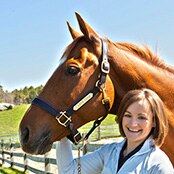 SmartPaker: Sara from Creative Horse: Diem, Thoroughbred gelding Sara as a rider: I think I fell in love with horses before I could walk, but I didn't start taking lessons until I was 12. I rode hunter/jumper for many years, including two years on an IHSA team. After college, I moved to Massachusetts and found an event barn where I fell in love with my first horse, Carpe Diem. We learned to event together, and I showed him for six years before a tendon injury led me to retire him. Sara as a SmartPaker: Working in the Creative department at SmartPak is nothing short of a dream job. As the Creative Director, I'm able to help determine how we present ourselves to the riders browsing our catalogs in barns and tack rooms across the country. We work very hard, but it's a whole lot easier when you're looking at images of gorgeous horses all day. All about Diem: Diem is the quintessential chestnut OTTB. Every ride on him was a new puzzle to solve, but he was an absolute blast when the pieces come together. Athletic and bold, he jumped around cross country like a machine. He's now living the dream in Aiken, South Carolina, spending his days grazing and basking in the warm sun. After everything we went through together, he definitely earned it!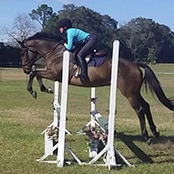 SmartPaker: Jen from the SmartPak Store Horse: Tally, Thoroughbred/Warmblood mare Jen as a rider: Apparently I've been obsessed with horses since I was born, and I used to beg for pony rides on a regular basis. I started showing in 4-H, progressed to equitation and jumpers in high school and rode on the IHSA team in college where I also discovered the joys of eventing! After graduating I learned how to sit while working for a dressage trainer and now am a committed low-level eventer in the ever-elusive quest to put together three solid phases. Jen as a SmartPaker: I manage SmartPak's Retail Store in Natick, MA - if you are ever in the area, please stop by to say hi and check out all our amazing products in person! We also have a fantastic clearance section with some unbelievable deals. All about Tally: Taliafera is a 9 year old TB/WB chestnut mare and she is just starting her eventing career. She was very green when I got her last year, so we spent a lot of time exploring the great outdoors and learning that the dressage arena is really not that bad. She loves to jump and has gotten quite bold in the XC, so I'm excited to start showing!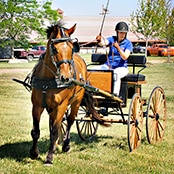 SmartPaker: Lydia, Staff Veterinarian Horse: Newman, Trakehner gelding Lydia as a rider/driver: I got my first horse in 7th grade, discovered dressage in high school, and haven't looked back since. I've slowly been accruing USDF performance awards (graduating from their "L" program with distinction last year and aiming to complete my Bronze Medal and Freestyle Bar requirements soon). Now I'm adding driving awards to our collection. Could jumping trophies be in our future? Stay tuned! Lydia as a SmartPaker: I joined SmartPak in 2006 as the staff veterinarian and medical director and continue to learn new medical info and new technology. From presentations at horse expos to webinars and videos, and from health care articles to Ask the Vet blogs and our new Ask and Answer feature, we're on the cutting edge of getting the most up-to-date facts and figures into the hands of horse owners. All about Newman: While it hasn't always been easy with "Newmie-poo," as he's affectionately called (pulled suspensory, colic surgery, PSSM, inflammatory airway disease), I am enjoying horse ownership more than ever before with this spectacular Trakehner who does it all: rides, drives, jumps, trail rides, goes side saddle; we've even tried bareback!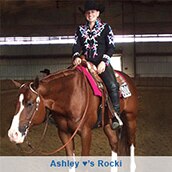 SmartPaker: Ashley from Customer Care Horse: Rocki, 1997 APHA gelding Ashley as a rider: I have considered myself a horse crazy individual since the age of four when I took my first riding lesson. I began my riding career in an English saddle, but quickly found a passion for the western all-around show ring and switched. I have completed heavily in AQHA and APHA as a youth and moved to showing APHA as an amateur rider. Even though my show gelding has been retired from the show ring this year, I am still actively working with young horses as much as I can in my spare time to keep my skills fresh. Ashley as a SmartPaker: Over the past seven years as a SmartPaker, I have had the privilege of directly helping our customers both over the phone and at trade shows. As the current Outbound Customer Care Manager, I support our team of Supplement Experts as they provide the best service in the industry. It is exciting to know that every day our contacts with customers are working to truly make a difference in their horses' health and their riding experiences! All about Face A Rocki (Rocki): Rocki is a 1997 APHA gelding with a natural talent in the show pen in all-around events. He has excelled in everything from western pleasure to trail to halter and even a few hunter under saddle classes. He has the biggest personality of any horse I know and never fails to keep me on my toes. These days he has taken a step back from the spotlight in the show pen and is enjoying his life as a trail horse and occasional pony ride for my nieces and nephews.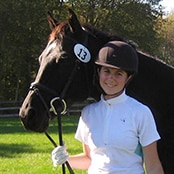 SmartPaker: Kerri from Marketing Horse: Luna, 1998 Connemara/Thoroughbred mare Kerri as a rider: I've been riding since the age of 10, starting out in 4-H and Pony Club. I competed in eventing at the local level before focusing solely on dressage. I competed on the IDA team in college and have continued to compete in USDF dressage shows at the local and regional level. Kerri as a SmartPaker: As the Marketing Manager for SmartSupplements, it's my job to help horse owners learn about all of the wonderful supplements we offer. It warms my heart to think of the many horses who have benefited from SmartSupplements over the years- and I love seeing their photos and stories! All about Luna: Luna is a 1998 Connemara/Thoroughbred black mare. Although she is only 15.2, she has enough personality for a much larger horse. Her nickname around the barn is "Diva", but her name show name "Mezzaluna" is Italian for crescent, in reference to her moon-shaped star. We're aiming to show Second Level dressage this year, and I couldn't be more excited!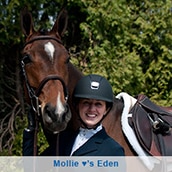 SmartPaker:Mollie from Creative Horse: Eden, 2005 Oldenburg mare Mollie as a rider: I started riding when I was 9 years old and quickly got swept up into the competitive hunter/jumper world. I showed my first pony, Chloe, in the Small Pony Hunter divisions were we competed at shows like Fairfield Hunt Club, Old Salem, HITS, and Westbrook. Once I outgrew my pony, I moved onto showing in larger divisions and in the jumper ring. These days I compete in the Adult Hunter/Equitation divisions, and I hope to move up with my new horse Eden, by next year and show in the AO hunters! Mollie as a SmartPaker: As part of SmartPak's Creative team, it's my job to make sure catalogs, brochures, signs, package inserts, and other printer materials look awesome by the time they make it into our customers' hands! My team members and I have a ton of fun during the process, and that helps us always meet our goal of supporting Happy Riders and Healthy Horses All about Eden: Eden's a 2005 bay Premium Oldenburg mare. She has a star, a snip, and 3 white socks. She is new to the East Coast, as she just moved up here from Houston, TX! She is adjusting quite well and getting used to the white-powdery stuff on the ground, however, she hates blankets and would rather be a wooly pony all winter. I can't wait to see what our future has in store and to compete with her in the hunter divisions on the east coast this spring and summer show season! :-)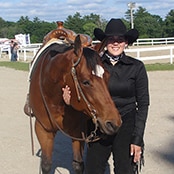 SmartPaker: Karen from IT Horse: Macy, 2007 Quarter Horse mare Karen as a rider: My mom always had horses and it wasn't long before I caught the horse bug and never looked back! I started out in 4-H and soon found myself competing on the AQHA circuit in addition to showing IHSA in college. These days, Macy and I do AQHA shows whenever we get the chance. Karen as a SmartPaker: As a Quality Assurance Engineer, it's my job to double (sometimes triple) check to make sure that shopping and navigating our website is easy and pain free. I also work behind the scenes to help ensure that everything functions correctly so we can get your SmartPaks and goodies out the door! All about Macy: Macy is a 2007 bay Quarter Horse mare who always knows how to keep me on my toes. She started off showing in the Western Pleasure and has gone on to add Horsemanship, Trail, Halter and Showmanship to her All-Around resume.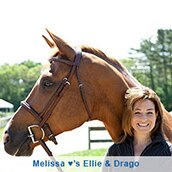 SmartPaker: Melissa from Merchandising Horse: Ellie, Holsteiner mare & Drago, 2007 Irish Sport Horse gelding Melissa as a rider: I grew up in Virginia and started riding when I was about 7. I never looked back...riding and horses have been a part of who I am since that first ride all of those years ago. I've fox hunted a little but have spent most of my time competing in Hunters and Equitation. I rode on the IHSA Team in college and even competed in some IHSA Alumni classes after graduation. These days you'll find me in the Adult Hunters, Hunter Derbies and Adult Equitation. Melissa as a SmartPaker: As VP of Merchandising, it is my job to oversee all of our product selection and development. Me and my team travel the world to find and develop things we think are worthy of being in your barns, on your bodies and on your horses. How cool is that?! All about Drago: Drago is the newest addition to the Hamlet family. He is also the first horse that I've imported from Europe. He is kind of like a 17.1 hand labrador retriever :-) He is a very green 6-year-old Irish Sport Horse who I hope to be showing in the hunters and equitation by the end of the summer. He also happens to be devastatingly handsome with the absolute longest legs I've ever seen! All about Ellie: Ellie is my soulmate in a horse's body. She makes me smile like no other horse has ever done. After an injury ended her career as my show horse, she embarked on a career in dressage. She has now found her niche at Johnson & Wales University where she is proudly wearing black tack and dancing her way into the hearts of their students :-)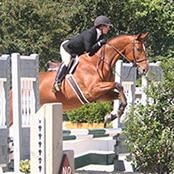 SmartPaker: Jessica from IT Horse: Kandida, 1995 Holsteiner/TB mare and Bruin, 2009 Bavarian Warmblood Jessica as a rider: I started riding 30+ years ago, more of a "hang-on" kind of method. (Yee- ha!) Recently I've been trying to refine my equation in the hunter/jumper world. In the past, I've tried (and horse shown in) both saddle seat and western. Since 2008, I've owned a horse farm that has grown from 10 to 31 stalls, doubled the size of the outdoor arena, and added an indoor. I love horse showing and am now judging at schooling and regionally rated shows. Jessica as a SmartPaker: I've been at SmartPak since 2009, in the IT department. I was the first person in this department to "speak horse" as well as "tech." I do Software Quality Assurance, which means I test our website and internal applications to make sure they work as awesome as our users hope they will. Essentially I try to break our software. My major objective is to make sure that all customers can place their orders without any issues! All about Kandida: Kandida is a 1995 Holsteiner/TB mare, though everyone guesses she is under 10. (Thanks to SmartPaks!) I utterly adore her and she has taught me so much! She's been my adult medal horse and has seen me through all the regional finals (including the New England Equitation Championships). She has to be the most intelligent wisest horse I know. She's one in a million and I'm so lucky to have her in my life. All about Bruin: Bruin is a 2009 Bavarian Warmblood who came over from Germany before I bought him. He is just starting to learn the ropes of the H/J world and I have high hopes for a long and successful show career for him. Bruin is the opposite of Kandida's refinement. He is quite the goofball and lives for attention of all kinds. Mr. Personality who loves people and treats.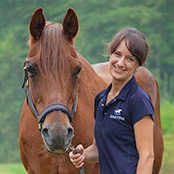 SmartPaker: Sarah from Marketing Horse: Cody, 1989 Quarter Horse gelding Sarah as a rider: For as long as I can remember, I've thought of myself as a rider. I started out in 4-H and AQHA, competing at the regional, state and national level, then transitioned to the hunter/jumper world of USEF, USHJA and IHSA shows. These days, I consider myself a "wannabe eventer," though I'm hoping to become legit with my first HT this summer! Sarah as a SmartPaker: As SmartPak's Brand Manager, it's my job to make sure that we're living up to our promise to support healthy horses and happy riders in everything we do. Luckily for me, part of my job includes making sure we - and more importantly, the riders we serve - have fun along the way! All about Cody: Cody's a 1989 chestnut Quarter Horse gelding. We've been together since 1995 and I can't imagine my life without him. He's been the best partner, teacher, and friend I could ever ask for. And he's stunningly handsome if I do say so myself :-)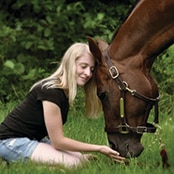 SmartPaker: Kristina from Customer Care Horse: Cocoa, Quarter Horse mare Kristina as a rider: My love of horses started when I was three years old but I didn't start riding until I was six. I took lessons once a week on a lunge line and gradually worked up from there. I remained actively taking lessons and participating in local schooling shows. Once I got my horse, Cocoa I began to trail ride and just learn as much as I could about riding. We didn't show very often but when we did we had a blast. Mostly, we rode for fun, and we still do today. Kristina as a SmartPaker: As part of SmartPak's legendary Customer Care Team, I love hearing all of our customers' stories about their horses and what they do with them. I do call myself a supplement nerd because I love putting together supplement programs that are tailored to fit each horse's individual needs. All about Cocoa: Cocoa is the love of my life. She is a 1992 Quarter Horse mare (but don't tell her how old she is - she believes she's more like 15). I first met Cocoa in 2005 when we worked together as a team doing therapeutic lessons. When she retired from the program, I was able to buy her and start my adventure as a first-time horse owner. In the years I've known Cocoa, we've been through a lot together. We primarily ride for pleasure but will jump at the chance to go to a local fun show. Cocoa knows how to give hugs, come when I call her and, her most famous trick, she sticks her tongue out every time I try to take a picture of her!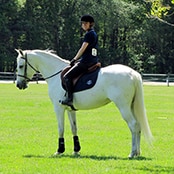 SmartPaker: Michelle from Customer Care Horse: Maddie, Quarter Horse/Arabian mare Michelle as a rider: I started riding when I was eight years old, taking lessons at a local barn. I helped out after school and on weekends and eventually got to ride horses and ponies outside of my lessons too. I showed a bit in hunter and jumper classes, but I've always loved the relationship-building aspect of working with horses. Recently I've taken up some dressage, and am focusing on groundwork as the foundation of my relationship with my new horse. I'm also a certified yoga teacher and love incorporating yogic practices into my riding as well. Michelle as a SmartPaker: I'm a part of SmartPak's Customer Care team and I answer emails that come in on a daily basis from our customers. I really enjoy getting to know our customers through the stories they share about their horses, barns, and lives in general. I also love getting to see photos of the horses I've talked about with people. All about Maddie: Maddie is an 11-year-old QH/Arab cross mare. She's a flea-bitten grey with a double whorl on her forehead, which I've heard means that a horse is free-thinking and stubborn (but don't say that in front of "Miss Madeline"). Maddie was a rescue mare and has definitely come a long way in the year we've been together. We think a lot alike which causes us to butt heads sometimes, but which also helps me understand things she might need help with, and which helps me learn more about myself too.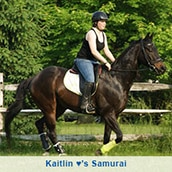 SmartPaker: Kaitlin from Customer Care Horse: Samurai, Thoroughbred gelding Kaitlin as a rider: I started riding in middle school. I had always been an animal lover, but I think my parents where surprised at the sudden interest in horses. I continued to surprise them when I stuck with it and eventually went to school so I can build my life around horses. I took lessons on and off, and volunteered or worked at a few local barns for years, and when I was sixteen I bought myself my very own horse, a 10-year-old Thoroughbred. He's taken me to my first show, followed me to college, and all the way to SmartPak! Today we love to trail ride, do a little dressage, and a few cross rails to change things up. Kaitlin as a SmartPaker: I'm a member of our Customer Care team, which means I spend my days answering the phones and waiting to talk to all of our amazing customers! I love supplements and could talk about them all day, and I love building the perfect SmartPak for every horse. Each horse is an individual with unique needs, so every SmartPak is always different! All about Samurai: Samurai, or Sam, is a 16-year-old Thoroughbred gelding, dark bay with a faint star and just a smidge of white above each hind hoof. Sam's hobbies include halter tag, playing with his friend Chandler, and grazing. He is one of the most curious horses I have ever met and has taught me so much. We're both looking forward to many more happy years together.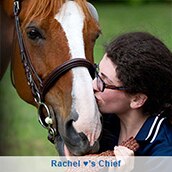 SmartPaker: Rachel from Customer Care Horse: Chief, Thoroughbred/Morgan gelding Rachel as a rider: I started riding when I was 6 years old and quickly got swept off my feet. I fell in love with horses and there was no looking back. I grew up in the hunter/jumper world, but then I went to college, and college opened me to a whole new world - dressage!! I am now out of school and trying to enter the world of eventing, but honestly I'm not sure I'm brave enough! Rachel as a SmartPaker: Being a part of SmartPak allows me to wear many hats. I work in our Retail Store in Natick, MA as our Visual Merchandiser. This job allows me to dress mannequins, and play with customers and product all day! When I'm not working at the store, I work at our Plymouth office as a Customer Care Representative, and I get to talk about product, supplements and horses all day. All about Chief: Chief is a bay TB/Morgan at the young age of five years old. He is super-cute and does almost anything you ask him to!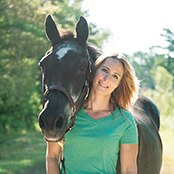 SmartPaker: Molly from Merchandising Horse: Danny, Quarter Horse gelding Molly as a rider: After begging my parents non-stop, they finally gave in let me take lessons when I was six years old. As the only horse person in my family, we're still not quite sure where "the bug" came from. My current horse, Danny, is the very first lesson horse I rode! I went on to become a 4-H kid, showing in all the local shows, doing hunter/jumper and dressage. In college I caught another, perhaps even more serious "bug" - polo. I played 4 years straight (indoor and out); and Cornell won the National title all 4 years I was there. Currently I trail ride Danny and plan to get back into polo in the future, as I miss it dearly. Molly as a SmartPaker: I've been with SmartPak almost nine years now! As a longtime member of the Merchandising department, I've had the opportunity to learn many different aspects of the department, with my latest venture being on the Inventory Control Team, which I love. I get to buy fun horse "stuff," every week- for our customers! All about Danny: Born "Cassity Dan" in Oklahoma, Danny is a classic seal brown Quarter Horse who is turning 30 this year. We began our adventure together when I was 6 and he was 5. Needless to say we've had too many adventures to count! He's bombproof when he wants to be, but has a lovable grumpy demeanor that has resulted in some pretty impressive bucks and pasture jumping excursions. He's truly an awesome example of the breed, as he can do anything asked, including First Level dressage, jumping, trail class (state champ!), and allowing me to hit polo balls when I was desperate to practice. Although he's the classic western build, my heart was always in English disciplines. Our favorites times together have always been, and continue to be, out on the trail exploring. And it probably goes without saying that he's been on SmartFlex Senior ever since I started nine years ago with SmartPak.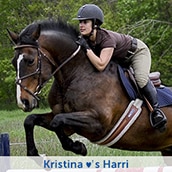 SmartPaker: Kristina from Creative Horse: Harri, 2000 Connemara/Thoroughbred gelding Kristina as a rider: I started out riding hunt seat when my parents bought me a 10h Shetland Pony when I was only four years old. He wasn't the easiest ride, so I learned to keep my butt in the tack! Over the years I seemed to always be drawn to the greener project ponies and horses. It's always so rewarding watching a horse progress because of your hard work. While I've always rode and shown in the hunter and equitation divisions, I've had a ton of fun dabbling in some dressage, western team penning, and lots of fun riding on hunter paces. Even though I enjoy broadening my horizons, I keep my roots in my jumping saddle. My riding today is all about enjoying my horse whether I'm in a hunter ring one weekend or on the trails the next! Kristina as a SmartPaker: At SmartPak, I am able to take my passion for horses and combine it with my love for photography! From being on set for our photo shoots to editing images for our catalogs and website, my position in Photo Production has really allowed me to watch out products come alive! The best part is seeing the catalogs hot off the press and ready to reach the hands of riders everywhere! All about Harri: In 2003, I got my current horse Harri (most often referred to as Haroldddd!). He was only 2.5 when I decided I had to have him. Being a green broke Connemara/Tb, I had big plans for the two of us. Over the years I've seen Harri grow and mature into such an amazing horse. While I mainly ride him as a hunter, we enjoy hitting the trails, doing the occasional schooling jumper show as well as heading out on lengthy hunter paces. We also like to lesson regularly with our dressage trainer to keep out flatwork in tiptop shape! The bond we've established over the years is really like no other!

SmartPaker: Ellen from Customer Care Horse: Nemo, Morgan gelding Ellen as a rider: I can't remember a time when I didn't love horses. I started riding when I was eight, grew up as an active 4-H participant, and showed in hunter/jumper shows. In college, I rode on the IHSA team and also found my new passion - dressage. My parents got my first horse, and my childhood best friend, Lego for me when I was 12. I found my current horse and buddy Nemo a few years ago. We currently enjoy dressage, trail riding on the cranberry bogs, jumping, and horse showing. Ellen as a SmartPaker: I work on our Customer Care team, which means I get to email and chat with our customers each day. I love getting to know everyone and helping with supplement suggestions and options to keep their horses happy and healthy. All about Nemo: Nemo is a 16hh black Morgan who I found in New Hampshire. He was actually born at a really neat Morgan farm that breeds all black Morgans in Alberta, Canada. He has such a friendly, playful personality, and acts more like a happy black lab than a horse at times. (He also loves all the kids at the barn where I keep him, and gives great hugs). Even though he's still a bit green, he tries so hard to learn new things, and I have so much fun riding him. We ride hunt seat and dressage, and he loves to jump as well. I'm looking forward to many more adventures together.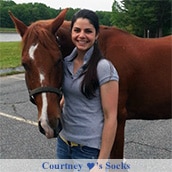 SmartPaker: Courtney from Marketing Horse: Socks, 1993 Quarter Horse mare Courtney as a rider: Before I could even walk my favorite uncle promised to buy me a horse as soon as I turned 12. That was a promise I NEVER forgot. The day I turned 10 I started to ask when I would get my first horse and started riding lessons to get a head start. From there, I took off at a gallop, spending every extra second at the barn whether it was to help with chores or watch the vet and farrier. Four months later, Socks showed up at the barn and it was a match made in heaven (the best birthday gift ever!). Nobody has been able to get me out of the saddle since! Socks and I started showing at local hunter/jumper shows on the weekends. In college, I rode on the IHSA team and groomed/rode at a jumper barn during the summer. I was lucky enough to travel to events at Spruce Meadows, the Kentucky Horse Park, and WEF with some really cool horses. Courtney as a SmartPaker: I work as the Marketing Assistant at SmartPak which I would argue is one of the most fun jobs around. On a daily basis I get to work with our Team SmartPak riders in addition to other sponsored events. It's fun to be part of the behind the scenes action to making an event great and that's what I get to do. All about Socks: Socks is my main squeeze. She is a senior Quarter Horse who has absolutely mastered her job. Right now she is hard at work teaching young kids how to ride and jump just like she did for me!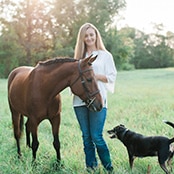 SmartPaker: Katrina from Customer Care Horse: DJ, 1995 AQHA/PHBA gelding Katrina as a rider: I have been riding since I was five years old, and owned a couple of different horses before I got my AQHA/PHBA gelding "DJ" in 2001. When I got DJ I started showing on the AQHA circuit as well as some PHBA shows though they are hard to find in the Northeast. I competed in the AQHA All-Around with DJ but my favorite classes were Hunt Seat Equitation, Hunter Under Saddle and Hunter Hack. DJ recently found a new home so I haven't ridden much since but hope to get back in the saddle soon! Katrina as a SmartPaker: If it relates to Customer Care, I've probably done it! I started as a Supplement Expert on our legendary Customer Care Team and spent several years helping riders find the perfect supplement plan (or bridle, or blanket) for their horses. It was awesome! These days, I manage several of our current Supplement Experts, and I'm also a project manager for several of the awesome initiatives we have creating awareness around our awesome services and policies. In other words, I help ensure that riders like you know all of the ways we can help you take great care of your horse! All about DJ: All The Towns Gold, "DJ" is a 1995 AQHA/PHBA gelding. In 2003, we were the PHBA World Champion in Youth Hunter Hack, and Res. World Champion in Senior Hunter Hack. We were also Top Ten in Youth Western Riding and a finalist in Youth Hunt Seat Equitation. DJ was also MQHA High Point Performance Horse in 2003. DJ has the best personality, he will do anything that is asked of him and is a jack-of-all-trades. I retired him in 2010 but he didn't totally love being retired so he found a new home and he is now back to enjoying his job under saddle!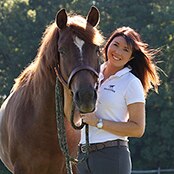 SmartPaker: Jessica (aka "Jno") from Marketing Horse: Sawyer, 2007 Morgan gelding JNo as a rider: Although I don't come from a horsey family, my grandfather loved horses his whole life and bought me my first pony when I was very young. This started my life-long obsession... I started taking formal lessons when I was about 10, and eventually got to lease then own a horse of my own. My early show experience included open and 4-H competitions, then I eventually started showing on the hunter/jumper circuit through high school. For college I attended the University of Massachusetts Amherst, where I studied animal science, and had a blast participating in the IHSA riding team all 4 years. At UMass my eyes were opened to dressage and eventing, and I also discovered natural horsemanship. While spectating at the Rolex Kentucky 3-Day Event in 2001, I attended a special demonstration put on by Pat and Linda Parelli, together with David and Karen O'Connor. That hour changed my life with horses forever. I began studying natural horsemanship through the Parelli program that spring, and I've never looked back. Besides the personal goals I have for my horse and I, my mission is to help others in the horse world realize that taking a "natural" approach (understanding horse psychology and putting the relationship with your horse first) will enhance your life with horses, regardless of your discipline. Jno as a SmartPaker: I am passionate about all aspects of equine health and nutrition, so I feel blessed to come to work and do what I love every day. I'm proud to be part of the team that manages the SmartSupplements product line, and I help oversee the "health" side of our marketing. That means my job includes everything from developing new supplements, to training our stellar Customer Care team, and assisting with the awesome content you find in our Guides to Supplements and Horse Care. All about Sawyer: Between college and starting at SmartPak I struggled to figure out what type or horse was right for me. For years I was convinced I needed a "big, fancy" horse, then I finally had what I call my horse epiphany...I realized that the gorgeous, athletic Thoroughbred mare I'd been working with was just too much horse for me, and that being nervous to ride wasn't all that fun. When I finally let go of the kind of horse I thought I should have, that shift lead me to my perfect partner. Sawyer is without a doubt The One for me. He is a 100% Lippitt Morgan, which means he's the true "old type" - hardy, sweet, sensible, athletic, and versatile enough to do anything. If you had told me a few years ago that my dream horse would be a 14.3 hh, Morgan with a long mane, I never would have believed you, but that's exactly how it turned out and I couldn't be happier!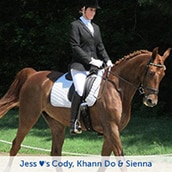 SmartPaker: Jess R. from Customer Care Horse: Cody, American Saddlebred gelding; Khann Do, Polish Arabian gelding; Sienna, Quarter Horse mare Jess as a rider: I have been riding for the past 21 years. I have done a little bit of everything from dressage to saddleseat, to barrel racing to trail riding. My foundation and passion are in dressage. I believe horses are in my blood. I rode all through high school and into college. At the end of my senior year I had the opportunity to ride in Germany, which was an amazing experience. Jess as a SmartPaker: At SmartPak I am part of the Customer Care team. I enjoy chatting with customers to help them find the best nutritional program and the best products for their horses, as well as the best tack, equipment and apparel for themselves. All about Cody, Khann Do & Sienna: I am lucky enough to have all my horses in my backyard! When I bought Cody as a three year old, he was broke for Saddleseat, which I had never ridden. I learned to ride Saddleseat just so I could buy him! After a few months, I decided to go back to my roots and start training him for dressage. Now we enjoy riding dressage, doing some jumping and going on trail rides whenever we can! Cody is the coolest horse I have ever owned and I am lucky to have him!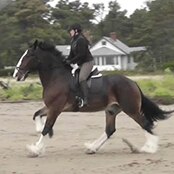 SmartPaker: Martha from Customer Care Horse: Hale, Shire gelding Martha as a rider: I have been riding since I was five and have stuck primarily to eventing and dressage. I also love anything that involves getting out of the ring whether it's a canter in the woods or a gallop on the beach! Martha as a SmartPaker: My job on the Customer Care team is the best because I spend my time getting to know SmartPak's horses and riders. I spend my days calling to check in to make sure we are keeping horses across the country happy and healthy! All about Hale: Hale is a shire! That's right, a draft horse who does dressage! We have been together for eight years and he has been one of the coolest horses I have ever ridden. 18 hands and 1800 lbs worth of forward movement has not only helped me to become a better rider but also made me pretty brave!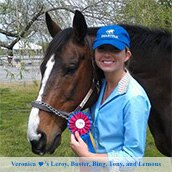 SmartPaker: Veronica from Customer Care Horse: Leroy, Thoroughbred gelding; Ruby, Oldenburg mare; & Buster, Quarter Horse gelding Veronica as a rider: I started riding as a present for my seventh birthday. My parents got the hint that I loved horses when I screamed "AHHH, look at the ponies!!!" every time we passed the farm by my house. Two years later, my parents bought me my first horse, Buster. A few years after that, my parents purchased the horse farm where I was taking lessons. Some may say I had the greatest birthday present ever! I continued to ride all through college on the IHSA team at the University of Maryland. Now, I actively compete in the hunter and equitation ring, and I still scream "AHHH, look at the ponies!!" every time I pass a horse farm. Veronica as a SmartPaker: I've been a part of SmartPak's Customer Care team for four years. I get to talk about horses all day long, and I really don't know what could be better. I love talking to riders that are as passionate about riding and their horses as I am! All about Leroy, Ruby & Buster: Leroy (or "Be-Dazzled") is the love of my life. We have been together for 13 years and he still surprises me every day. He is a senior OTTB who has the playful attitude of five year old. We recently qualified for Zone 2 finals this past year in the Adult Amateurs. I could literally talk about Leroy all day long. He is the absolute best horse a girl could have! Ruby is the newest addition to the family. This winter we competed at HITS in Ocala, which was an incredible experience! And I still own my first horse Buster, a handsome, senior palomino Quarter Horse. He fills his days by eating grass, cookies, and basically anything else that he can find.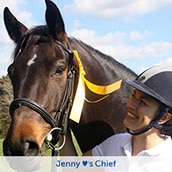 SmartPaker: Jenny from Customer Care Horse: Chief, Thoroughbred/Morgan geldingre Jenny as a rider: The first time I rode a pony, my mom had to peel me off kicking and screaming. I begged and begged my parents and I finally got riding lessons when I was five. They thought I would outgrow my horse obsession. Boy, were they wrong. I'm still completely obsessed with horses and own a young gelding who I am head over heels for. These days I mainly just ride my horse for fun. We dabble in dressage and do a little jumping here and there. Jenny as a SmartPaker: I'm so lucky to have a career that I love that also helps me support my passion for horses! I am a manager on the Customer Care team where I get to coach a group of talented and lovely young ladies who are equally as horse obsessed as I am. Providing awesome customer service is something I am also very passionate about. My favorite thing is when a rider calls or emails and says that we helped them solve a problem for their horse, or provided them with a solution that allowed them to spend more time with their horse! All about Chief: Chief is a rescue and we think he is a TB/Morgan cross but he acts more like a black lab. I adopted him when he was three and backed and trained him. He really enjoys long leisurely hacks and would prefer to skip the ring work if at all possible. He is sweet and snuggly and I love him to pieces.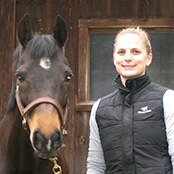 SmartPaker: Katie from Finance Horse: Juliet, Thoroughbred/Connemara mare Katie as a rider: I began riding when I was in 5th grade and have been hooked since. Growing up as a kid I was always at the barn doing stalls, cleaning tack, and taking care of any horse that needed a little extra TLC. I was an avid Pony Clubber competing in the hunters, jumpers, equitation, as well as dressage and eventing. Katie as a SmartPaker: I'm part of SmartPak's Finance team. I spend my time developing fun excel sheets as well as reports and data analysis specifically for our Customer Care and Merchandising teams. All about Juliet: Juliet came into my life as she was just not working out as a school pony (she likes scoot at anything out of the ordinary). She has a lot of personality in a little package. Juliet is one of the sweetest mares who LOVES attention and thinks she's pretty cute. Every morning as the horses are turned out she is nickering away until all her friends are around her. We've been a team for a little over a year and with a little support from SmartCalm Ultra, she's been doing great! Over the last year we've been competing in small dressage and two-phase events, with the hopes of doing a small three-phase event soon.

SmartPaker: Elizabeth from Customer Care Horse: Sam & Razz, Arabian geldings Elizabeth as a rider: I once read the suggestion that you should ride 100 horses before you buy one, so that's what I did. I ride dressage now, but I started out at a hunter/jumper barn, rode at an eventing camp in the summers, and went western on vacations and with friends. In recent years, I've discovered the areas where classical dressage and natural horsemanship intersect, and have been following that path ever since. I also help run the small stable where my horses live. Elizabeth as a SmartPaker: I am a Senior Team Leader for Customer Care. Most of my time is spent helping my reports with their customers, training new hires and scheduling the team's trainings, meetings and shifts (Outlook and I are best buds). I also still jump on emails and phones when I can, since customers make my day! All about Sam & Razz: I always dreamed of owning an Arabian, and now I own two! Sam is super steady, loves trail riding and parades, and is very patient with my dressage aspirations in the ring. Razz is flashy, loves learning new things, and I think just enjoys being a horse after a long show career as a youngster. They're both "senior" at this point but you would never know it.

SmartPaker: Paige from Customer Care Horse: Bentley, Wheaton Terrier/Poodle Paige as a rider: I became a rider at the age of eight when I had my first English lesson on an Appaloosa named Heaven. Of course, I fell in love and remained taking lessons and finally got my first horse, a Morgan named Trevor, at the age of 13. At that point I transitioned to more a of western leisure/trail rider and since then have tried gymkhana, polo, and western pleasure. Although Quarter Horses are my personal favorite (like the special guy in my photo!), I was lucky enough to intern at a Thoroughbred breeding farm after college and have great respect for all of the OTTB's out there, too. Paige as a SmartPaker: As a member of SmartPak's Customer Care Team, I am lucky enough to speak to many riders and horse lovers every single day building relationships with them and finding ways to make happy riders and healthy horses. My favorite part of my job is getting to travel to lots of horse shows and clinics to meet our customers and their horses face to face and find beneficial supplement programs to help achieve everyone's goals! All about Bentley: I'm currently between horses, so let me tell you about my other four-legged friend, Bentley. Bentley is my adorable Wheaton Terrier/Poodle cross that I adopted from a shelter in Connecticut about back in 2011. He gets to come to work with me, so we spend a lot of time together! We enjoy hiking and going to the beach, although he hasn't gotten the courage to go into the ocean yet!

SmartPaker: Lexi from Marketing Horse: Sasha, 2007 Dutch Warmblood/Thoroughbred mare Lexi as a rider: I started taking riding lessons when I was nine, fell in love with the sport, and never looked back. People have asked when I'm going to outgrow the "horse phase," but at this point I don't see that ever happening! I've been involved in the hunter/jumper show world since I was twelve and the hunter ring is still where you'll find me today. Lexi as a SmartPaker: As part of SmartPak's marketing team, I help with all kinds of fun projects to help horse owners learn about our supplements. My favorite part of my job is helping customers share their success stories. I love to hear about how our supplements are helping horses lead happy and healthy lives! All about Sasha: Sasha is a Dutch Warmblood/Thoroughbred mare that I'm bringing along with an eye on the amateur/owner hunters and local hunter derbies. She's smart, sassy, opinionated, and more of a challenge than any horse I've had, but we've learned so much together already and I'm so excited to see what the future has in hold for us.

SmartPaker: Kaitlyn from Marketing Horse: Rex, Thoroughbred gelding Kaitlyn as a rider: I've been riding for as long as I can remember! I grew up riding in the hunter/jumper world and went on to compete on the IHSA team at Penn State. These days I spend most of my time riding at home, taking occasional lessons, and going out on the trails. Kaitlyn as a SmartPaker: As a Marketing Coordinator on the business development team, it's my job to plan all of the trade shows and events that we attend throughout the year. We love meeting riders like you face to face, and I love working to make that possible. All about Rex: I got Rex when he had only been off the track for a couple of months and spent a year focusing on making sure he was very broke on the flat. When my travel schedule for work started to increase, I decided to lease him to an awesome Pony Clubber named Hannah. Together they compete in dressage shows and pony club events and I couldn't be more proud!

SmartPaker: Lissa from Marketing Horse:Duncan, Quarter Horse gelding Lissa as a rider: My riding career started on the competitive hunter/jumper circuit showing in the hunters, jumpers, and equitation. Fast forward to the present and you'll find me heading to the barn with my jeans and western boots and taking lessons at a Western All-Around barn. Lissa as a SmartPaker: As a Marketing Director at SmartPak, I'm involved in everything from helping with the catalogs to working with our amazing Team SmartPak Riders to meeting our customers at trade shows and much more. All about Duncan: Duncan joined our family in the fall of 2014. He loves attention and is very patient, which makes him the perfect family horse. He's enjoyed his job as a Western All-Around horse and though he'll continue with that, he'll also be logging some time out on the trails.

SmartPaker: Olivia from the SmartPak Store Horse: Alfa Romeo, Morgan cross gelding Olivia as a rider: When I was young I was lucky enough to spend my days riding my pony Chocolate Truffles in the backyard. Snow storm, rainy day, it didn't matter...nothing could keep us apart! As time went by I became more serious about wanting to improve as a rider. I found a great barn and started riding in children's equitation. I went on to college at UCONN, where I was Co-Captain of the Western Morgan Drill Team and was able to gain some polo skills in my down time. After graduating I moved to Tennessee, where I was a pro-polo groom and rode hunters on the side. I missed the ocean and my friends, so I came back to the northeast to manage a children's riding school. While there I expanded my knowledge of dressage and planted roots in the equestrian community in Massachusetts. When I found my horse Romeo I started eventing and fell head over heels with the passion and determination the sport requires to succeed. Olivia as a SmartPaker: I love to work hard and play hard, so when I heard that's what SmartPak was all about, I was all in! I work in SmartPak's retail store and have the amazing opportunity to talk to horse lovers all day. The best part of my job is being able to see customers smile when they walk out the door with everything they need to be the best rider they can be. All about Romeo: Romeo and I have been together since 2009. He is a handsome bay standing 15.1 hands high. Romeo is an all around great horse, and has become my best friend and partner in crime. You can usually find us winding down the wooded trails and galloping over the grassy fields keeping fit for the eventing season. He is fearless and fun, and loves to play in the water. The name "Romeo" suits him well - he knows how to unzip your jacket when you're not watching, but don't let him tempt you – he's all mine!

SmartPaker: Lyn from Customer Care Horse: Sparkles, domestic short-haired cat Lyn as a rider: I started riding in the hunter/jumper world when I was 9 years old. While I realized pretty quickly that the show ring wasn't for me, I knew would always ride for the love of horses and have ridden and worked in various barns ever since. Up until I went to college, I had a miniature horse named Cody. He ended up not being very "mini", but he was definitely too little to ride so we spent time lunging, playing tag, and working on his manners (he was sassy!). I don't own a horse right now, but am lucky enough to have some great horses nearby to ride. I'm currently focusing on improving my English skills in the ring and enjoying the trails in either an English or Western saddle. Lyn as a SmartPaker: I have been with SmartPak since November of 2011. I started by helping our amazing riders over the phone, and now I help our riders over chat on our website and by email. I also help us all stay connected through our Horse Health Forum, Facebook, and Instagram. I love being able to help make things easier, faster, or smarter for our riders and their horses every day! All about Sparkles: My cat Sparkles is the feline love of my life! Her mom was feral but we think she's a domestic shorthair of sorts. She's starting to get older, but she still acts like a kitten and gives the best snuggles around. She wishes she could come to SmartPak to visit, but I doubt she would appreciate the company of the office dogs!

SmartPaker: Jennie from Customer Care Horse: Harley, Golden Retriever & Bruce, Golden Retriever/Lab mix Jennie as a rider: I've been obsessed with horses since before I can remember. I started leisurely riding Western when I was around 10 years old. As a central NJ native, I didn't live in an area with horses but I rode as often as I could, taking lessons or trail riding at far away barns. Many years later, I went to Centenary College to pursue my dream of working in the equine industry. I switched to riding English and fell in love with the hunter/jumper discipline! As much as I love to jump, I still love hopping into a Western saddle and going out on trails to explore! Jennie as a SmartPaker: I'm a Product Specialist on the Customer Care Team, sharing supplement knowledge and giving horsey advice! I love being able to talk to our customers and hear about their horses and all of their riding adventures. I also LOVE hearing about customers' dogs and am more than willing to chat about them forever! All about Harley & Bruce: I don't have my own horse right now, but I have two dogs who are my life! I have a female Golden Retriever named Harley and a male Golden/Lab mix named Bruce. They definitely make my life more interesting and always know how to put a smile on my face!

SmartPaker: Amanda from IT Horse: Hershey, Chincoteague Pony gelding Amanda as a rider: I started riding lessons when I was twelve, but the horse bug bit long before that. For as long as I can remember my family vacationed on Chincoteague Island and I knew that I would be the very proud owner of a Chincoteague Pony someday. In 2002 and 2003 that dream came true when I brought home my two Chincoteagues, Teaguer and Hershey. I wasn't really riding in any specific discipline at the time, but when I saw how beautifully Hershey was growing up, I just knew I wanted to do dressage with him. Several years later eventing fever set in and I am now a certified baby eventer working up the courage to maybe go out and do Novice someday. Amanda as a SmartPaker: I started out at SmartPak as a part-time associate in our retail store, eventually working my way up to Senior Assistant Store Manager. I spent eight years getting to know our customers inside and out on a personal level before transitioning to IT in our office. In that role I work to ensure that our customers have the best experience on our website that they possibly can! All about Hershey: I've had Hersh since he was just a wee little foal and he is now a smart, brave, somewhat grumpy eventing machine. He's really tall for a Chincoteague and most people mistake him for a Morgan or small Thoroughbred. He's the type of horse that will try his heart out for you but do silly things just to keep it interesting. I'm hoping to see him progress through at least Prelim level eventing as he definitely has the athletic ability for it. I consider myself very lucky to have him!

SmartPaker: Jenna from Customer Care Horse: Hershey, Dutch Warmblood Gelding Jenna as a rider: I started taking lessons when I was 7 and quickly fell off enough times to know I loved riding down to my core. I was lucky enough to move from my first pony, Hercules, to a hunter horse, Ghost, and then to an equitation horse, Hershey. After Hershey took me through my years in the junior medals, he helped me get a scholarship to ride for a D1 NCAA Equestrian team. We traveled all over the country and I was able to ride a lot of incredible horses from Connecticut to California. Now I'm happy to be home again with Hershey, who is still excited to jump anything he is pointed towards even as a senior! I'm hoping to ease him into retirement eventually, but for now we're enjoying braving the world outside of the show arena and enjoying every new adventure. Jenna as a SmartPaker: As part of SmartPak's world-class Customer Care team, I am privileged to work with our awesome customers each and every day. I help with orders, product questions, and (my favorite) supplement consultations. Whatever you need, I'm your girl! I'm proud to dedicate myself day in and day out to supporting healthy horses and happy riders. All about Hershey: Hershey, also known as Death by Chocolate, is a dark bay 1997 Dutch Warmblood gelding. He has a crooked stripe, one back sock, and a puppy-dog personality. I found him in New Jersey when he was 7 and I was 14, and promptly fell off and broke my collar bone after bringing him home on trial. Whoops! Over a decade later he's the love of my life (don't tell my boyfriend!). Other than our first little misunderstanding, he's never spooked, bucked, or bolted, and he's jumped every single obstacle I've pointed him at. He was even leased out to little girls while I was in college and taught them how to jump with infinite patience. Now that I've graduated, I'm trying to teach him how to enjoy semi-retirement, although he certainly doesn't look or act his age. He also loves peppermints and carrots, and has a very accurate nose that tells him when you have an extra in your pocket.

SmartPaker: Viviane from Marketing Horse: Sandro, Dutch Warmblood gelding Viviane as a rider: My relationship with horses started in France, where I would sit on a pony during our Sunday family trail walks starting at the age of 3. When we moved to Germany when I was 7, I started with vaulting and then later took lessons on schooling horses. Since then I've acquired my bronze and silver medal to compete in dressage and jumping, spent several summers working at hunter barns, competed in national competitions as a college student in Germany, and rode at an international dressage sales barn. After a riding break due to an accident, I decided to stick to dressage and working with horses from the ground. When I moved to the U.S. in 2014, I was very fortunate to find a dressage barn where I could ride different horses up to Prix St George level and where I am now riding 4th level dressage with Sandro, who I rehabbed for about a year from a torn ligament injury. Viviane as a SmartPaker: I am very lucky to be able to combine my lifelong passion with horses with my career in marketing. I am the ColiCare Program Coordinator, helping with everything required to keep this amazing program running smoothly and supporting healthy horses and happy riders! All about Sandro: Sandro is a Dutch Warmblood with a very adorable, soft, and sensitive personality. He stood in his stall for a year and a half after a torn ligament injury along his coffin bone, but after a year of rehab he is back in full training. With a combination of time, patience, and a great support team, he is now in the best shape of his life both physically and mentally!

SmartPaker: Olivia from Customer Care Horse: Stiletto, Quarter Horse/Paint mare Olivia as a rider: I got the bit by the horse bug at a very young age, and by the time I was 8, there was no cure. I started taking riding lessons and begged my parents for a horse on a daily basis. Worried that it would be a phase, they made a deal with me that I had to prove myself by taking care of a 4-H cow for a year. After spending my life savings at the age of 8 and getting up early every day to feed my cow, I showed that I could be responsible enough to be able to take care of a horse. Finally I bought Princess, a beautiful palomino Quarter Horse. I grew up learning western pleasure and showmanship, but found that my real passion was a need for speed and turned to barrel racing. I competed in 4-H and open shows, and I also became a riding instructor/trainer. My newest project is Stiletto, a 2012 Quarter Horse/Paint! Olivia as a SmartPaker: I love horses and I love people, so becoming part of SmartPak's Customer Care Team was a no brainer for me! It's great to be able to hear about our customers' horses, help them with whatever they need, and connect with them from one horse person to another. All about Stiletto: Stiletto is my baby! I've had her since she was 5 months old. She is a solid black Quarter Horse/Paint mare. I love training babies from the ground up and Stiletto is definitely destined to be a rodeo queen. One cool fact about Stiletto is that she knows a couple tricks; so far she knows how to bow and how to lay down!

SmartPaker: Whitney from Barn Sales Horse: Eclipse, Draft cross gelding Whitney as a rider: I have loved horses for as long as I can remember. I can vividly remember my dad taking me for pony rides and since then I haven't looked back. I found a local barn where I took lessons and created some of my best childhood memories there. I changed barns in high school and have been with the same barn since then. Historically I've been a hunter rider but recently I've been having a blast dabbling in dressage. Whitney as a SmartPaker: I'm a Barn Consultant, which means I help support barns in Central/Eastern Massachusetts and Rhode Island. Most days you will find me out visiting barns in the area meeting with barn professionals to help them (and their clients) with just about everything SmartPak related. When I am not in the barn you might find me traveling to trade shows across the country. I'm lucky enough to say that my job is so great that work doesn't usually feel like work! All about Eclipse: I've owned my horse Eclipse since 2013. He is a 16.3 Draft cross (Friesian, Percheron, and Thoroughbred) who is full of personality. Named for the cool marking on his face, Eclipse came to me from a local rescue and I have had a blast falling in love with him. We generally stick to flat work due to some ringbone and have also been known to hit the trails and even the beach (he LOVES the water). His favorite treats by far are bananas and he is always inspecting my pockets for cookies. I am really lucky to have this special boy in my life!

SmartPaker: Stefanie from Customer Care Horse: Solara, 2006 Quarter Horse mare Stefanie as a rider: I was that horse crazy little girl that got her start checking out every single horse-related book at my school and public library, moved on to doing every presentation or paper I could on horses, and finally drove my parents crazy enough to cave and get me my first horse at 8 years old. I was lucky enough to have two very supportive parents that totally immersed themselves, my little sister, and me into the horse world and never thought twice about it. I started out in 4-H and moved on to open and breed shows. I went to college at West Texas A& M University, where I was so lucky to ride on their IHSA team and where I also got my first real taste of my love of horse judging. I've done a little bit of everything over the years but truly love the AQHA all around events best. Stefanie as a SmartPaker: I often have to pinch myself to make sure that I'm not imagining this amazing job that I call mine. I started out at SmartPak back in 2008 on our Customer Care Team and have gotten so many amazing opportunities over the years to try my hand at lots of exciting things. All of those things have lead me to where I am today which is honestly what I would consider my dream job - how cool, right? I am our Customer Care Team's Quality Assurance Team Leader. In a nutshell, that means that I get to coach our team of legendary sales folks on how to keep getting better at helping all of you! All about Solara: Solara has been perfect for me. She's a super laid-back mare that I've been leasing since 2014 and honestly she couldn't have come into my life at a better time. She's such a cool horse and has some pretty awesome "buttons" that she loves showing off. We are just having fun together and getting her polished up in hopes that we may do some light competing in the future.

SmartPaker: Eden from Customer Care Horse: Woody, Chincoteague Pony gelding Eden as a rider: I caught the horse bug early and finally started taking riding lessons when I was 8 years old. I rode any and every horse I could, but was particularly drawn to naughty ponies and finally got one of my own a couple years later! I started taking my riding more seriously in college and began showing casually in the hunter ring. I have worked for the past couple of years to get my own pony comfortable in the hunter ring and now he is one of the cutest pinto ponies in his division. These days we have a lot of fun, get into a lot of trouble, and are always trying new things together! Eden as a SmartPaker: I am on the Customer Care Team here at SmartPak, which means I get to talk directly to our customers about their horses all day. Whether it's finding the best supplement to support their horse or picking out a new bridle for the show ring, I love helping our customers find exactly what they're looking for. All about Woody: Though his wild personality and spunk suggests differently, Woody was not actually born on Chincoteague Island. He was raised by a close family friend and when I began searching for a pony to call my own, he fell right into my lap! He has come a long way since I got him as an obese pony nicknamed "Orca" and, much to everyone's surprise, he is quite the natural jumper. Though our focus has been in the hunter ring, what we love most is riding out on the farm and even venturing out on the cross country course.

SmartPaker: Parisa from Customer Care Parisa as a rider: I've been riding ever since I could sit up! When I was growing up, my family drove trotters in all different racers around New England and my first pony was a retired trotter named Magic. I started taken lessons when I was around seven or eight and got my second horse, a 40-year-old ex-barrel horse named Pepper, for my thirteenth birthday. I dabbled in some local barrel and western pleasure shows, and have always been a barn rat helping out wherever I can exchange for some time in the saddle. I don't currently own my own horse, but I still love being around them as much as possible! Parisa as a SmartPaker: I've been a Product Specialist at SmartPak since November 2014. I love the atmosphere and the customers I get to talk to every day. Since I've started with SmartPak, I've been trying to learn new things and take as many opportunities as possible in the horse world and the business world.

SmartPaker: Celli from Customer Care Horse: Louie, 2012 Quarter Horse Celli as a rider: I started riding at around age 3 after my older sister took riding lessons at summer camp. That fall we bought a Morgan named Glamour Girl. Before long I was riding my own ponies in short stirrup, the children's hunters, and children's medals. My large pony Almost Heaven brought me all the way to the junior medals, when I had to graduate to a horse. In college I competed on my school's equestrian team, where I made it to Nationals and was lucky enough to ride in the 1996 Olympic arena in Atlanta, GA. After graduating, I decided I need a change and started riding Western. Nowadays I focus mainly on the cow events. Celli as a SmartPaker: I am a member of the Customer Care Team here at SmartPak. I am lucky enough to chat with our customers about their horses every day. I truly LOVE checking in and seeing how our horses and riders are doing! All about Louie: Louie is a 2012 palomino American Quarter Horse. His breeding is primarily cutting and reining – YEEHAW! Louie is a kind, respectful, smart, and athletic little powerhouse and has already shown interest in cows, making his mama proud!

SmartPaker: Tory from Customer Care Horse: Apollo, Thoroughbred gelding Tory as a rider: Like many of my fellow SmartPakers, I've always had a love for horses. I was your typical barn rat and grew up amid the comforting sounds of horses munching hay and the familiar smell of a stable. Lessons were always the highlight of my week and in my teenage years I did some light showing around the local circuit. Primarily I've ridden and shown in the hunters, but I've dabbled in the jumpers here and there, and I worked at an eventing barn for a while—I enjoy something about every discipline! I've been fortunate enough to have owned two wonderful off-track Thoroughbreds at different points in my riding career. They're both extremely different in style and personality, but the same in heart and tenacity. Tory as a SmartPaker: I'm lucky enough to work on SmartPak's Customer Care Team, which means I spend my days talking to our lovely customers about their horses! The best part of my job is without a doubt helping riders to help their horses. I love chatting with people about their horses' needs, personalities, and health, and I get to hear all sorts of amazing stories. All about Apollo: Apollo is my current off the track Thoroughbred and the absolute light of my life. I got him as a five-year-old baby and it's been so fun working with him. He loves to learn and wants to work hard most of the time, but he can also be really playful and silly — his favorite game is undoing Velcro. He's a total blast and I'm very fortunate to have him!

SmartPaker: Erika from Customer Care Horse: Rolex, 1998 Arabian/Quarter Horse gelding & Lucy, 2012 Quarter Horse mare Erika as a rider: I started out riding when I was 5 years old at a hunter/jumper farm. It's crazy to think that I'm still riding horses because I would beg my mother to cancel my lessons so I could play outside instead. When I was 11 years old, I started riding at a western barn and got involved in barrel racing. After living at the barn all through high school I decided I want to go to college for a horse related degree. I attended The University of Findlay, where I received a dual major in Equine Business Management and Western Equestrian Studies (Western Training). While at Findlay I experienced many different Western disciplines, including western pleasure, western riding, trail, cutting, reining, horsemanship, showmanship, hunter under saddle, equitation, and colt breaking. I was also on the Stock Horse Team for two years and then was a part of the varsity Western IHSA Team for two years. Currently I am finishing my 3-year-old Quarter Horse, Lucy in the western all around events with plans to show her on the AQHA circuit. Erika as a SmartPaker: I work within our Customer Care Team as a Product Specialist. I love my job because I love helping our amazing customers and getting to talk about horses all day! All about Rolex: Rolex is an Arabian/Quarter Horse who is now 17 years old. The first day I laid my eyes on him I knew I had to do everything in my power to one day own him. On my 16th birthday my parents gave me the biggest surprise of my life, Rolex! He is my best bud and he has the BIGGEST personality. Nowadays he spends his time grazing in the fields in my backyard and hanging out with his best friend, my mom's horse Fox. All about Lucy: Lucy is a 2012 Quarter Horse and was my senior project in college. I chose her as my futurity horse, broke her, and showed her in the 2014 Clark Bradley Western Pleasure Futurity at The University of Findlay. The horses are sold at the university horse sale the day after the futurity, which is where I ended up buying Lucy. Currently I'm training her for the western all around classes. She is going to be a great western riding horse and she is very good at patterns so I'm anticipating for her to be a great horsemanship and equitation horse, too! She is my little princess which is why I changed her registered name to Im The Material Girl.

SmartPaker: Suzie from Customer Care Horse: Reddee, 2003 Paint Mare Suzie as a rider: I started riding before I can remember, but what I do remember is that I had to wear colored gloves in my lessons because I didn't know my right and my left! I spent most of my life in 4-H as a hunter/jumper rider and after several years of difficult horses and bad rides, I thought I might be ready to step away from the horse world. That is, until I purchased Reddee in my junior year of high school. It didn't take long for me to fall in love with western pleasure and we spent several years actively showing. These days showing is on the back burner of my riding career, but we are both definitely enjoying some time off together. Suzie as a SmartPaker: As a member of the Customer Care Team I get to combine my love of equine health and my passion for customer service every day! It is so awesome to connect with riders across the country and help them on their way to greatness. All about Reddee: Reddee is a 2003 APHA mare and can only be described as my soul mate. Her spirited personality has forever changed the way I feel about the bond between horse and rider. She is an absolute rock star in the show pen and always aims to please. Besides her ring skills, Reddee has a knack for bridle-less riding, which is definitely our favorite pastime. Around the farm she is both mischievous and a cuddle bug, which is probably why she gets away with so much! All it takes is one sweet little nicker when she gives me her signature "hug" and she's off the hook.

SmartPaker: Kelcie from Marketing Horse: Jamie, Appendix Quarter Horse Gelding Kelcie as a rider: I took my first riding lesson at summer camp when I was 10 years old and, needless to say, I never looked back. I've been lucky enough to try a variety of disciplines, but I have always been in love with the hunter/jumper world. I actively competed throughout high school and spent every waking moment I could at the barn. To be honest, the college years were no different - throughout the week I would spend my time riding for class, then spent nights and weekends as an active member of the Johnson & Wales IHSA team. To this day I still ride in the hunter ring, though every so often you'll catch a glimpse of me in the jumper ring! Kelcie as a SmartPaker: As a member of SmartPak's marketing team, I spend my days providing support for various projects. My favorite aspect of the job is helping to develop our press releases, and working with various industry publications to help get the word out about all of the awesome products that we carry. All about Jamie: Jamie is an Appendix Quarter Horse gelding. When I started taking lessons at a local barn, he was the first horse I rode - he taught me everything from how to stay on to cantering my first jump. I knew right away that I was head over heels for this red-headed horse! The dream of having my own horse became a reality when my parents bought Jamie and surprised me on my 13th birthday. As a team we did it all, from riding the trails to competing in the show ring. When he wasn't being braided up as a show pony, he spent the majority of his days sunbathing (a favorite hobby of his). When I went off to college I made the hard decision to retire Jamie. I'm happy to say he now gets to live out the remainder of his life just being a horse, out on a field with other retired horses!

SmartPaker: Kimberly from Accounting Horse: Lovey, Quarter Horse cross mare Kimberly as a rider: I come from an avid animal loving family. We have always had dogs growing up and I loved admiring horses from a far. When my sister and I were young we were so excited when my mom signed us up for summer camp of horseback riding! Little did she knew how much our passion would grow. Inevitably we started taking lessons and competing which eventually led to owning our horses. I grew up competing in hunter/jumper shows. I have not competed much since college. Now I am riding an adorable Quarter horse pony and we are both going to get back into the show ring together! Kimberly as a SmartPaker: I cannot believe how lucky I am to have found a job that is a perfect blend of my passion for horses and my knowledge of accounting and finance. Well here I am, working as an accounting coordinator for SmartPak. In the accounting department, I'm part of a team that makes sure all the bills get paid so that we can continue to provide all of the wonderful products we have for our equine loving customers. All about Lovey: Her name pretty much describes it all. This pony will melt your heart with all of her affection. If she had it her way, her day would consist of eating, snuggling, grooming, napping, and some more snuggling. She's also the social butterfly of the barn. If there is a group of people standing around chatting, she would very much like to be part of that group, even though she cannot actively partake in the conversation. Aside from all of her socializing, she knows when she has to work. I have just started introducing jumps to her and she is more than willing and seems to really be enjoying herself! I am very excited to continue my journey with this incredibly lovable and intelligent pony!

SmartPaker: Mary from Quality Assurance Horse: Fabian, 2007 RPSI gelding Mary as a rider: I drove everyone crazy talking about horses as a child. I got my first horse at the age of 10 and learned to ride bareback with a halter and lead rope as a bridle. My tough little Appaloosa mare had no fear so I learned to just hang on and go for it. We gallivanted all over the small farming community I grew up in and took full advantage of dirt roads and old logging trails to go exploring. I spent every minute I could on the back of horse until I went to college and it was all for fun. No horse shows, lessons or ribbons for us – just open fields for galloping, logs to jump, and a pond for swimming. It wasn't until my 30's that I started taking lessons and finally got to fulfill a childhood dream of becoming an eventer (I may have watched International Velvet as a child one too many times). Mary as a SmartPaker: I'm the Quality Assurance Manager at SmartPak. In this role I provide the oversight that makes sure all our systems and processes are doing their job to ensure everything about your SmartPak is living up to our commitment of happy riders and healthy horses. It's pretty much a dream job for me because I get to combine my degree in Animal Science with knowledge from my past careers with the U.S. Food & Drug Administration and the pharmaceutical industry. All about Fabian: Fahhhhbulous Fabian is a 2007 RPSI (Dutch x Hanoverian) gelding. He's a big fancy warmblood with the personality of a Labrador, obsessive licking included. He's a great partner and we are having a blast working our way up the levels in eventing.

SmartPaker: Pam from Customer Care Horse: Zephra, 1999 KFPS Friesian mare; Brooklyn, 2009 AQHA/PHBA mare Pam as a rider: I started taking riding lessons in 3rd grade and continued right up through high school. I spent many summers at horseback riding camp, loving every second of it. I then took many years off from riding and went to college, raised a family and established a career. I started taking riding lessons again in 2009 and bought my very first horse in 2011! It was a dream come true!! Zephra and I ride mostly for fun, but also do some local showing. Pam as a SmartPaker: I am part of the Customer Care team, which means I get to talk about horses all day every day and speak to the most amazing customers. I love getting to know our customers and providing solutions for their horses and dogs!! All about Zephra: Zephra is my rock! Coming back to riding as a more mature person meant that I was not as fearless as I once was and Zephra has been my confidence builder. She had been competing in 2nd level dressage when she came to live with me – she teaches me so much every ride, not to mention she has made me very aware of my poor position in the saddle! I have definitely become a better rider because of her. All about Brooklyn: Brooklyn is my "baby." I was on the lookout for a western horse so that I could wear sparkles in the show ring and I found that in Brooklyn – she is a flashy palomino! We're planning to compete locally in showmanship and halter classes. She is green under saddle but very level headed. I'm looking forward to what the future will bring for us together!!!

SmartPaker: Cora from Customer Care Horse: Braveheart, Canadian Sport Horse gelding Cora as a rider: I began riding at the age of 8 years old. My first horse was a Thoroughbred/Quarter Horse cross named Murphy and we did local jumper shows until I left for college. After college I decide that it was time to get back in the saddle again and I purchased a 10 month old Canadian Sport Horse named Braveheart that I broke and trained to be an eventer. Currently we compete at the recognized level as a member of the USEA and we travel all over Area 1 during the show season. Cora as a SmartPaker: I am a Product Specialist and love talking to all of our wonderful customers. My favorite aspect of my role is helping our customers select the appropriate supplements for their horses. There is nothing better than knowing that I have contributed to all of the happy riders and healthy horses that are our valued customers. All about Braveheart: Braveheart was born in Canada in April of 2002 and I purchased him in Vermont when he was ten months old. He is 16.1 hands tall, all personality, very affectionate, and quite the class clown. Braveheart loves his job as an eventer and this year our goal is to continue to compete successfully at the training level, a move up that has been a welcome challenge.