---
SMARTPAK NAMES SMARTBLUE™ CHARITIES
Five Equine Aid Charities Selected as Beneficiaries of the Company's SmartBlue Program
PLYMOUTH, MA (February 28, 2007) - SmartPak is pleased to announce the 2006 beneficiaries for their SmartBlue™ program. The charities selected include Bay State Equine Rescue, CANTER New England, H.O.P.E. Inc., Days End Farm Horse Rescue Inc. and the UC Davis Center for Equine Health. Donations to these charities were provided by a portion of the profits from customers' SmartBlue purchases during 2006. SmartPak's exclusive line of SmartBlue products includes a full line of all-weather horse clothing, halters, saddle pads, equipment bags and more.

The five equine aid charities selected represent different, but equally important approaches to promoting the well being of horses. H.O.P.E Organization Inc. (an acronym for Horse Outreach Program through Education) takes in and cares for abused, neglected and slaughter-bound horses and offers riding lessons, leasing programs and educational opportunities to the public. "The H.O.P.E. Organization is completely ecstatic that SmartPak has chosen us to be one of the equine aid charities for their SmartBlue™ program. We are truly honored to have been chosen and look forward to a wonderful partnership with SmartPak" said Allison Milano, Vice President of H.O.P.E. Inc.

The Bay State Equine Rescue's goal is to raise public awareness of equine neglect through youth education, legislation, animal care awareness, and community service opportunities. Canter New England (an acronym for the Communication Alliance to Network Thoroughbred Ex-Racehorses) provides retiring racehorses with opportunities for new careers after their time in racing is over. Days End Farm Horse Rescue, Inc. is a place where children and adults can go to help provide care for unwanted, abused or neglected horses.

Finally, the UC Davis Center for Equine Health is dedicated to advancing the health, well-being, performance and veterinary care of horses through research and education. SmartPak's donation to UC Davis has been earmarked for colic research in the coming year. "Colic is a concern for horse owners everywhere. Anyone who has gone through a serious colic with their horse is changed by the experience. Through research on the root causes of colic and better treatment options, we hope for the day that fewer horse owners will be faced with the agonizing decisions surrounding this condition" said Paal Gisholt, President and CEO of SmartPak.

"SmartPak is proud to support the excellent work these organizations provide for horses and is honored to be affiliated with their endeavors," said Becky Minard, Founder and Vice President of Marketing. "Giving back to the equine community has always been one of our most important corporate values and supporting charities that help horses is truly rewarding for us."

This select group of equine aid charities were chosen based on their 501(c)(3) status, reputation for ethical conduct, and sound financial and management practices. To help choose the first SmartBlue charities, SmartPak's staff veterinarian and director of the SmartCare™ veterinarian partnership program, Dr. Lydia Gray, contributed her extensive expertise and background in equine charities as the former Executive Director of the Hooved Animal Humane Society. Dr. Gray was also recently appointed to the AAEP's Equine Welfare Committee in which she will develop special reports on animal welfare subjects, maintain liaisons with the AVMA and identify appropriate spokespersons to address animal welfare.

In addition to monetary donations, SmartPak will also be contributing a free six month supply of supplements in SmartPaks for individual horses at these charities. "As a rescue serving retiring Thoroughbred racehorses, we often have animals that are recovering from injuries and need supplements to help them adjust to their new life away from racing. The SmartBlue program is going to help ensure that we get one of our horses off to a great start on a new life," said Ellen O'Brien, Executive Director of CANTER New England.

SmartPak, the leading provider of daily dose packaging of equine supplements and medications, created the SmartBlue product line to give back to horses in need. Through the sale of SmartBlue products, SmartPak will continue to donate a portion of the proceeds to equine aid charities that promote the well-being of horses through rescue, rehabilitation, retirement and research.

To learn more about SmartPak, visit their Web site at www.SmartPak.com or call toll free 1-800-461-8898. Pictures of SmartBlue Products and the SmartBlue Charities and horses are available upon request.

About Bay State Equine Rescue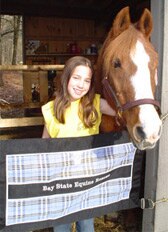 Bay State Equine Rescue was incorporated on November 12, 2002 and founded by a group of compassionate volunteers dedicated to preserving equine integrity. They hold many events that involve adults and children working with the community to save a horse, provide education, reduce neglect and abuse, or offer services. BSER often works to help individuals place horses they no longer want, or cannot care for and have also helped equine owners who, temporarily, could not manage the care of their horse by themselves. BSER is a corporation in the state of Massachusetts and has a list of volunteers ready and anxious to be a part of the rescue and rehabilitation process.

About CANTER New England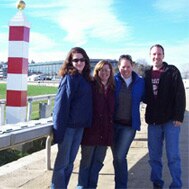 CANTER New England is one of seven CANTER affiliates around the United States dedicated to the welfare of the racing Thoroughbred and assisting ex-racers in making the successful transition to life after the finish line. Through direct rescue work, collaboration with other horse welfare organizations, and by helping trainers and owners seeking to retire horses to connect with non-race buyers, they help to ensure that these remarkable athletes find loving homes and new careers off the track. Since its inception in 1997, CANTER programs have helped thousands of retiring racers transition from a life in racing to lives as competitors in other sports, as pleasure mounts, or to peaceful existences as companion horses.

About H.O.P.E.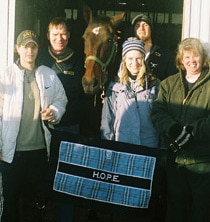 H.O.P.E Organization Inc, was established in 2003. Its goal is to rescue, rehabilitate and re-home starving, neglected & abused equines, while educating the public on what a wonderful creature the horse is. With the capability to rescue up to 20 horses at one time, H.O.P.E. also offers learning clinics, riding & driving lessons, leasing programs and is available for outside educational opportunities. Being a 501(c)(3) not for profit, humane public charity, H.O.P.E. relies on public donations to keep the organization going.

About Days End Farm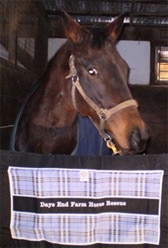 Days End Farm Horse Rescue, Inc. is a volunteer based, animal welfare organization established in 1989 to ensure quality care and treatment of horses through rehabilitation, humane education and community outreach. DEFHR has gone from a small non-profit sheltering only a few horses annually, to a full scale rescue and rehabilitation facility housing on average 50 ?60 horses at any one point in time. Its budget, and corresponding donations, has grown from $50,000 annually to over $600,000 over a 10 year period! Over 500 adults and children volunteer their efforts in helping the Farm to achieve its mission.

About UC Davis Center for Equine Health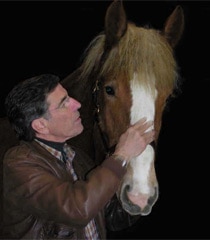 The UC Davis Center for Equine Health provides academic leadership and serves as the organizational umbrella under which equine research is funded and conducted at UC Davis and at California State University campuses with equine programs. The findings of studies conducted by CEH researchers are applied directly in the Veterinary Medical Teaching Hospital so that continuous improvements can be made in the standard of veterinary care provided to equine patients. In addition, the CEH plays an important role in the training of future veterinarians, academic clinicians and researchers by providing invaluable hands-on learning opportunities to undergraduate veterinary students, residents and graduate students.
About SmartPak Equine
SmartPak Equine was founded in 1999 with the purpose of simplifying the administration of nutritional supplements and medications to horses. The patented SmartPak™ supplement feeding system has been adopted by thousands of barns and horse owners across the country, who value knowing that their supplements will be fed correctly. It has been embraced by riders from all disciplines and all levels, including seven Olympic medalists. In addition to the SmartPak supplement system, the company offers a broad line of horse health and rider items, dog supplies, and equine and canine pharmacy items sold through the company's catalog and Web site. In 2006, SmartPak was named to Inc. Magazine's list of the 500 fastest growing private companies for the second straight year and is the only equine company ever named to the list. The company has also been honored with a Best Bosses award presented by Fortune Small Business and Winning Workplaces. SmartPak also operates a retail store in Natick, MA. For more information, visit www.SmartPak.com.