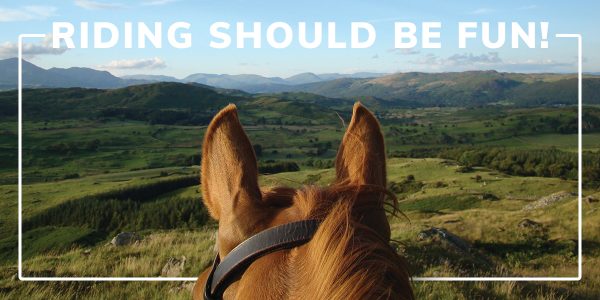 We as riders love being in the saddle (or in the driver's seat). It's our home, our happy place, and sometimes where we feel the most stress.
Whether you're hitting the trails or heading to the show ring, our team of riders has put together a collection of blogs that talks about their own riding fears and how they've overcome them. Check out all their great stories below and feel free to share what gets you nervous or helps you be confident every time you saddle up!
Blogs, Quotes, Tips & Tricks from Fellow Riders:
---
---
"When you think you have enough leg… add more!" – Lauren J.

Facebook
---
---
---
"Ride the horse you have under you. He can only give you what you ask. So breathe, be fair, and enjoy the ride." – Tatia H.

Instagram @heleskit
---
---
---
"Keep one leg on each side!" – Ellen B.A.

Facebook
---
---
---
"You paid for the use of the entire arena. Use it to your advantage." – Helen P.

Facebook
---
---
---
"I tell my mare 'it's just a walk in the park, let's go have some fun.' I say it as much for her as I do for me!" – Jennifer P.C.

Instagram @jperacastro
---
---
---
"My mama always tells me to *sparkle*. Just radiate happiness and have fun." – Jordyn B.

(Instagram @spottedbayproductions)
---
Are there any tips or tricks we missed that YOU rely on before saddling up? Tell us in the comments!