Pet Pharmacy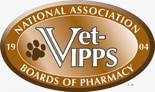 Welcome to SmartPak's Pet Pharmacy
Welcome to SmartPak's Pet Pharmacy In addition to being fully licensed in all 50 states, we're only the fifth pharmacy in the US to be awarded Vet-VIPPS certification. That means you can rest assured that our medications, facilities, policies and procedures meet the highest standards in the industry, so you can shop with confidence. We offer exceptional prices, convenience, personal account management, and the brand name medicine that you and your veterinarian trust for your dog.
Questions? Check out our Pharmacy FAQ
Internet Pharmacy Site Disclosure Information
Sorry, we couldn't find what you were looking for.
Don't give up! You can try again using the tips below, or we can help (we're really good at finding stuff!)
Call 1-800-461-8898 or Contact Us Now
Search Tips:
Make sure all words are spelled correctly.
Try different keywords.
Try more general keywords.
Try fewer keywords.