Horse Supplements
Why choose SmartPak?
Our moms think we're funny and our horses think we get paid in treats, but that's not why you'll love us. You'll love that we have all the supplements you want, at great prices. You'll love that not only is our shipping fast, there's three ways to ship free at SmartPak. We're the supplement (and service) experts, we're happy to help and we think you're awesome. If you need more reasons to give us a try, see why other riders love us.
SmartSupplements™ in SmartPaks - Guaranteed to Work
Order any of our SmartSupplements in SmartPaks and if you don't see results in two months, we'll give you your money back, no questions asked.
Designed to Work Better
Horse health problems can be complex, with a variety of causes, but we've made it easy to find a supplement solution that actually works for your horse. Our formulas approach each problem from multiple angles and the results speak for themselves. Over 4,000 horse owners are so happy with the difference these formulas have made for their horses, they've given SmartSupplements a perfect 5-star rating.
Designed to Save You Money
We eliminated the middle man so that you can get the top quality supplements your horse deserves without paying top dollar. Our carefully targeted formulas ensure that your horse gets everything he needs, but you don't pay for a bunch of ingredients he doesn't. Even better, when you order in SmartPaks, you get the best value and the ultimate peace of mind.
"I have found that SmartSupplements are as good or better than other brands for WAY less money. I have loved every supplement I have tried of theirs." -AH from Ohio

Can your senior horse do this?
"After starting SmartFlex® Senior Herb-Free I immediately noticed an improvement in Zack's way of going. It seemed like he got his bounce back. Zack is now 24, and we continue to compete at Training Level!"
-Cindi Moravec & Do It Exact ("Zack")
World Champion Results
"Pretty soon after starting SmartGut®, Sonny was back to his old self - more relaxed and confident, in and out of the show ring. We've kept him on it ever since, and have been really pleased with the difference it's made."
-Libby Ridner & Hot Rockin Potential ("Sonny")
Read More Success Stories »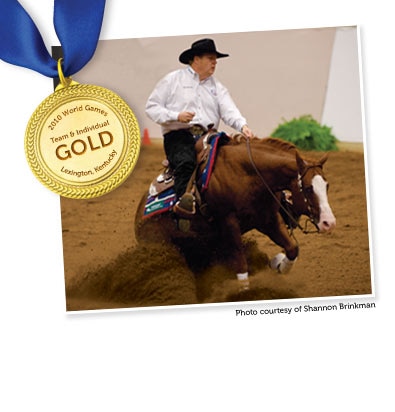 Tom McCutcheon & Gunners Special Nite (aka "Bailey")
Tom supports Bailey exclusively with SmartSupplements: "We ask a lot of our horses, so I like that SmartCombo Ultra targets their joints, hooves, digestion, skin and coat, all in one formula. SmartTendon has key ingredients to support Bailey's tendons and ligaments, which undergo a lot of stress and strain. Finally, SmartMuscle Stamina helps ensure Bailey can finish every pattern strong, and bounce back quickly."
Bailey's SmartPak