We're bringing you this product at the lowest price allowed by the manufacturer. That means this item isn't eligible for additional discounts or promotions.
As riders and online shoppers, we know it can be tough to buy a new bridle or pair of boots without trying them on. That's why we moved the fitting room to your living room (or barn)! From breeches to blankets, if you or your horse can try it on, you can return it, free! Just use the pre-paid return label included in your order within 60 days from the purchase date. And of course, please make sure the item is in like-new condition with original packaging (we said 'fitting room', not 'war room'!).
The environmental solution to pesky flies! Fly Predators are beneficial insects and the natural enemy of flies. They never bother humans or animals but feed on fly larvae. Sprinkle on manure areas monthly to control fly populations. Up to 94% reduction in pest flies have been reported.

SmartPak recommends this product be auto shipped for easy, convenient reapplication.

As fly predators are a living creature, they cannot be returned.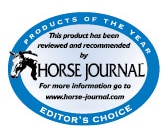 Click here to see when to start the program.


Fly Predators will be drop shipped to you directly from Spalding Labs via the U.S. Postal Service.