Equine Pharmacy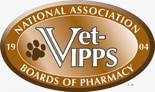 SmartPak's fully licensed equine pharmacy offers exceptional service, competitive prices, convenience, personal account management, and the brand name horse medications that you and your veterinarian trust.
Many medications are available in SmartPaks!
Welcome to SmartPak's Equine Pharmacy In addition to being fully licensed in all 50 states, we're only the fifth pharmacy in the US to be awarded Vet-VIPPS certification. That means you can rest assured that our pharmaceuticals, facilities, policies and procedures meet the highest standards in the industry, so you can shop with confidence.

For the easiest way to take the best care of your horse, order his medications in SmartPaks! Vets agree that consistent, accurate dosing is critical when feeding prescription medications. No matter how much it costs, if your horse's medicine isn't being dosed properly or fed regularly, it's not going to work. By ordering your horse's medications in SmartPaks, you can be sure he gets exactly what he needs, every single time.
Questions? Check out our Pharmacy FAQ
Internet Pharmacy Site Disclosure Information