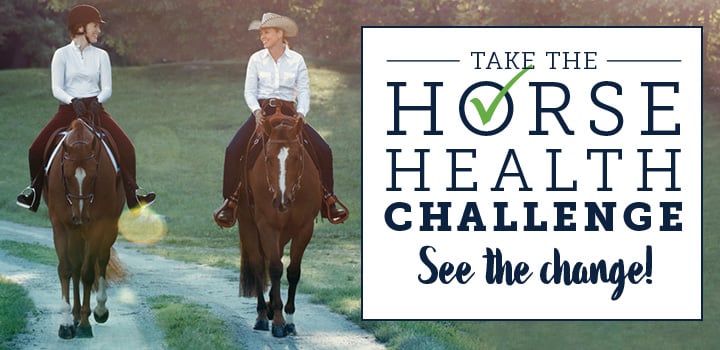 At SmartPak, we're on a mission to change the world, four hooves at a time. We're making the world a better place, using our smarts to power healthy horses and happy riders. We want to make 2018 the healthiest year ever for horses from coast to coast, but that's not something we can do alone. That's why we're asking you to join our mission to change the world by taking the Horse Health Challenge.

Check out this page to get started, and be on the lookout for ways to take our challenges to the next level on Facebook, Twitter, and Instagram. You'll help spread the word to other horse owners about how they can join us, and you may even win a prize while you're at it!


Rethink Your Horse's Diet
The modern horse's diet is often at odds with how he was designed to live and eat, but there are realistic steps you can take to build your horse's ideal diet from the ground up. Instead of continuing to reach for the feed scoop because "that's how we've always done it," challenge yourself to rethink your feeding program and check "better diet" off your horse's list this year.
Tip #1: Focus on Forage
Considering that your horse was designed to spend about 17 hours per day roaming and grazing, it's no surprise that the foundation of his diet should come from forage. Whether it's fresh pasture, hay, or a combination of the two, your horse should be eating 1–2% of his body weight in forage every day (for a 1,000 lb horse, that's 10–20 lbs daily). The best way to mimic Mother Nature would be to provide free-choice access to hay and/or pasture all day, but every barn is different and resources are limited, so work with what you've got and make sure you're meeting that 1–2% requirement.
Tip #2: Evaluate Energy Needs
If your horse is getting the recommended amount of forage, he's also getting a solid source of calories. However, some horses — "hard keepers" or those in hard work — may require additional calories to maintain their ideal weight. If your horse can't maintain his weight on forage alone, consider adding a more calorie-dense feedstuff, like a commercial grain. But because your horse was not designed to digest large amounts of non-structural carbohydrates like grains, barn you should aim to feed the minimum amount needed to maintain his ideal body condition score.
Not sure how to determine your horse's body condition score? Click here to learn how!
Tip #3: Round Out the MVPs
How you supply these nutrients depends on what else your horse is eating:
Hay and/or pasture only
While your horse's forage supplies some protein, vitamins, and minerals, it may not be enough to fulfill his daily requirements. Do a hay analysis or forage testing to find out. In many cases, you'll want to provide a ration balancer to complement your horse's forage and ensure he has the protein, vitamins, and minerals he needs.
Hay and grain
If your horse is getting a full, recommended serving of fortified grain, his protein, vitamin, and mineral needs should be met. However, as discussed above, most horses simply don't need that much grain. If your horse isn't getting a full serving of grain, he also isn't getting a full serving of vitamins or minerals, and a multi-vitamin/mineral supplement can help bridge those gaps. Not sure if your horse is getting a full serving? Visit our grain feeding guide to learn how to check.
Tip #4: Add a Dash of Salt
Salt is an essential part of your horse's diet. It supports healthy nerve and muscle function and encourages your horse to drink, helping to avoid dehydration. Even a horse in no work needs at least one ounce of salt per day, and that need increases with exercise and hot weather. Hay, pasture, and commercial feeds provide very little salt, so top-dressing meals with a supplement like
SmartSalt®
Pellets can help your horse get what he needs.
Tip #5: Balance Your Fats
Omega 3 and omega 6 fatty acids are both important to your horse's well-being, but maintaining the correct balance between the two is critical. Because omega 6 fatty acids support pro-inflammatory reactions, your horse should have two to four times more omega 3s than 6s. Fresh pasture is a good source of omega 3 fatty acids, but many horses don't have access to pasture grazing. In addition, grain is very high in omega 6s. These two factors are the reasons that the modern horse's diet often has too many omega 6s and too few omega 3s, which sets the horse up for a chronic state of inflammation. Luckily, supplementing with omega 3 fatty acids like those in
SmartOmega 3 & E™ Ultra
is an easy way to help correct this important dietary balance and let your horse's good health shine through.
Tip #6: Add Supplements As Needed
Once you have the foundation of your horse's diet squared away (Tips 1–5), consider whether he needs specific supplements for proactive support, or to help manage any special health issues he may have. Popular areas of support include
joint
,
digestion
,
hoof
, and
gastric health
.
Take this challenge to the next level:

Hungry for more info on nutrition? Visit our
Nutrition Guide
for an in-depth look at each of the key areas discussed here.

Talk to your veterinarian and your barn manager (if you board your horse) about how to build a smarter diet for your horse.

Face the Facts on Joint Health
As horse owners, we often don't think about our horse's joints until there's a problem. But when it comes to joint health, waiting until there's a problem may be too little too late. Read on to find out the top six things you need to know to make smart choices about your horse's joint health this year.
Fact #1: Joint Deterioration is Permanent and Progressive
Joint deterioration is permanent, progressive degeneration of articular cartilage, meaning once it starts it will only continue to get worse. It's a cascading cycle of wear and tear within the joint. Over time, joint structures develop scarring, the synovial fluid (the "lubricant") dries out, the articular cartilage is worn down, and finally, the bones themselves become thick and scarred. As you can imagine, this is an uncomfortable condition that can severely limit your horse's performance and soundness.
Fact #2: All Horses Are At Risk
A 1999 study in the Equine Veterinary Journal identified joint changes in a herd of wild mustangs. The research concluded that the degenerative process was naturally present in horses.
Fact #3: More Work = More Stress
The same researchers also suggested that the stresses associated with training may accelerate the condition that can severely limit your horse's degeneration process. That means if your horse is in regular work, his joints are more at risk for early joint deterioration that could affect his comfort, soundness, and future performance.
Fact #4: The Best Time to Start Supporing Joints is Now
No matter your horse's age, discipline, or workload, the best time to start supporting healthy joints is now, with a joint supplement targeted to his unique situation.
Joint supplements provide your horse's body with the key ingredients he needs to maintain healthy cartilage. Ideally, this means the best time to start a joint supplement is before your horse starts showing signs of stiffness and discomfort.
However, horses already displaying signs of discomfort may also benefit from joint supplements, as they can help support healthy articular cartilage, synovial fluid, and normal response to inflammation. So, no matter your horse's situation, if he's not already on a joint supplement there's no time like the present to start.
Fact #5: Injectable Joint Medications Don't Replace the Need for Supplements
Injectable joint medications and oral joint supplements serve different purposes. Intravenous and intramuscular injections are designed to help reverse the effects of arthritis, while oral joint supplements provide key ingredients like glucosamine, chondroitin sulfate, and HA to offer ongoing, daily support for healthy cartilage and joint fluid.
Talk with your veterinarian to see if joint medications are right for your horse, and visit Injections and Supplements to learn more about how one research study showed that injections and supplements work well together.
Fact #6: He's Not the Same Horse He Was Years Ago. He's Better.
Your horse has been giving you his best for years, and he's only gotten better as he's aged. Unfortunately, years of wear and tear can leave your older horse's joints feeling stiff and uncomfortable. Supplements designed with seniors in mind provide targeted ingredients to help keep your horse comfortable along with the key ingredients found in other joint supplements. Whether your senior is fully retired or still going out on adventures, supporting him with a senior joint supplement is a smart way to put the "gold" in his golden years.

Joint

Take this challenge to the next level:

Support healthy joints from the inside, out by ordering a
joint supplement
on AutoShip.
Contact us for a free supplement consultation.

Already supporting your horse with a joint supplement? Post a photo on social media using #JoinTheJointMovement and you could win a free month of a joint supplement of your choice from SmartPak!
Click here for official rules and contest details.

Take a Stand Against Colic
The American Association of Equine Practitioners (AAEP) has estimated that 900,000 horses will colic each year in the United States alone, and colic is one of the leading causes of equine death today. Even worse, there are a number of common, unavoidable barn events that can increase your horse's risk for colic. But that doesn't mean you have to stand idly by and wait for your horse to become the next statistic. Read on to join our stand against colic and to find out how you can help your horse.
Your first step is to educate yourself about the risk factors for colic because, unfortunately, what you don't know can hurt. Here, you'll learn about some of the most common risks and the smart management practices you can use to help your horse cope.
Risk #1: Changes in Hay
Changes in hay, including switching types or feeding a new cut, can increase your horse's chances of developing colic by 10x!
How You Can Help
Change hay as gradually as possible, ideally blending the old and new hay for 7–10 days, to ease the stress on your horse's hindgut.
Risk #2: Feeding Grain
Studies have shown that horses fed large amounts of grain (more than 5lbs/day) are at a greater risk of developing colic.
How You Can Help
Make sure your horse is receiving 1–2% of his body weight in forage every day. If he still needs grain, feed the minimum amount possible in multiple, small servings throughout the day
Risk #3: Lack of Turnout
Lack of turnout is unnatural for your horse, and increased stall time can increase your horse's chances of digestive upset.
How You Can Help
Because your horse was designed to move around for up to 20 hours per day, give him as much turnout as possible.
Risk #4: Lack of Water
Lack of access to water has been associated with greater risk for GI trouble, including impaction.
How You Can Help
Make sure that your horse has access to clean, fresh water at all times.
Risk #5: Sudden Changes in Exercise
Sudden changes in exercise or activity level have been shown to increase digestive disruption, increasing colic risk. The most problematic change is a sudden decrease in work and turnout, which is often associated with a horse going on stall rest due to injury.
How You Can Help
Keep your horse's exercise and turnout schedules as consistent as possible, and make any adjustments as gradually as possible.
Want to learn more about the risk factors for colic? Visit Colic Risks to see the rest of the proven risks and get more management tips!
Protect Yourself & Your Horse with ColiCare
When it comes to serious problems like colic, you want as much support as possible in your corner. That's why the second step in your stand against colic is to protect yourself and your horse with ColiCare.
ColiCare combines the comprehensive support of clinically proven digestive health ingredients with a veterinarian-directed wellness program for the ultimate digestive health care. Best of all, it provides up to $7,500 of colic surgery reimbursement should your horse ever need it. So what are you waiting for? Keep to find out how to get started today!
Peace of Mind Starts at Just $38.95
Every ColiCare™ eligible product shares the same foundation—comprehensive digestive support from the clinically researched hindgut ingredients in SmartDigest Ultra—and they're all backed by up to $7,500 of colic surgery reimbursement.
In addition to this original formula, we offer five options that include SmartDigest Ultra together with ingredients for joint, hoof, coat, temperament, and/or gastric health. To find the ColiCare eligible product that meets your horse's needs, check out this chart.
ColiCare Eligible Supplements
Take this challenge to the next level:

Find out your horse's colic risk by taking a quick quiz at
Colic Risk Quiz
.

Visit
Colicare
or
contact us
to order a
ColiCare eligible product
in SmartPaks and apply for ColiCare.

Once you sign up, post #WhyIColiCare on Instagram, Twitter, or SmartPak's Facebook page to tell us and your friends why you signed up, and you'll be entered for a chance to win one of five free
SmartPak Slow Feed Hay Bags
to support digestive health!
Click here for official rules and contest details.

Already protecting your horse with ColiCare? Share your story on Instagram, Twitter, or SmartPak's Facebook page with #WhyIColiCare, and you'll be entered to win, too!
Click here for official rules and contest details.

Take Four Steps Toward Four Healthy Hooves
Healthy hooves are grown one day at a time. Just like our own fingernails, the hoof wall is composed of dead tissue, so it can't mend and heal. Instead, damaged sections have to grow out and be replaced with new, healthy tissue. Even with the best care and nutrition, that's going to take time. While you can't fix your horse's hooves overnight, you can start by taking these four steps in the right direction today!
Step #1: Set Up a Regular Maintenance Schedule
Whether your horse is shod or barefoot, partnering with a qualified hoof care professional and getting your horse on a regular maintenance schedule is critical. Get tips for choosing the right farrier from expert farrier Danvers Child when you visit
How to Choose a Farrier
.
Step #2: Provide Proper Nutrition for Healthy Hooves
All horses have certain nutritional requirements that need to be met in order for them to maintain healthy, resilient hooves. Hoof health supplements provide the key building blocks your horse needs to grow strong, healthy hoof wall all year long, such as biotin, lysine, methionine, threonine, copper, and zinc. A quality choice is
Farrier's Formula Double Strength
.
Step #3: Promote Exercise and Activity
The strength of the equine foot depends on nourishment provided by good circulation and vascularity. That's where exercise and activity come in—to promote good blood flow, your horse needs to get moving through turnout, riding, and other exercise.
Step #4: Manage Environmental Shifts
Frequent environmental shifts from wet to dry and vice versa can take a toll on hoof health, so try to limit these changes as much as possible. For additional support, consider a topical that helps stabilize moisture levels in the hoof, like
Keratex Hoof Hardener
and
Keratex Hoof Gel
.
Take this challenge to the next level:
Talk to your farrier about setting up a regular maintenance schedule for your horse.

Visit
this post
to learn more about the environmental shifts your horse's hooves go through every day. After all, the first step toward change is awareness!

Confused about why circulation is important to your horse's hoof health? Check out
this article
to get the details from Danvers Child, Certified Journeyman Farrier.

Start building a strong foundation today by supporting your horse with a
hoof supplement
on AutoShip.

Find Inner Peace for Yourself & Your Horse
The barn should be your happy place, but sometimes nerves—whether they're your own or your horse's – can make your riding time more stressful. Instead of just heading to the barn with your fingers crossed, try our favorite tips, tricks, and smart solutions to help you and your horse stay cool and confident this year.
Tips for You at Home
"I ride alone in the dark at night after work, and the long shadows caused by the arena lights combined with sporadic sounds of nocturnal creatures in the woods can set us up for a pretty spooky ride. So I play music on my phone while we're riding, to help block out the critter noises and to provide a consistent background to our ride. If my mare's particularly nervous, I'll pick something I like singing to, so that I can sing along to give her some extra reassurance that I'm right there with her, and that I'm calm." –Sarah, Marketing
"I always try and hum, sing, or just breathe really deeply when I ride when I'm nervous. My trainer tells me to focus on my horse's rhythm; whether you can really feel their hind end or if they breathe on a consistent rhythm. Breathing out on the way to the fence seems to be the most helpful for me." –Keli, Customer Care
Tips for You at Shows
"I made a special playlist to listen to on horse show mornings. It's a combination of upbeat songs to get me psyched up, with a couple chill out songs to finish. If I get nervous headed into the show ring, I sing the chill out songs to myself to relax again." –Sara, Creative
"Being well prepared and organized works the best for me – it keeps me from being distracted by undone details and lets me feel confident that I'm ready to go. I also try to always show a level lower than I'm schooling, which helps me to be less worried about the movements of the test or the heights of the jumps so I can focus more on details in my riding and having fun!" –Jen, Web Merchandising
Tips for Your Horse
An excitable, spooky horse can totally take the fun out of your barn time, so it's an important problem to solve. But where do you begin? Start by working with your trainer and veterinarian to get to the root of the problem, whether it's medical, physical, or behavioral. Once you've checked out the common root causes of "bad" behavior, like the examples listed here, you'll be one step closer to calm!
Lameness/Soreness
Focusing on training isn't easy if your horse's back, legs, feet, or other areas are hurting. (Be sure to consult your vet and farrier!)
Ill-fitting Tack
Imagine trying to run a race with pants or shoes that were too tight —ill-fitting tack can be similarly bothersome for your horse.
Too Much Grain
With grain comes sugar, and with sugar can come excitability; that's why we recommend feeding the minimum amount of grain to maintain your horse's ideal body condition (which may be no grain at all).
Too Little Turnout
If arena work is the only time your horse gets to stretch his legs, it should be no surprise when he's wild; increasing turnout time can help improve your horse's focus under saddle.
Dental Problems
As your horse chews and wears down his teeth, sharp points can occasionally develop and, if they become painful, that can come across as uncooperative behavior during your rides.
Supplement Tips
Choosing the right calming supplement for your horse
If you've worked with your veterinarian and your trainer to cross off the possible health and management reasons for your horse's bad behavior, adding a calming supplement to your horse's diet may be a smart choice. Read on to take a closer look at the three types of calming supplements and get a better of understanding of how they work, so you can find the right support to help your horse relax and enjoy the ride.
Nutrient-based Calming Supplements
Horses whose diets don't provide enough of the nutrients necessary for proper nervous system function may be anxious. These formulas are designed to bring your horse's dietary levels into the optimal range for a correctly functioning nervous system. Nutrient-based calming supplements are an ideal starting point for horses that are nervous, reactive, or spooky. Plus, if you compete in rated horse shows, they may be your best option, as herbal calming supplements include ingredients that may be forbidden by competitive organizations.
Ingredients to Look For
Vitamin B1, also known as thiamine, is important in the normal transmission of impulses along nerves
Magnesium, a macro mineral, is a key player in nervous system function Inositol assists in nerve transmission and supports the action of the neurotransmitter serotonin
Tryptophan is converted by the body into serotonin, which may help increase feelings of contentment
Herb-Based Calming Supplements
Herbal ingredients can provide soothing support for tense, anxious horses. Some of these supplements combine herbs with the nutrient-based ingredients listed on the previous page. If you don't compete, an herbal calming formula may be a great option to consider. Additionally, if you've tried a nutrient-based supplement and didn't see the results you were hoping for, consider trying an herbal formula as a next step.
Ingredients to Look For
Valerian, a potent herb, may help balance the nervous system and can help address muscle cramps associated with tension
Chamomile, another herb that supports nervous system function, is especially beneficial for horses who process their nervousness through their gastrointestinal system
Vervain may help balance the nervous system of horses who have excess energy, helping them concentrate on the job at hand
Moody Mare Supplements
If your sweet mare turns into a moody monster during or around her heat cycle, her poor attitude could be related to hormonal fluctuations or discomfort in her reproductive tract. These formulas include ingredients that support balanced hormones and an even disposition. When choosing a supplement, keep in mind that some herbal ingredients are forbidden by competitive organizations.
Ingredients to Look For
Raspberry supports smooth muscle in the reproductive and digestive tracts, helping it stay relaxed
Cramp bark supports relaxed smooth and skeletal muscle, making it a helpful choice for mares who are uncomfortable due to spasms in their reproductive and digestive systems
Chasteberry, also known as vitex agnus castus, helps maintain a balanced hormonal system
Take this challenge to the next level:

Have your own tips to help other riders (and nervous SmartPakers)? Share it with #SmartPakInnerPeace on Facebook, Twitter, and Instagram!

Put a
calming supplement
on AutoShip to help your horse stay calm, cool, and collected no matter what time of year it is.

Work with your veterinarian and your trainer to check the common causes of bad or unfocused behavior off your list.

Tack up, take a deep breath, and enjoy the ride!