About SmartDigest® Ultra
A Healthy Digestive System with SmartDigest Ultra
SmartDigest Ultra is specially designed to help your horse manage digestive stress caused by hay fluctuations, training, travel and more. This innovative formula provides high levels of specialized ingredients to help your horse's digestive tract remain healthy and balanced. The clinically studied ingredients in SmartDigest Ultra include: prebiotics proved to reduce disruption in the cecum and colon and inhibit the absorption of harmful bacteria in the hindgut; yeast shown to improve fiber digestion and assist the beneficial bacteria of the cecum in adjusting to feed changes; enzymes demonstrated to increase the proper digestion of starch in the foregut. SmartDigest Ultra provides unparalleled GI protection for every horse, from the high level performance to the retiree and everything in between.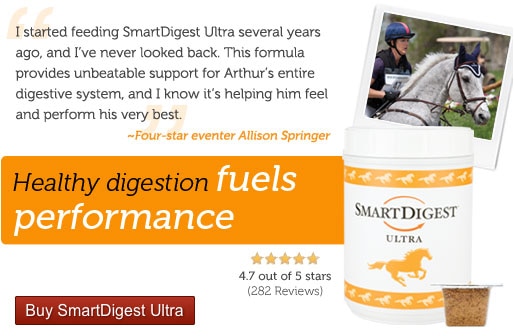 ---
Active Ingredients per 30 g
Fructooligosaccharides
1,250 mg
Mannanoligosaccharides
1,050 mg
Deglycyrrized Licorice
500 mg
Psyllium Seed Husk
450 mg
Ginger Root Powder
200 mg
(Saccharomyces cerevisiae)
30 billion CFU
Lactobacillus Acidophilus
22.5 billion CFU
Enterococcus Faecium
1.5 billion CFU
Lactobacillus Casei
1 billion CFU
Lactococcus Lactis
1 billion CFU
Bifidobacterium Longum
450 million CFU
Enzase-EQ™
(a proprietary blend of Aspergillus Oryzae, Aspergillus Niger, Bacillus Subtilus and Pancrelipase, supplying Amylase, Protease, Lipase, Cellulase and Lactase ensymes)
1,300 mg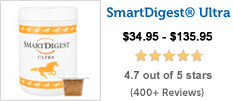 Start your horse on SmartDigest Ultra in SmartPaks and apply for our free ColiCare program to become eligible for up to $7,500 of colic surgery reimbursement. How's that for Smarter?