About SmartCombo™ Ultra
Cover all your bases with SmartCombo Ultra
SmartCombo Ultra is a comprehensive multi-purpose formula that combines the active ingredients of SmartFlex III Resilience, SmartDigest Ultra, SmartHoof Ultra, and SmartShine Ultra at a savings of 25% compared to buying those 4 products individually. This supplement contains high levels of glucosamine, chondroitin sulfate, hyaluronic acid, MSM, vitamin C, biotin, amino acids, omega 3 fatty acids (including DHA and EPA from fish oil), probiotics, prebiotics, digestive enzymes, oat beta glucan and more. SmartCombo Ultra provides joint, hoof, digestive and coat support all-in-one tasty pelleted formula, making it an excellent choice for picky horses.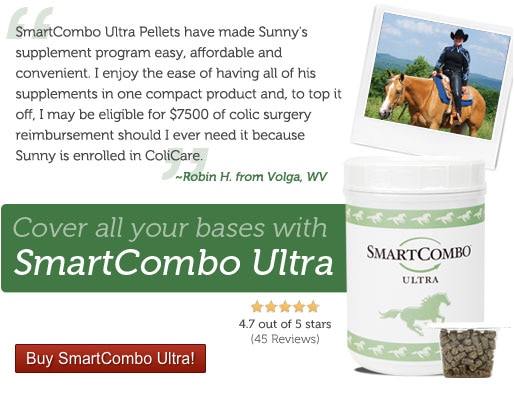 ---
Active Ingredients per 120 g
Glucosamine HCl (shellfish)
10,000 mg
Methylsulfonylmethane (MSM)
10,000 mg
Ascorbic Acid (Vitamin C)
5,000 mg
Omega 3 Fatty Acids
3,630 mg
EPA (from fish oil)
62 mg
DHA (from fish oil)
46 mg
Omega 6 Fatty Acids
1,975 mg
Fructooligosaccharides
1,250 mg
Mannanoligosaccharides
1,050 mg
Chondroitin Sulfate (bovine)
1,000 mg
Hydrolyzed Collagen
1,000 mg
Magnesium (Carbonate and Silicate)
725 mg
Deglycyrrized Licorice
500 mg
Silica (Orthosilicic Acid and Magnesium Silicate)
500 mg
Psyllium Seed Husk
450 mg
Grape Seed Extract
400 mg
Ginger Root Powder
200 mg
Copper (Proteinate)
100 mg
Sodium Hyaluronate
100 mg
Vitamin B6 (Pyridoxine)
25 mg
Active Dry Yeast (Saccharomyces cerevisiae)
30 billion CFU
Lactobacillus Acidophilus
22.5 billion CFU
Enterococcus Faecium
1.5 billion CFU
Lactococcus Lactis
1 billion CFU
Lactobacilllus Casei
1 billion CFU
Bifidobacterium Longum
450 million CFU
Enzase-EQª
(a proprietary blend of Aspergillus Oryzae, Aspergillus Niger, Bacillus Subtilus and Pancrelipase, supplying Amylase, Protease, Lipase, Cellulase and Lactase enzymes)
1,300 mg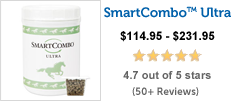 Start your horse on SmartCombo Ultra in SmartPaks and apply for our free ColiCare program to become eligible for up to $7,500 of colic surgery reimbursement. How's that for Smarter?