For Veterinarians
According to NAHMS, colic is the leading cause of death in horses, after old age.*
A sudden change in a horse's lifestyle or diet, such as different hay or grain, increased stall time, adjustment in activity level, or even dehydration can lead to colic. In fact, research has shown that hay changes alone can increase a horse's risk of colic by 10 times! Luckily, studies also suggest there are things your clients can do to help to reduce their horses' risk.
A healthy digestive system with SmartDigest® Ultra
SmartDigest Ultra is specially designed to help horses manage digestive stress caused by hay fluctuations, training, travel and more. This innovative formula provides high levels of specialized ingredients to help keep a horse's digestive tract healthy and balanced. The clinically studied ingredients in SmartDigest Ultra include: prebiotics (fructooligosaccharides) proven to reduce disruption in the cecum and colon; prebiotics (mannanoligosaccharides) shown to inhibit the absorption of mycotoxins in the hindgut; yeast (Saccharomyces cerevisiae) shown to improve fiber digestion and assist the beneficial bacteria of the cecum in adjusting to feed changes; enzymes (amylase) shown to increase the proper digestion of starch in the foregut. SmartDigest Ultra provides unparalleled GI protection for every horse, from the high level performance horse to the retiree and everything in between.
Backed by $7,500 of Colic Surgery Coverage with ColiCare™
We're so confident that SmartDigest Ultra will help keep horses' digestive systems healthy that we've backed it with our colic surgery reimbursement program, ColiCare. Horses who receive SmartDigest Ultra in SmartPaks» may be eligible for this unique benefit, which provides $7,500 of lifetime coverage toward colic surgery. With SmartDigest Ultra and ColiCare your clients can sleep soundly knowing their horses have the best digestive product and the best digestive program in their corner.

(282 Reviews)
Buy SmartDigest Ultra
ColiCare Program Details
Eligibility:
Must reside in the United States
Weaned horses ages 5 months and older
Horses under the direct care of a licensed veterinarian
Horses that have had a previous colic and/or abdominal surgery, experienced colic in the past 12 months, or have a history of chronic colic are not eligible
Program Requirements:
Year-round, daily administration of SmartDigest Ultra maintenance dose (30g) in SmartPaks
Annual physical exam from your veterinarian
Annual dental exam from your veterinarian
Annual vaccinations administered by a veterinarian
Annual participation in a veterinarian-directed deworming program that includes at least one annual fecal test and two annual deworming administrations
Active Ingredients per 30 g
Fructooligosaccharides
1,000 mg
Mannanoligosaccharides
1,000 mg
Deglycyrrized Licorice
500 mg
Psyllium Seed Husk
450 mg
Ginger Root Powder
200 mg
(Saccharomyces cerevisiae)
30 billion CFU
Lactobacillus Acidophilus
22.5 billion CFU
Enterococcus Faecium
1.5 billion CFU
Lactobacillus Casei
1 billion CFU
Lactococcus Lactis
1 billion CFU
Bifidobacterium Longum
450 million CFU
Enzase-EQ™ (a proprietary blend of Aspergillus Oryzae, Aspergillus Niger, Bacillus Subtilus and Pancrelipase, supplying Amylase, Protease, Lipase, Cellulase and Lactase ensymes)
1,290 mg
*The NAHMS Equine '98 study Part 1: Baseline Reference of 1998 Equine Health and Management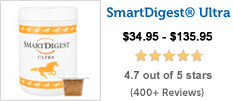 Start your horse on SmartDigest Ultra in SmartPaks and apply for our free ColiCare program to become eligible for up to $7,500 of colic surgery reimbursement. How's that for Smarter?