A Message to Our Customers about COVID-19
Posted on: March 13, 2020 by SmartPak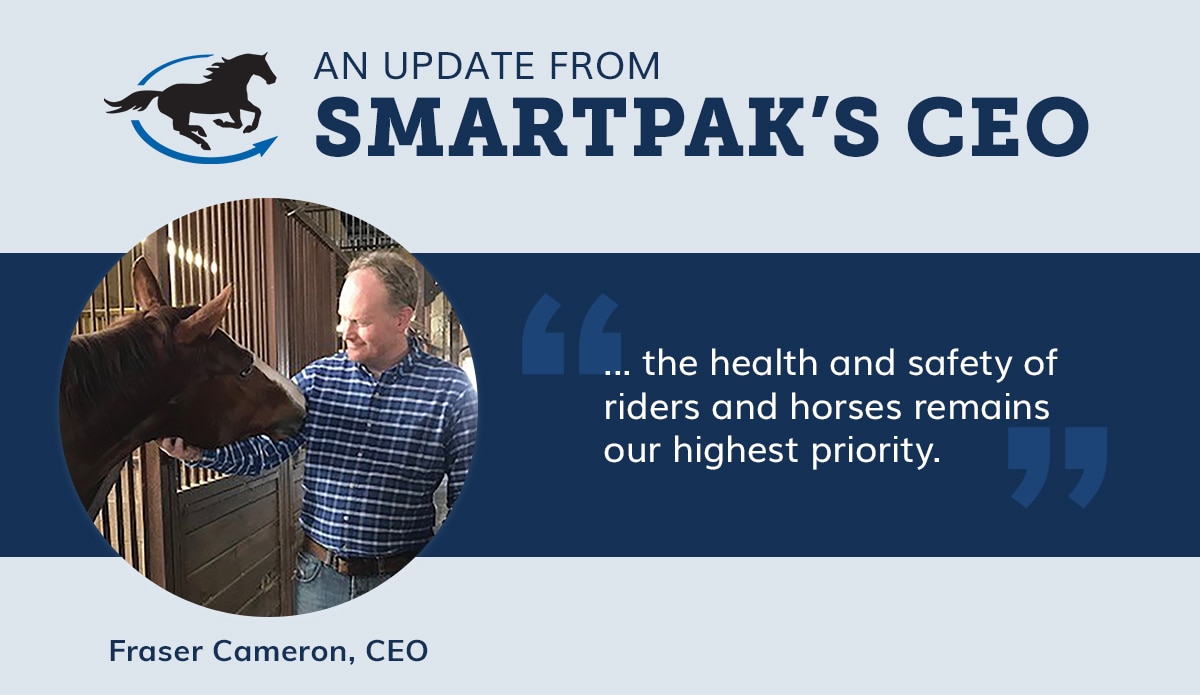 A Letter to SmartPak Equine Customers
As the documented cases and concerns surrounding coronavirus (COVID-19) increase, we know that many of our customers are thinking about how to best protect their families, both two-legged and four-legged.
I wanted to reach out to you personally and assure you that the health and safety of riders and horses remains our highest priority. As your horse health resource, we have been staying on top of the latest information about COVID-19 and its impact on companion animals with the input of our staff veterinarian, Dr. Lydia Gray. We'll continue to monitor the situation and have created a FAQ and resource center so you can access current information. Additionally, utilizing guidance from the CDC, we have put into place safeguards and contingency plans to limit the possibility of an interruption in our services.
Part of our commitment to health and safety is caring for our team. We continue to operate our facilities with the highest of manufacturing standards and have also implemented additional precautions within these facilities and our offices such as increased cleaning and sanitization, encouraging sick team members to stay home, limiting travel and providing guidance and information so employees remain safe.
We recognize that many customers have also started to make preparations for their families, and that may include assessing your horse's stock of supplies from supplements to fly spray and more. To assist with this planning and to limit potential interruption to your horse's supplement program, we will be processing and shipping all AutoShip orders on an advanced schedule. For further information please visit our FAQ page.
We remain dedicated to our mission of healthy horses and happy riders and are working hard to remain open and to serve you, your families and your horses. We are honored to be a part of your horse health care team and hope to see you in the barn and at horse shows soon.
-Fraser Cameron, CEO