FAQs for Veterinarians
Q: How does ColiCare benefit my practice?
A: Several ways: First and most importantly, ColiCare supports your ability to keep your patients healthy and your clients happy. We hope that the combination of a comprehensive wellness program offered by you, the veterinarian, and SmartDigest Ultra, we can help reduce the risk of colic in our clients' horses. And should a horse in your care experience a surgical colic, ColiCare increases the likelihood that the client will elect the surgery, possibly saving that horse's life. Beyond that, the ColiCare program gives clients an incentive to fully tap into your wellness offering. Horses enrolled in ColiCare are required to receive annual physical and dental examinations and veterinarian-administered vaccinations. We also hope to return you, the veterinarian, to a more central role in parasite control and contribute to broader adoption of modern deworming methods.
Q: What does the ColiCare program cost?
A: There are no extra fees for clients to enroll in ColiCare. The main costs to clients for participation are the preventive medical services and vaccinations provided by your practice, and the monthly supply of SmartDigest Ultra purchased in the SmartPak™ Supplement Feeding System ($34.95/28 day supply).
Q: What horses are eligible for ColiCare and what are the annual requirements for enrolled horses?
A: Eligible horses must:
Reside in the United States
Be weaned and age 5 months or older
Be under the direct care of a licensed veterinarian
Not have had a previous abdominal and/or colic surgery, experienced colic in the last 12 months, or have a history of chronic colic
Annual Program Requirements:
Daily administration of SmartDigest Ultra maintenance dose in SmartPaks
Veterinarian-directed wellness program which includes:
Physical exam
Dental exam
Vaccinations administered by a veterinarian
Appropriate deworming program that includes at least one fecal test and two dewormer administrations annually
Q: Are there enrollment exclusions based on medical history?
A: Yes, there are exclusions for horses having undergone a previous colic surgery, horses having experienced an episode of colic in the past 12 months, and horses with a history of chronic colic. Previous colic surgery is defined as any previous surgical procedure to a horse's abdomen. We define colic in the past 12 months as any veterinarian-attended colic episode in the past 12 months. If the veterinarian was called out to attend the horse by the owner or person with care, custody and control of the horse, this is considered a colic episode regardless of whether the attending veterinarian treated the horse. Lastly, chronic colic is defined as a horse experiencing 3 or more separate episodes of veterinarian-attended colic within a 12 month period.
Q: Do I need to sign up to participate?
A: No, we do not require veterinarians to register with SmartPak for their clients to participate in ColiCare. We will regularly inform you of which of your clients have enrolled horses in ColiCare, so that you will be aware of which clients should be scheduling the preventive services required to maintain compliance with the ColiCare Program Requirements.
Q: Are there any special record keeping requirements for veterinarians?
A: No. There are no special record-keeping requirements for veterinarians. Should a colic surgery claim occur, we will ask you to confirm that the horse has met both the initial Eligibility Requirements, as well as the annual Program Requirements via a ColiCare Program Compliance Affidavit.
Q: Do I have to sell SmartDigest Ultra to participate?
A: No. The ColiCare program is designed to allow you, the veterinarian, to focus on providing optimal veterinary health care for your clients while we handle the enrollment paperwork, compliance, product sale, inventory, delivery, and customer service aspects of the program. If you have a client that is interested in purchasing SmartDigest Ultra and enrolling in ColiCare please have them visit
SmartPak.com/ColiCare
or call
1-800-461-8898
.
Q: Are my own horses eligible?
A: Yes. Horses owned by veterinarians are eligible to apply for ColiCare and will be eligible for the same level of reimbursement as client-owned horses.
Q: Does my 10% Veterinarian Professional Discount from SmartPak still apply?
A: Yes. We will honor your 10% professional discount on SmartDigest Ultra as well as all other products we offer, for your own personal use (some exclusions apply).
Q: Do my clients have to complete all of the Program Requirements immediately before applying for ColiCare?
A: For a client to be eligible for ColiCare colic surgery reimbursement, they must have completed all of the annual Program Requirements within the previous 12 months of the date of the colic surgery.
Q: Do you require a pre-authorization prior to sending a horse for surgery?
A: No. We do not require pre-authorization. It is the responsibility of the client to maintain compliance with the ColiCare Program Requirements.
Q: How does ColiCare interact with major medical insurance?
A: In the event of an approved colic surgery claim, SmartPak will reimburse up to $7,500, independent of any insurance or additional reimbursement program associated with the horse.
Q: Is ColiCare available outside the United States?
A: No, ColiCare is only available to horses residing in the United States.
Q: How can I let clients know about ColiCare?
A: We would love to help you spread the word about ColiCare! You can request a veterinary media kit for your office or mobile vehicle through any avenue below. You can also direct any clients to our ColiCare webpage listed below:
Q: Does ColiCare cover the cost of medical colic?
ColiCare is a colic surgery reimbursement program, and therefore only covers costs associated with colic surgery (surgery related specifically to the digestive tract) incurred at a veterinary surgical facility. It does not cover expenses associated with a non-surgical colic episode.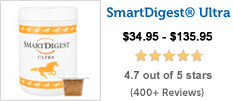 Start your horse on SmartDigest Ultra in SmartPaks and apply for our free ColiCare program to become eligible for up to $7,500 of colic surgery reimbursement. How's that for Smarter?