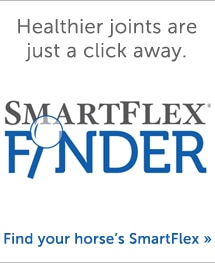 Osteoarthritis, also known as Degenerative Joint Disease (DJD), or just plain old "arthritis", is one of the most common conditions that affect performance and pleasure horses. Osteoarthritis is progressive and permanent deterioration of articular cartilage, the tissue that lines the ends of bones. The joints most frequently affected by osteoarthritis include the knee, fetlock, coffin and pastern (where it is often referred to as "ringbone"). Arthritis is also common in the hock, where it may be called "bone spavin." A horse suffering from joint disease may show a variety of signs depending on the effected joint, the severity of the condition, and his workload. Horse owners usually notice problems like stiffness, shortness of stride, and uneven gaits, as well as reluctance to pick up, keep, or change a lead in the canter or lope. Horses that work at speed such as jumpers, reiners, and barrel horses may become unwilling to stop or turn. Arthritis often results from simple wear and tear of daily exercise but may also be caused by poor conformation or trauma.
Research shows that the major ingredients found in oral joint supplements can promote cartilage production and slow cartilage breakdown. Some ingredients even protect joint tissues against the damaging effects of inflammation. To help make it easier to choose the right joint supplement, we've identified the most popular ingredients and explained how they work below.
Glucosamine
: Research suggests that Glucosamine supports the production of new cartilage and inhibits cartilage breakdown.
Chondroitin Sulfate
: Stimulates the production of Hyaluronic Acid and appears to work with Glucosamine to support cartilage by stimulating production and inhibiting breakdown.
Hyaluronic Acid (HA)
: An integral component of joint cartilage and joint fluid, HA provides both lubrication and shock absorption. It also blocks inflammatory reactions.
MSM
: A naturally occurring compound best known for its ability to fight inflammation. Research has shown that MSM protects tissues against the damaging effects of exercise and stress. MSM is also a highly usable form of sulfur, which is necessary for the formation of connective tissues vital to joint health.
Vitamin C
: A potent antioxidant, Vitamin C protects tissues throughout the body and is vital in the production of connective tissues, including cartilage, tendons and ligaments.
Devil's Claw and Yucca
: Herbs used extensively to fight discomfort and inflammation of bones, joints and other tissues.
Super Oxide Dismutase (SOD):
The body's most effective antioxidant. SOD is the first line of defense against free radicals that can damage the cells in joint structures.
Collagen and Silica
: Provide soft tissue support. Collagen is the main structural protein found in connective tissues like tendons and ligaments, and supplementing with it may help those tissues remain strong and resilient. Silica is required for cartilage formation and is thought to help maintain the strength of tendons and ligaments.