FAQs for Veterinarians
Q: How does ColiCare benefit my practice?
A: Several ways: First and most importantly, ColiCare supports your ability to keep your patients healthy and your clients happy. We hope that the combination of excellent preventive care and SmartDigest Ultra will mean fewer late night colic emergencies. And should a horse in your care experience a surgical colic, ColiCare increases the likelihood that the client will elect the surgery, possibly saving that horseÕs life. Beyond that, the ColiCare program gives clients an incentive to fully tap into your wellness offering. Horses enrolled in ColiCare are required to receive regular examinations and vaccinations administered by your practice. We also hope to return you, the veterinarian, to a more central role in parasite control and contribute to broader adoption of modern deworming methods.
Q: What does the ColiCare program cost?
A: There are no extra fees for clients to enroll in ColiCare. The main costs for participation are the preventive medical services and vaccinations purchased from your practice, and the monthly SmartDigest Ultra purchased in the SmartPak™ Supplement Feeding System ($34.95/28 day supply).
Q: Do horses have to meet specific age requirements for eligibility?
A: Yes. Weaned horses between the ages of 5 months and 25 years are eligible for enrollment. Horses that enroll in the program before age 25 are eligible to remain in the program until they reach the age of 28.
Q: Are there enrollment exclusions based on medical history?
A: Yes. Horses that have had prior colic surgery, horses with a history of chronic colic, and horses that have suffered a serious colic in the past 12 months are not eligible for enrollment.
Q: Do I need to sign up to participate?
A: No. We take responsibility for signing up our customers/your clients and managing their enrollment process. When our customers indicate you as the vet of record, we will inform you so that you may schedule the preventive services they will be requesting to maintain compliance with the ColiCare Program Requirements.
Q: Are there any special record keeping requirements for veterinarians?
A: No. There are no special record-keeping requirements for veterinarians. Should a colic surgery claim occur, we will ask you to confirm that the required services were provided in the past 12 months using basic information from the patientÕs chart and/or your billing system.
Q: Do I have to sell SmartDigest Ultra to participate?
A: No. The ColiCare program is designed to allow you, the veterinarian, to focus on providing optimal health care for your clients while we handle the enrollment paperwork, compliance, product sale, inventory, delivery, and customer service aspects of the program. If you have a client that is interested in purchasing SmartDigest Ultra and enrolling in ColiCare please have them visit
SmartPak.com/ColiCare
or call
1-800-461-8898
Q: Are my own horses eligible?
A: Yes. Horses owned by veterinarians are eligible and will receive the same level of reimbursement as client-owned horses.
Q: Is there a waiting period before coverage commences? What if it is winter I am not due to give vaccinations until spring?
A: To be eligible for ColiCare, your client must have received confirmation that their horse/your patient has been accepted for enrollment AND the horse must have been on the SmartDigest Ultra supplement, fed in SmartPaks, for 28 days. If the patient has been in your care and been receiving the required services in the past 12 months, simply continue with that schedule. If your client has not been using you for these services (for example, vaccinations) then eligibility for colic surgery reimbursement would begin once theyÕve both completed those services AND fed SmartDigest Ultra for the 28 day startup period.
Q: Do you require a pre-authorization prior to sending a horse for surgery?
A: No. We do not require pre-authorization. It is the responsibility of the client to maintain compliance with the ColiCare Program Requirements (i.e. SmartDigest Ultra has been fed daily in SmartPaks and they are up to date on the required veterinary services) to be eligible for colic surgery reimbursement. If the Program Requirements have been complied with, we will mail the colic surgery reimbursement check within 5-7 business days of receiving the signed Veterinary Affidavit from you and a copy of the itemized surgical invoice from the surgical facility. We utilize an independent, board-certified veterinarian with expertise in this area to review each case and determine reasonable and customary fees in each region.
Q: How does ColiCare interact with major medical insurance?
A: ColiCare is first in line to pay for surgical costs, and may allow a customer to avoid making a claim on their insurance. In the event that surgery costs exceed $7,500, clients will need to make a claim against their policy.
Q: Is ColiCare available outside the United States?
A: Currently ColiCare is limited to horses living in the US and for procedures performed in the US.
Q: How can I let clients know about ColiCare?
A: If you would like to let your clients know about this program via your newsletter or website, we have cut and paste-able copy available for you at
SmartPak.com/ColiCareDVM
and you can also have your clients visit
SmartPak.com/ColiCare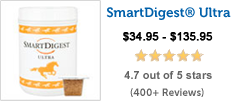 Start your horse on SmartDigest Ultra in SmartPaks and enroll in our free ColiCare program to become eligible for up to $7,500 of colic surgery reimbursement. How's that for Smarter?