SmartPak ColiCare™ Program
Terms & Conditions
PROGRAM BENEFITS: SmartPak Equine, LLC ("SmartPak") will pay colic surgery expenses up to $7,500 ("Surgical Reimbursement") for horses that are enrolled in ColiCare ("Enrolled Horses") and who meet the Program Requirements at the time the horse experiences a surgical colic.
ELIGIBILITY REQUIREMENTS FOR ENROLLMENT: To be eligible for enrollment in the program, a horse must reside in the United States, be under the direct care of a licensed veterinarian ("Attending Veterinarian") and be between the ages of five (5) months (and fully weaned) and twenty-five (25) years of age. Horses that are enrolled in the program may be re-enrolled through age twenty-eight (28) provided there has been no lapse in enrollment and compliance.
Any horse that has had previous colic surgery and/or has experienced colic in the last twelve (12) months or has a history of chronic colic is not eligible for enrollment.
ENROLLMENT: To qualify for Surgical Reimbursement, a horse must first be enrolled in the program. The owner must complete the ColiCare online registration form and submit it for review and approval by SmartPak. A horse is not officially enrolled until the owner receives Confirmation of Enrollment from SmartPak, at which point it becomes an "Enrolled Horse." SmartPak retains the right to exclude any horse in its sole discretion and once rejected, a horse will not be reconsidered.
PROGRAM REQUIREMENTS: An Enrolled Horse must meet the following program requirements to be considered in compliance and eligible for Surgical Reimbursement:
Daily administration of SmartDigest Ultra maintenance dose (30g) or SmartCombo Ultra maintenance dose (120g) in SmartPaks (a newly enrolled horse becomes eligible for Surgical Reimbursement only after completing the first twenty-eight (28) days of daily administration),
An annual physical examination by the Attending Veterinarian each year and compliance with his/her recommendations,
An annual dental examination by the Attending Veterinarian each year and completion of follow-up dental care as indicated,
Annual vaccinations administered by the Attending Veterinarian each year that will generally include those recommended by the American Association of Equine Practitioners (Tetanus, EEE/WEE, WNV and Rabies) as well as other vaccinations recommended by the Attending Veterinarian based on risk, and
Annual participation in a veterinarian-directed deworming program each year that includes at least one fecal test and at least two deworming administrations annually.
SURGICAL REIMBURSEMENT: SmartPak will reimburse colic surgery fees for Enrolled Horses that meet the Program Requirements at the time of the colic ("Surgical Reimbursement"). This reimbursement is limited to $7,500 over the lifetime of the Enrolled Horse and is limited to the following "Eligible Expenses":
Preoperative care incurred at a veterinary surgical facility,
Colic surgery performed at a veterinary surgical facility, and
Postoperative care incurred at a veterinary surgical facility.
REQUIRMENTS TO SUBMIT A CLAIM: To receive Surgical Reimbursement, the horse owner must:
Complete the ColiCare Surgical Reimbursement Request Form within 14 days of the surgery.
Have the Attending Veterinarian complete the Veterinary Affidavit certifying to SmartPak a) compliance with the four required veterinary services and b) confirmation that the affected horse met the initial eligibility criteria with regard to no prior history of colic (SmartPak may require a copy of the horse's health record as part of the claims process.)
Have the surgical facility submit to SmartPak a copy of the itemized surgical invoice.
The horse owner assumes responsibility for all costs associated with the surgery and aftercare prior to submission and approval of coverage from SmartPak.
LIMITED LIABILITY: Compliance with the Program Requirements does not guarantee that an Enrolled Horse will not colic. It is understood by the horse owner that the decision to elect surgery or not involves risk and that SmartPak bears no responsibility for the outcome of any treatment. It is the horse owner's responsibility to maintain their own records with regard to compliance with the annual Program Requirements/eligibility for Surgical Reimbursement. SmartPak assumes no responsibility or liability for the rendering of services or products not under SmartPak's control/manufacturing. The ColiCare program is not an insurance policy and is not intended to be a substitute for insurance coverage.
TERMINATION: SmartPak may revise or cancel this program upon ninety (90) days notification to owners of Enrolled Horses. SmartPak reserves the right to disqualify any horse, horse owner, veterinarian, or surgeon from the program at its sole discretion.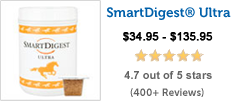 Start your horse on SmartDigest Ultra in SmartPaks and enroll in our free ColiCare program to become eligible for up to $7,500 of colic surgery reimbursement. How's that for Smarter?